January - February - March - April - May - June
July - August - September - October - November - December


The other day an online acquaintance very kindly pointed out that a firm in Germany appeared to be trying to sell plans for the little 16 foot beachcruising catamaran I designed, Slider.
I went to the web site, and sure enough, they were advertising plans for a boat that sounded remarkably like Slider, and what was even more irritating, they'd stolen a photograph from my web site and adapted it to their purposes.
They flipped it horizontally and put a shirt on my son John.
Most irritating of all, they were trying to sell the plans for a lot more than I do.
I decided to ask a few people about the situation, relying on the fact that most people in the boat design and building field are extremely kind and helpful people.. Among these good folk was John Harris of Chesapeake Light Craft. He gave me excellent advice, and he was sufficiently irritated by the situation that he fired off a nastygram to the miscreants in question.
Their response to John was fairly mysterious and kind of funny. They claimed that they had great respect for me and for the design, and were simply "testing" the German market to see if there was any interest in the design. If there was, they told John, then they would negotiate with me, license the design from me, and produce plans in German and with metric dimensions.
I'm dubious. There was no mention of me in the copy they had on their website; and the strong implication was that this was their design. It's hard for me to believe that it is considered an ethical business practice to float such a trial balloon without consulting the owner of the design. But even if this is considered ethical in some circles, how do they justify taking a copyrighted photo from my website and using it without permission? If they were floating a trial balloon, they went about it very stupidly, failing to take advantage of the many photos and videos of Slider that are available on the web. If they'd been straightforward with me, I'd have been helpful.
At any rate, if you're a designer of small craft, you might want to look on their site to see if anything looks familiar.
Here's the page with the Slider plans:
https://www.tecpaper.de/xu_bp_segelkat-488.htm
Here's the picture they lifted:
https://slidercat.com/blog/wordpress/wp-content/uploads/2008/08/sailjul2s.jpg
I just hope they take it down before anyone sends them money, because according to their email to John Harris, they don't actually have the plans to offer yet.
I wouldn't buy anything from them.

I was interested in the tests done by Seth Miller Strength Testing of "Tape & Glue" Joints. I was wondering if he would do some more tests on using just filler and taped joints. His article was very interesting.
Cheers
Stewart

Mike's Maritime Meanderings
Chuck,
I loved the article on Why We Build Boats! I have frequently wondered about that myself. I have to confess that I spend a lot of time googleing articles and pictures on the web of different boat designs and builds. I frequently laugh at posts in the wooden boat forum. So many of them start off with someone posting that they want to get into sailing and asking about the best design for a novice to build and sail, and then include a list of desireable traits they want in the boat. The first answer that almost always comes back from the folks on the forum is that they would be better off to buy something that has already been built unless they just want to build boats.
I'm sure from any practical consideration it doesn't make sense for me to go out, buy lumber and build a boat, but at the same time there seems to be some compelling force that drives me to want to build one myself (or in my case, more than one). My family and friends all tell me that I am obsessed, but I can't seem to help it. Any time I'm sitting down somehwere with a pencil and paper I'm sketching what a puddle goose with a cuddy cabin on it would look like, or sketching the AF3 that I want to build. There is just something about cutting out pieces of wood and turning them into a boat that feels so good. Almost as good as getting into the boat and feeling the wind fill the sail. (but not quite!)
Paul Cook

Puddle Duck Trademark Use
Chuck --
Back when I asked you for help with the puddle duck class, one of the things you suggested was to start charging for use of my trademark. Because I have increased the money and time I am investing in supporting and promoting the class, I now have a greater need for funds and am going to take you up on your offer.
I have updated the trademark use terms:
https://www.pdracer.com/articles/trademark/
I know I resisted this change for a long time, but I can now see that you are right. If someone is going to use my class's name and the trademarks that I own to sell stuff, then they really should be helping to promote and continue the class -- and this change will enable that, the funds I receive will go directly into advertisement, promotion and continued maintenance of the class.
Also I am now selling HIN Plates as a fundraiser so that people who want to support the class can purchase the plate and display them proudly on their duck or other boat.
https://www.pdracer.com/hin-plate/
I sure would be honored if you would get one for your boat, and when you see others that have a duck, maybe suggest to them they consider getting one too so we can continue to support puddle ducking, and make it even bigger than it is today.
Thanks
Shorty

Terminal Trawler Testimonial
Hi Mike,
My name is John Buhler and I am 58 and semi-retired in Tampa, Florida where I have been living for over 10 years. Myself and my friend do allot of boating an fishing here in the Gulf of Mexico and I have had many types of boats. I came down (from Philadelphia) with my 26 C&C (10ft beam) and she had a 5 ft. draft which was a real problem for the kind of boating we do. Pontoons, Center Consoles, speed boats, small trailerable sailboats ...you name it, I have tried it.

Anyway, the reason I am writing is to thank you and Harold Duffield for his wonderful concept and article about TERMINAL TRAWLERS. Not crazy about the name but the concept is one that I, too, have been very interested in for many years. You know, it's a funny thing about human beings, sometimes it's almost as if we "need permission" to do something that many would consider crazy but yet make perfect sense to us! Seems like Harold had a dream and he just went with it!. The story about his trip with his grandson was really great too! His greandson is a very luck kid to have such a man to look up to.

As a matter of fact, I was looking at that exact same boat the other day and was thinking what a GREAT mini-trawler it would make. (it was 900.00) And it would also be a great fishing platform as well, if it was set up properly. It is the sublime ECONOMY of the concept that is such a turn on for me. Anyway, I just wanted to commend Harold for "thinking outside the box" in such a wonderful way and both you guys for the great article and for helping to inspire me a bit too .. I needed it.

Thanks, John Buhler, Tampa Florida ..........see you on the water!

Chuck,
While searching the Internet for information on L.V.M. Associates, Inc. of Coopersville, Michigan about The Beachcomber model sailboat, I came across a story on your site. I need to make a correction to this story, since we have the L.V.M. (Lawrence Valentine Meyering) personal papers about his boat making companies.
In his article, Robert Goldwyn guesses that his Beachcomber sailboat is from the 1940s or 1950s. According to his papers, Lawrence Valentine Meyer (L.V.M. Associates), was building boats from 1960-1963 at his Michigan Fiberglass Company plant in Holland and then Borculo, which made Super Porpoise sailboats and Lake 'n Sea runabouts. He was employed by another firm from 1942-1959 making reinforced plastic products, but not boats. I remember his son, Lawrence Valentine Meyering, Jr., telling me that his family had moved to Coopersville after the boat plant was lost.
Thanks!

Geoffrey Reynolds
Director
Joint Archives of Holland
Hope College
P.O. Box 9000
Holland, MI 49422-9000

Chuck
I stumbled across your site. I thought you might be interested to know in the early sixtys I had a small boat shop (Polyhull Boat Co.) in Hermosa Beach CA. I built at least a dozen Triads including the first one and at least couple dozen Malibu outriggers of varying lengths along with a stitch and glue class A cat which won the worlds A championships off Long Beach (sailed by Neil Harvey). Plus a long list of other Multihull Designs made of plywood or cold molded wood. I am retired living in Hawaii and would be happy to answer questions. I knew most of the designers of the day and built boats designed by most of them. Gratifying to see interest in building with wood.
Aloha
Mike Eaton

It seems to me, in the back of my mind, that the preponderance of the articles is moving toward the building of small boats with less that is relevant to modifying/improving somewhat bigger ones. It seems that that may be the intent of Duckworks, but I would put in a single vote for more of the latter (somewhat like Good Old Boat Magazine).
Tom Schultz
Ok you larger boat modifying/improving guys out there - time to pony up some articles! - Chuck

Please allow me to introduce myself. My name is John Wilson and I live Port Townsend. I am semiretired, but work now and then as a professional photographer for the PT Film Festival. I also do yacht portraiture and maritime scenes.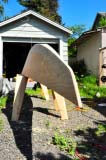 I have just started building a 39' Proa of my own design. I have just finished the ama in preparation for glassing,.... if the weather holds. I had hoped to be further along but this has been a nasty year for weather. I should be starting the Main hull sometime in June. When I get a bit further along I will send progress reports (this is not one of them) for your online mag.
This will be the 3rd Proa of my own design. I had 2 others when I was younger, (a 24' and a 30'). This one will be the culmanation of my previous experiences. I also built a 30' Piver trimaran in the late 60's and one of Wharram's designs (Narai) in the early 70's.
I 've attached a compressed pic of the Ama to date.
By the way, I enjoy the "Duck Works" immensley. I check on it often. One day soon I will try to get down to your area and meet you.

Project
Dear Duckworks,
Attached is my project boat (1973 Skipper 17) supplied with line, stays, turnbuckles, blocks, sail ties and more from your business. This boat sat in a friend's yard for 26 years unloved. It now has a new life. Many thanks!
Dan

I just wanted to let you know that I have started work on my latest design, the 14ft Electric Moto Craft (the EMC), and that I will be starting a whole new from start to finish video series on my www.youtube.com/redbarnboats You Tube page. I hope people will go to my plan sales page and down load the PDF model file, and make one at home with me. Once you make the model, you've pretty much made the boat.

I thought you might like to see these two videos taken at the weekend of a multihull race here in BC

Chuck,

I don't know how you feel about poetry, but I was jotting down some thoughts this afternoon and came up with this poem. I guess there isn't much new with it, some of the sentiments have been around a long time, but thought you might enjoy it.

Puddle Duck Soup
Paul Cook, 7-May-2011

We are all sailing in life, some more aware than others. All of us ride the wind.

Ghosting through coves of incredible sights, Afraid to breathe, lest we spoil the night.

We plow the coasts and struggle against the tide, Sometimes breaking the rudder on our pride.

We get caught in irons, flailing the sheet, Our own preconceived notions locking us in defeat.

We soar under blue skies, racing along, Flying on a broad reach, laughing with the song.

We flounder in heavy weather, tossed by the seas, Straining at the oars, wishing we had remembered to reef.

We drift in silence, journeying alone, Crying in solitude, unable to pick up the phone.

We gather with friends, camping on the beach, In the event of a capsize, help within easy reach.

We look at charts and plot our course, And order lumber from a far off source.

We dream of exotic adventures and foreign shores, Forgetting the value of local moors.

We yearn for giant cats and thirty foot sloops, Not realizing we should have ordered the puddle duck soup.

We ignore the meaning of time and focus on station, Little understanding it's the journey, not the destination.


Chuck,
We're re-generating enthusiasm for the WoodPussy, a Philip Rhodes design from the mid 40's. There are only about 100 of these 13/2' catboat beauties left in the world and only about a dozen of the "Woodies" survive.
Will you be good enough to "link" the WoodPussy class Website on the Duckworks site to give the class exposure?
We're reaching out to Fleet Captains in the four fleets to reactivate their sailors. They love these little boats so much they won't sell them... but they rarely race them.
Five new WoodPussys were built by the Frank M, weeks Yard in Patchogue Long Island since 2006, the first new ones built in 35 years, but with the death on Dec. 28th of Brian Weeks, the driving force behind the program, the future of the new boat program is tenuous.
We'd appreciate any exposure you'd give us on the Duckworks site.
There are two informative articles, with photos about the WoodPussy in Long Island's digital sailing Magazine in the July 2009 issue and the Sept 2010 issue.
Also... I just located a 12' "Skimmar" sailing dink made by Aero Nautical Inc. (Ct.) according to the mfg. plate on the boat. There's an emblem of a bird on the sail that looks like a Seagull, but the boat is definately not a Gull. Do you have any information about this boat in your files? I googled my brains out and couldn't find anything of substance on the web. Perhap your readers can help me solve this puzzle and provide information about this boat.
Thanks for your help,
Tony DEloia - Fleet Captain NorthEast WoodPussy Association (NEWPA)
Member United States WoodPussy Association USWPCA (member Class of US Sailing)
East Northport NY 631-368-8253

These are some of the plywood winged boats I made and raced to 1st places in their respective classes at the 2011 America's Cup of Landsailing held at Ivanpah dry lake bed 40 miles South of Las Vegas.
Note: click the YouTube logo to view the video on the YouTube website
Free plans for the yellow boat here in files section.

https://sports.groups.yahoo.com/group/wingboats/

John Eisenlohr US 772 and US 340

New Blog from François Vivier
Please note I have now a blog.
You may subscribe to receive an e-mail at each update and post news on your web site if you feel it appropriate.

Kind regards
François Vivier Architecte Naval
7 avenue des Courtils - 44380 Pornichet - France
Tel : 33 (0)2 28 54 97 86 - Mobile : 33 (0) 6 74 54 18 60

chuck,
I got my puddle duck hull registered yesterday at DMV. Unfortunately this state requires that you register any boat if you put a sail on it, no matter how big it is. So now one of my puddle ducks has a VIN. It seems a little ridiculous. They issued a title for it even though the state regs say that boats under 10 ft only have to be registered, not titled. I kept telling them that I didn't need a title, just the registration, but they issued one anyway. I think they're just scraping for income for the state.
After having been at the DMV for a couple of hours I finally gave up arguing. They seemed to be clueless about what to do with me. They got mad because I didn't fill in the hull dimensions on the form and I explained that I thought I was supposed to wait until they measured the boat for those numbers to get filled in. They told me, "We don't measure the hull, you're supposed to do that." Ten minutes later they had me pull the boat around and sent two people out with a tape measure to measure the hull. They didn't seem to know how to operate the tape measure either. They had it twisted around and not pulled tight, and didn't seem to know where to hold the front part of the tape to start measuring from. They measured the beam and said it was 4ft 2 inches. I was kind of wondering how you get 4 ft 2 inches out of a 4 ft wide sheet of plywood. Anyway when I got home I took out my tape measure just to double check and sure enough it was 4 ft even. They did round it off to 4 ft when they put it on the form. The only good news out of all that was that they didn't ask me for receipts to issue the title. They just took my word for the cost.
Paul

Helping Victims of the Japan Quake
Chuck and Sandra
Could you take a look at my blog, please, and if you agree with what I'm trying to do, please help spread the word.
Thanks.
Charlie Whipple

Wow! When I looked at two of your Martin Motor photos regarding the contest winners I recognized the images. My grandfather owned Fernandez Sporting Goods in Jacksonville, Fl. And I feel certain that one of the Martin's depicted there ended up on the back of my Jon boat.

Thanks for the memories!
Edward Fernandez

Video, video, who's got the video?
Thanks for posting my information on the Cross 18 Trimaran.
I wonder - the write up mentions video and there is no link to any. Maybe you don't post video and didn't edit out the verbiage. But just in case you wanted to post video here's a link to add.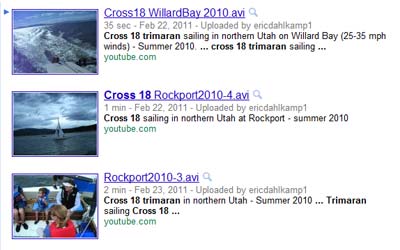 click an image above for videos
Here is a link to Jeff Turner's interview in smalltrimarans.com:
https://smalltrimarans.com/blog/?p=2703
Eric Dahlkamp

I'm wondering if any Duckworks readers have tried clear driveway sealer on a home built wooden boat. I read an article which says that it makes a much more durable finish on furniture than urethane. A bit of research shows there is an array of clear concrete and paving stone sealer formulations at my local building supply outlets. The one in the article is a private label product from Home Hardware stores here in Canada called Beauti-Tone High Build Clear Coat With Urethane. It costs $16.97 for 946 ml ($16.04 US per US quart at current exchange rate) or $49.97 per 4 litres ($48.05 per US gal). Its safer, easier to work with (water based), and dries to a smoother coat than the epoxy often used to seal hand crafted wood boats. The container says it resists abrasion, impact, heat, UV rays, salt, chemicals, oils, and gasoline. Sounds about right.
WRW, Ottawa


Hello...
I am in the throes of trying to "bookmark" ideas that appear on "treasure chest" and other places on your fine publication but if there is not a blue colored reference word or phrase I don't know how to do it, it comes up the whole column , which would kind of defeat the purpose, don't you know....
Is there some way that you could configure each item, some sort of code marking, that would delineate one item from another and make each one bookmarkable (a new word?)?
Sorry to say that at my age I couldn't possibly REMEMBER where things were, or even WHAT they were! I CAN remember broad catagories...usually...
Thank You
G.Scott Shepard
Great idea! We will try to make that happen starting with the next Treasure Chest - Chuck

I guess the long-awaited down month is upon us. I don't have a column for this month. I suppose it is only a minor setback. Hey, that reminds me of one of my favorite photo captions: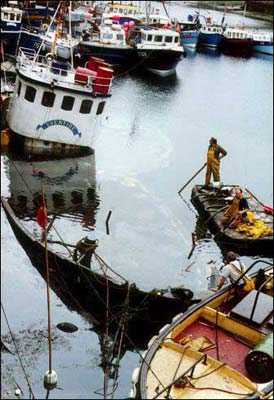 "A setback as Eventide lists to port"
Sorry to keep the world waiting. Next month!

--Rob Rohde-Szudy


I pass on from the Instantboat messageboard the available information on the passing of Harold H. "Dynamite" Payson, Phil Bolger's stalwart collaborator in years of reviving the home boatbuilding movement. Dennis Hansen's postings there can be summarised:

"Dynamite died last night. Details are sketchy but it sounds as if he suffered a burst aorta. He was rushed from Rockport to Portland but they couldn't save him. The family is gathering tonight and arrangements will be made tomorrow afternoon. Details will be provided as available.

The World is a lesser place today with the loss of the wonderful man. It will never be the same.

Dennis Hansen

Barend has crossed the bar
Feb 28 - 1:04PM
Hello Chuck,
What happened to Barend Migchelsen's books? Did he "Cross the Bar" if so I must of missed reading it here at Duckworks? Or hopefully he has retired again and there is someplace to send a card or letter to.
Joe DesLauriers
6:04PM - Sorry, Joe, Barend passed away several years ago. We were not aware of it at the time so did not make an announcement. I do not have any contact information at all. Sorry. - Chuck
6:15PM
Chuck,
This is what I found:
MIGCHELSEN, Barend - 86, went to be with his Lord and Saviour Jesus Christ on the evening of January 1, 2008. He passed away peacefully at home in Beaver Bank, surrounded by his family. Formerly of the Netherlands, he immigrated to Montreal in 1959, where he became a top Chartered Life Underwriter with Manulife Financial. He loved sailing and building wooden sailboats, and became the author of six books and a teacher on this subject. He is survived by his loving wife of 60 years, Jenny (Schotanus); his children, Peter (Krystyna) Margriet Parry, Roeland (Kaye), Anton (Jeannie) and Saskia Beaton (Larry); grandchildren, Christopher (Kristina), Jamie, Stephanie, Kelly, Natasha, Andrea, Marc, Krista and Katie; great-grandchildren, Emma and Tyler; and his older sister, Gre Hooiman in Holland. Cremation has taken place. A memorial service will be held at 11 a.m. Saturday, January 5, in Rock Church, 222 Sackville Dr.
Life is too short for another one of the Good Guy's I'm glad he shared his Talents with the Boating community whlie he was here...

In your latest letters column, a person asked for information on installing an air cooled motor in a small boat. Weston Farmer has a drawing do a 10' boat called " Irreducible" , that has information on installing a small motor in the boat. He uses an old outboard motor , but the idea is much the same. I belive you offer the plan in your shop. Hope this helps.
Bill Stroman

Everglades Challenge Webwatch
Chuck,
Great tie-it-all-together posting.
Thanks!
Paul

Everglades Challenge Comment
Hi Chuck, What a time the boy's had in the EC this year, really something. The attached tale relates to that adventure:
Hemingway said something in a quote about what every man should do before he dies. I've looked on the Enter-net but can't find the one I want. It was "to write a book, ride a bull ---". Well I've not written a book, just a few essays for the wonderful E-Mag. "Duckworks" I've also never ridden a bull, But I can relate a story about a ride I did have ,that I would think, could count as bad as a bull ride.

I was on the USS Forrestal sometime around 1969 or 1970. We had completed our Med cruise and were returning to Norfolk. Out of The Straight's of Gibraltar We were faced with the last of a seasons Hurricane. We were buffeted for about three day's straight, while headed for The Azores. From there we would change course toward Bermuda.

The three destroyers with us were taking a real pounding. There were times when they would be completely awash by the waves. The worst was when one of them went all the way under. Nothing was visible just white rolling sea. From my work station in Combat we watched on the bridge camera and counted the seconds. Waiting! Maybe! Yes finally She rose, deck gear gone, Life boats gone, no smoke from her stack. She wallowed, no steerage. Then a puff of smoke, then a black ball, then a column. Her Engine gang had her going again.

During Her time under we also had a time. It was about normal for us to take white water across the bow in storms this bad but never green water. Well on this wave we took green water for about 100 feet up our flight deck. While watching the destroyer, we were also counting our own seconds. As we emerged we could see the catwalks, gun tubs, life rafts, Life vests, all was gone off the sides of the flight deck for about 100 feet. The Admiral sent signal to all ships in company to divert to the Carney Islands. All ships Captains were released from the convoy and were to proceed at will.

The ship that went under had several men injured from the thrashing and need to transfer to the carrier. It was two days later before we could hold flight ops and get a helicopter to them.

This story was brought back to my mind by the challenge of the S.C.A.M.P. They had a wonderful cruise till the last and then met the worst that Poseidon could throw at them and then still survived.

Good Job Men, looking forward to hearing your tale from your own lips!
Ed (Chief Redbear) Davis USN Ret
Information note:
The Forrestal was just over 1,000 feet long.
The Flight deck was 5 stories above the water line
That means that 10% of the ships length was not just in foam but under water.

Everglades Challenge Aftermath
Hi Chuck,
Thanks for putting up the "Help get Mike and SCAMP off the mud" notice & link. I am sort of relieved, as we all are, even though the situation wasn't quite life threatening. It WAS a tough ending to a tough trip .. "messing about" on a grand scale. But the Monies having to stick around several more days until enough there is enough water to go out and get the Scamp is a challenge in itself. Now that it's almost complete (we do want to see that Scamp off the mud - and sailing proudly at messabouts this Summer), a couple things come to mind.
First, it calls to mind what a splendid blend of rugged individualists and community-minded friends small boat folk are. It does take a certain iconoclastic stubbornness to build ones own boat .. but the help routinely offered from kindred spirits - like all the help I got from Duckworks people - is an equal reality.
And second, the muddy ending - all puns intended - doesn't take away from what a fine boat Scamp is and the sailing skill and perseverance that got them through the very nasty first five days. I'll be watching Duckworks for the whole story and pictures, as well as some of the tales others have to tell.
Be well,
Bob
________________
I sure hope Mike and Andrew have a good sense of humor to carry them through all this. Hopefully by this time tomorrow they'll be out of there, sitting down somewhere with cool drinks and relaxing. Someone will probably be making jokes about why the rum is always gone! They'll have to paint a little emblem of mud flats with a slash through it on the hull of the SCAMP.
Paul
That is a great idea, Paul - OK, you guys put your computer or drawing skills to work and send me your version of what a "No Mud!" patch or emblem would look like. I will post them here next month! - Chuck

Chuck (we all feel we know you personally),
Just a thank you for keeping up such a nice flow of boat info, building articles, event news, etc. on Duckworks.
It's such a treat on a Saturday morning to visit you site and 'cruise the news' so to speak
-- always more than one item of interest.
Thanks for all you do,
Tom Henry
Salem, Mass

Chuck
I would like to ask you for some help concerning a small boat design. I hope that if I give you some of my perimeters you might be able to point me in the right direction.
I need a small cartop boat that would allow me to stand and fish on local small lakes and ponds in relative flat water. The boat should be easy and cheap to build. It does not need to be fast or extremely seaworthy. It does have to be light.
I am an accomplished rower, sailor and seaman. I have built many different boats. Although I have very good sea legs I am a senior and not as physical as I once was.
Right now I am using a "Big Tortoise". It works well but is a little too shaky for extended periods of standing and casting. I have thought of removing some of the rocker and seeing if that would create a more sedate ride, but it would be a hit or miss situation that eats into my fishing time.
If you could point me toward the right design or designer it would be greatly appreciated.
Thanks again;
Mike Morrow
You may be asking for the impossible. That depends on how cheap and how light you want to go. I would say that your idea of making a tortoise with less rocker is going in the right direction. You might run this past Jim Michalak. He might be able to do something useful. - Chuck

Chuck
Editor
Duckworks Magazine
Dear Chuck,
I read with interest the article by Jim McGovern where he explores Barend Migchelsen's articles on the calculated design of the Dory.
I am sure the guys in the old days who pulled the ends of two planks together around a midship frame, where they would naturally be straighter at the ends, then nailed some planks across the bottom and melted some tar or something into the cracks to make them watertight, didn't know they could have worked it all out mathmaticly first. A natural progression of cut and try would bring all the same results that have now been proven by a Mathmatician. What came first, the boat or the maths?
I read your website everyday, keep up the good work.
Thanks
Lindsay Russell
Rangiora
New Zealand

What angle do you mean exactly?
Hi Chuck -
Reading your lazyjacks report yesterday I do feel like I know you personally .. and from every angle.
Be well,
Bob

Texas Boat Builder Roundup
Hello Chuck,
The Texas Kayak Builder's Bash kind of petered out a few years ago while I dealt with double cancer. There was also some internal strife that I didn't want to deal with at the time. Once I got through with the cancer--successfully so far--I started back up with boat building and holding a "Roundup" ...except this time I sponsored and moderated it through a forum on TKF. I've always had my own website--www.texaspaddler.com....and several more, just one of which is Brazos Boat Works. Because of a lot of duplication in having multiple websites--and sponsoring and moderating on another--I've combined most of mine into one site: TexasPaddler.com and Brazos Boat Works.
This will be the last year I'll hold the Roundup through the forum at Texas Kayak Fisherman. Starting in 2012 the Roundup will be called the Texas Boat Builder Roundup and will be supported solely through TexasPaddler.com and Brazos Boat Works. I've been doing this for quite a while now and only missed 1 year because of the cancer. I don't plan on missing any more till I kick the bucket.
I'm filling you in on this because of your fine site and the number of people interested in boats and boat building. I have included a link to the notice about the Roundup. Check it out. If you think it's suitable to include some kind of notice on your site I'd appreciate it.
Thanks. I'm hoping I can get out and race a bit this year. Not sure, but I'm going to try. I have a new boat--the Dragonfly 16--that I hope to use.

"returned home to a complete lack of enthusiastic ovations and thunderous applause"
Great line! How do we explain to the unadventurous what our adventures entailed?
After a long adventure I've been asked. "Did you have fun?" As Tom's writeup so well shows, sometimes it's fun, sometimes it's scary, sometimes uncomfortable, sometimes not fun, etc. But it's because our adventures are all of these things that we keep doing them. Most people have no clue.
By Miller

Chuck,
I simply can't thank you enough for (I guess the word is) posting my article. And providing the link to my previous article makes me even more grateful.
Best regards,
Chuck Corwin

Harbor Freight Trailer Update
Chuck,
I read what you wrote on Duckworks about your folding utility trailer. You said that you weren't sure about the weight capacity of the trailer, so I thought you probably didn't know how they rate them? If you look on your tires you will see where they rate the tire on the amount of weight that they can carry safely. Usually the maximum weight capacity of a trailer will be the load rating of the tire multiplied by two, less 100 to 200 lbs. for a two tire trailer. If I'm not mistaken, the 4.80-12 tires are rated at 780 lbs. max capacity @ 60 psi. You said that the trailer was marked as having a rating of 1450 lbs. max capacity, but you thought you bought one that was rated at 1175 lbs. max capacity. So, 780x2=1560,
1560-110=1450. Now don't take this as a for sure thing, because I am not positive on it. I do know that it is the tires that are considered when they rate trailers for weight; I'm just not exactly sure how they do it. I've looked at a number of trailers and used the formula I've given on all of them and everyone has lived up to my formula. I have the same trailer as you but I replaced the 12 inch tires with 13 inch tires, which have over twice the load capacity of the 12 inch tires. I carry over 2000 lbs. on it and have never had any problems, so I'm either very lucky or my formula is pretty correct. :o) Just thought you might find this interesting. Let me know if you find out if I'm right or wrong.
Tom


A short while ago, near 19:00 hrs, the spouse of Mr. Normand Goyette, owner/operator of Les Chaloupes Verchères found her husband hanged in his boat shop. A very sad time in Verchères and an uncetain furture for these boats of local acclaim and long history.

Barend Migchelsen wrote a nice article for Duckworks magazine in 2001 about the the boats,the shop and the man.

duckworksmagazine.com/01/articles/chaloupe/

The companies web presence;

https://www.chaloupesvercherescom/

Sincerely,

Peter Lenihan

Hi Chuck,
I noticed John Welsford's Swiftsure advertised on your web site is using pictures of the Swiftsure I build. I'm quite happy to see my boat used as an example of what a finished Swiftsure should look like but it would be nice if you mentioned my name as the builder. You may also want to mention that Duckworks supplied the sails.
Sincerely
David Johnson
Grass Valley Ca

Dear Chuck,

Years ago I built a 20 dory sailboat. It started out with a steel keel, but being unable to raise and lower it, I removed it and stuck an outrigger on it. I made a centerboard out of 5/8" ply. I wrote about that here.
I have now located that original boat/plans that guided me in the Mother Earth News website.
Click on the image gallery, to see the diagrams. Click on: next, previous to scroll through the drawings. Note: I was not wanting a flat bottom boat, a sailboat does sail better with a raised stern and forefoot. I made a pattern of stiff poster board, and tried theirs and my options. I did the opposite of the first step – I marked 6" up on the bow and 6" up at the stern. The midpoint was left untouched, and I bent a batten between the stern mark, midpoint, and bow. After that I tried to follow as much as possible. I had two butt joints per side, because I couldn't find 4'x10' ply. If I recall, the second butt joint was at the opposite end, so I did not have a butt joint directly opposite the opposing side. To put in the chines, I had to wet the pieces where they ran up to the bow, and keep them wet for several days. Using a Spanish windlass I brought the pieces together and screwed them in place.

I used ¼ ply on the sides, and ½" ply on the bottom. A diversion from their suggestions, but it worked well. I also built two "cabin" areas aft of the aft cross beam, or forward of the forward beam. They were dry and we could safely keep stuff there when it rained.

I did not have the next phase of the build, so I improvised my own staysail schooner rig, which worked well enough for what we did. I did not consider the boat fast or high pointing ability. But it was dependable, and would go to weather, and keep us dry.

The next phase of the build is also in the web site here.
It is pretty straight forward.

In Christ,
Alan Berry

Note: I clicked on sending, and it brought up two chili peppers, and said I may be offending someone who may read this. I then notice butt joints show up with a green underline. So if a butt joint is offensive to readers, I apologize - but to be nautically correct, the reading stands as given!!

Big Wheel Keep on Turnin'
Chuck,
I found a ten inch diameter plastic wheel from a big wheel and could not resist hooking on a boat. I have my detachable wheel hung on the transom of Ruby. It seems to work well, easy on and easy off - up and down the driveway so far, next to the park and down the kayak trail.
Fred Night

Hi there,
I work as a researcher at Timeline films in Glasgow. We are currently producing the second series of 'Grand Tours of Scotland' for the BBC, a documentary series on this history of Scotland's tourist industry.
We are hoping to feature the story of John MacGregor's A Thousand Miles in a Rob Roy Canoe, perhaps recounting it in a visual way, with our presenter canoeing.
We are looking to locate a Rob Roy canoe somewhere in Scotland, do you have any suggestions as to where would be the best place to look, or can you suggest anyone else to contact? I don't have contact details for Gavin Atkins but thought he might have an idea?
Any suggestions would be much appreciated.
Many thanks,
Hannah Farrell
Researcher
Timeline Films
16 Woodside Crescent
Glasgow
G3 7UT
Tel: 0141 255 0324
We have passed Hannah's letter on to some of our UK friends - Chuck

Wandering around the internet, I ran across your remembrance of your LOA 17s.
The LOA 17 was built in Marina Del Rey by a forgettable but proliferate boat builder, Sid Blinder. Sid started building boats in the mid 50's and lasted until about the early 1980s. He had imagination, but never did get the hang of using measurement tools. His attempts at one design boats were a disaster. His big legacy is the US Sabot which is still built by Catalina Yachts. It was meant to be part of larger existing classes, (El Toro, Winnard Sabot,) but failed to measure, so it became it's own class, much to the frustration of some of the buyers.
As you may have suspected, a builder like Sid tended to "build on the basis of what others built." In other words, fiberglass lends itself to making copies.
Some might say counterfeit copies. The LOA 17 had, as you seemed to suspect, the shortened hull of the 19 foot "Lightening," with a cabin added. They tended to be sailed by those who didn't have the skills necessary. The LOA 17, being a centerboard day sail type sailboat, looked like a cruiser with that cabin, but wasn't a forgiving boat. Quite a few few people went out and didn't come back. The LOA 17 was blamed as being unsafe, and it was in the hands of someone who thought it would handle like it had a weighted keel.
I'm glad you enjoyed yours, and you can be thankful of your skills, as you made it back. If you were aware of it's limitations, it might have been a good little boat.
Marty

Chuck
Greetings from England, I have particularly enjoyed your magazine over the cold winter months, it reminds me there are places where it is still warm.
Regards Mike

Chuck,
I am looking for information on how to install a small gas engine, such as a 5 hp horizontal shaft Briggs and Stratton , into a small boat. I have not found any article with specific.info on shafts and shaft housings, bearings, universals or couplings and adapting propellers. Can you supply this info or point me in the right direction(s)? I've seen articles, but explicit information is missing.
Thanks for your help.
Frank Campion
I wish I could help, Frank. My best advise is "let Google be your friend" - Chuck

Hi Chuck,
just thought I'd let you know that my book is on Kindle at Amazon;
the others are highlighted on the book's little blog page;
I'm assuming that the absence of a review from the chap we sent a PDF file of the book to means he didn't think much of it. I've had some good feed-back, but the only review that I've found is by Steve Parke (Arwen). I'm not too fussed, but maybe I could do a paid advert on Duckworks for the various editions?

Hi Chuck; Just another short note to say keep up the good work.
I'm still reading every day and continue to find snippets of info to keep.
Kevin McNeill's article "Back to Building" answered a question I've had
About my model of the "Gill 12". How much weight to put in her to guess-ta-mate
Actual weight to see the water line. I had not thought of weighing coins, which will be uniform.
With that would also be a formula to get the numbers. Thanks Kevin good job.
I've also enjoyed a couple of articles about our medium. Manly wood and Plywood.
We have a wide choice of options to pick from. Hard, soft, solid or ply. Then we spend great time
Shaping each piece to fit just right to give our boat the right shape and pleasing lines.
Some of our efforts have been in the order of museum quality work.
Which caused a segway of my thought patterns to the trip to Israel my wife and I took in 2001. While there we visited the museum where the Galilee or Jesus Boat is on display. Some facts are of note at this point. Beside the fact that it's over 2000 years old, it's made with 12 different woods. These are used for the ribs, stringers, spacers, floor boards, etc. But looking down at each of them we see that they are not made from a timber and shaped to fit. Each one is a piece of a branch, placed with another piece to give the approximant shape of a rib etc... Each piece is of a different wood and they are not shaped or straight.
Just planed flat on one side for attaching in place. The hull is made of planks and shaped to fit with caulking to seal the seam.
It's an open fishing boat 9 meters by 2.5 meters and the sides were 1.25 meters high. It's double ended and may have had a cover over the bow.
It's a wonder that as much of it has survived all this time to give us a look at how it was built at that time. We take great effort to shape our pieces. Not just the face that will attach to the next piece but also the outer face that we will be looking at after it's all built. We place great stock on the esthetics of our work and what we will be viewing after the work is done. The Jesus Boat was a work boat and they spent their effort on the hull. The ribs and stringer were just to hold the planks. It formed a good work boat. No effort was spent to guess why it sank. Or maybe it was Peter's boat and just abandoned as He went on with other work.
Thanks to all of you for making Duckworks my first read every morning.
Ed (Chief Red Bear) Davis USN Ret.

The Only Tool I Had That Would do the Job
I got in trouble today, lots of trouble. I put the mast step in the wrong place. It is Australian spotted gum hardwood - hard as nails and close grained. It had to be moved. I gave it a whack with the hammer. I knew it would not move and it didn't. I hit it with a chisel and tried prying if off - nothing except my dog ran back inside (she was sitting under the boat at the time).
I stuck it with foaming polyurtherane glue fortunately and I got out the Japanese pull saw Chuck sent me and started cutting it off. That saw is magic. I had no other tool to do the job. The saw has real might and it cut it flush off in no time. I used the side with the larger teeth. It shook the boat about but I got it off. Note to self, put the mast step on at the same time as the partner. Thanks Chuck


Perhaps the new tag line "if it walks like a duck" should be "if it floats like a duck".

Wm Watt

Chuck and Sandra:
As I read over today's January Letters column, I am struck with how diversified DuckWorks has become. It is now so much more than daily articles, chandlery, plans index, boat-related events listing, communication device, advice column . . . It is a worldwide community of everyday folks who love to design, read about, build, maintain, brag about, and, yes, even use, small boats. What a wonderful legacy!
Thanks so much,
Steve Lansdowne

Hey Mike,
May I be so bold as to suggest my Flickr site "Bill's Houdini." I have attempted to depict the building of a Welsford Houdini yawl with some modest modifications in real time. I currently have posted 521 photos of the process. I am a first time boat builder and the progress has been slow. But I am nearing the end. I have to finish up the spars, build the masts and do some hardware installation and final painting and varnishing. If you are interested, the address of my Flickr album is:
www.flickr.com/photos/bills_houdini/sets/
Thanks for your consideration.
Regards, Bill

From our Shameless Commerce Division
Yes, I know this is a site dedicated to boats. But remember, I built the Sundowner Resolution. Now I write western novels (and other things) and would like you all to see the trailer for my latest effort.
Went sailing in Endeavor on the 4th and will be out on her again tomorrow (8th). Good sailing to you all.
Charlie Whipple

Chuck,
Here's a submission for the next letters or Webwatch
Being the Jim Michalak fan that I am and enjoying his newsletters, I've compiled to the best of my ability an index to all of Jim's newsletters.
They are on at least three different service providers / and still some gaps, I may email Jim as well he may have them hidden away somewhere.
www.buildboats.com/bbmichalakindex.html
the index is listed by date, includes the article name, the featured design, and the name of the boat photo that is included at the top or each newsletter. I'm thinking of additional lists just ordered by Boat Design, Article etc. when I get to those I'll add links to the page I have provided above.
Thanks
Tom Raidna
www.buildboats.com
tom@buildboats.com

Correction for "The Gift of Little Boats"
I recently read your article in Duckworks Magazine (The Gift of Little Boats). It a great article. I only wish you would have attributed the Flaca Vero image as was done in the pdracer.com article:
"When Flaca Vero was revealed to us, Tim Cleary created the picture at the top of the page by modifying an Aquarius Zodiac Fairy."
Tim Cleary

Thanks for Scarfing Article
Hi Chuck
Would you please send David Kagan my regards, and thanks, for posting his December two part article on Scarfing. (Part 1, Part 2)
I have made up my version of his jig concept for my radial arm saw and it works a treat.
Cheers,
Geoff

Chuck,
I added links to Dw Mag & Dw BBS to the Eastern (mid-Atlantic) Messabout group. Don't think it will generate enough hits to pay for a fight back East to join us, but it seems only fair.
Seriously, Steve & I are tickled by the response .. Steve Lansdowne added the link to the calendar within hours of it's being "official" and we've got 60 logged in, 20 coming so far (25 - 30 boats), another 20 pretty interested, and who knows how many by June. For people who can't get down your way the following week it should be a great time. Log in and see what's up for yourself .. plug us however you can .. we'll keep you posted.
Many thanks for help large & small.
Bob Throne

Hi Chuck,
The Second Annual Bayou Teche Wooden Boat Show is slated for April 16-17 on Bayou Teche in Franklin, La., in association with the Bayou Teche Black Bear and Birding Festival.
Here's our website: www.techeboatshow.com
I would sure appreciate a mention!
Best,
Roger Stouff

Hi Ed,
I too have stalled progress on my 8' Moby Dink. Completion is way over due.
I'm so thankful that Chuck didn't edit out your prostate cancer journey. I'm at the point where I have learned that my PSA level is higher than normal and I'm scheduled for an appointment with a urologist, a biopsy, and an ultrasound. I was looking forward to reaching the beginning of my 7th decade of life having been disease free and without ever having been on meds of any kind. I might not have heard about HIFU in time for a treatment option had it not been for your story.
This side of heaven, you and Chuck may never know how many lives, including families and friends, you have impacted for the good. Matt. 6:19-21
Many thanks,
Len Turner

Waiting for the water to soften
I am Blake Chartier, and I live near Red Lodge, MT. I remember that you once lived in Montana, so you know how long a winter up here can be for someone who is sailing obsessed. Thank you for Duckworks, it sure helps pass the time while waiting for the water to soften. Bridgett and I sailed this boat out of Port Aransas during our honeymoon in September, 2004. I have wanted to return to the Gulf Coast ever since. Maybe someday we will make it to one of those messabouts!

Styrofoam and Polyester Don't Mix!
Hi Chuck,

Sunny today-just like Texas. Just read the Lucas piece on foam building. No mention of resin that I saw. Maybe he should point out that one can't use polyester on styrofoam. It disolves! Lotsa good stuff lately.
Fair Winds, Clear Wood, Sweet Sheer, cheap Booze, Good Wine, and All The Best,
Jim Thayer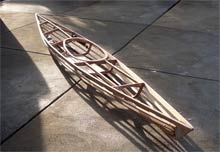 Chuck,
I just finished the frame for my Yost SeaTour15 skin-on-frame kayak. If any Duckworks readers are interested in trying their hand at skin-on-frame construction, Tom Yost provides free plans and tutorials for wood frame kayaks, folding aluminum frame boats and even inflatable kayaks at www.yostwerks.com.
There is also a new Yahoo builders group for Tom's designs.
Thanks,
Kellan Hatch

Hi Chuck
My name is George, I'm living in Romania and I am a regular reader of Duckworks. During past years I've learned a lot of interesting things about boats from there. Thanks for the good job you are doing! Recently I've designed a simple table top calendar that can be easily made of a sheet of cardboard cut and folded as the attached instructions show. I used the Duckworks logo (I hope you won't mind) and some of my boats for images.
I offer it for free to you and your readers.
Fair winds
George

That Mystery motor sure looks like a tecumseh powerhead. I bet the guy could find recoil parts at a lawnmower service place, or even a good hardware store. If I'm right, it might be a Clinton motor, as they built their own lower units and used tecumseh powerheads.
--Rob

Building the B&B Lapwing 16, in three parts, by John Turpin is one of the best "build" articles I have ever seen.
John's organization and approach to the decision on which boat to build and even the space in which to build it, exceeds my understanding. What I really enjoyed was his explanation of the events that led up to that build. Be sure to click on his explanation of his problems in the 09 Texas200:
wwwtexas200.com/2009/stories/turpin/
The clarity of his thought process is impressive. I admire linear thinkers..with vision...
https://www.duckworksmagazine.com/ for parts one, two and three....
JIB

Dear Chuck,
I just read the first installment of John Turpin's Lapwing chronicle. I am reminded of Bolger's story about the man who invented an ingenious and powerful machine to pull screws out of wood because no one ever told him to turn the screws…
John's trusses for plank patterns are a complicated, time consuming, and expensive solution to the problem of determining plank shapes. It obviously worked, but there are better ways. Spiling just isn't that hard.
Having built a number of stitch and glue boats, I have tired of the lengthy filling and sanding process necessary to make the taped seams 'disappear' and I have yet to produce a perfectly fair line where the panels come together. I have concluded that glued lapstrake plywood is only slightly more complicated to build and much quicker to finish than stitch and glue.
I highly recommend How to Build Glued Plywood Lapstrake Wooden Boats by John Brooks and Ruth Hill for a hammer blow by hammer blow description of the techniques involved. John Hill has developed a number of other techniques for getting out planks and other parts quickly and easily. Many of these techniques are applicable to stitch and glue boats as well. It is a book which you should probably add to your offerings.
John Trussell

Jackie's piece in Duckworks is wonderful. Heartwarming. Inspirational. I'm hoping to soon get busier in the workshop, and on the water.

duckworksmagazine.com/10/columns/jackie/05/

Thank you for "The Gift of Little Boats".
Fred Bailey

Mike
Many thanks for maintaining the Boat Plans Index - I find it a very usefull comparrison index. Of interest to you may be a web site of kayak designs by Dennis Davis dennisdavisdesigns.weebly.com it is active and he still sells quite a few designs both for tortured ply and stich and glue.
Kind regards
Philip Beamont
_______________________
Just to let you know that in your EXTREMELY USEFUL Boat Plans Index page the link to the 18' multihull Crabclaw cat is broken.

Kind regards,
Brent
________________________
Mike replies:
Hi Brent
I wonder if it was my mistake. I found this:
shellboats.com/sbboats.html#anchor_CrabClawCat
It's 21'. They could have changed the plans, but I doubt it.
Thank you for telling me.
Mike

Chuck,

The Verlen Kruger Memorial is organizing a paddling and sailing event in Michigan: The Tip of the Mitt Adventure in June 2011. See the following website for details: Verlen Kruger Memorial Paddling Events

Come join us for this adventure!!!

Ben

Dear Chuck and all your contributors,
May I thank you for all for your publications, it is visiting Duckworks website that gets me through the long hard winters here in the U.K. and this winter seems particularly Long and hard so far, please all keep sending the details of your wonderful work.
I hope that everyone has a very Merry Christmas and a healthy and prosperous New Year!
Kindest regards
Stuart
www.taliskerbountyboat.com

Hi Mike
In 1958, my dad (Donald McGinnis) had plans for a houseboat published in Boats Today, by Universal Motors in Oshkosh WI. We found a copy of the catalog, but my dad's plans were missing. We'd sure like to find another copy of the boat plan book with his plans intact. Have you any ideas for us? The company was bought by the Nash company and by the Crouch company which I plan to call, but I don't have much hope for success down that road. Hoping you can point me in the right direction.
Thanks
Pat Baganz
_____________
Mike writes:
Hi Pat
The title appears in this USA database, assuming you are in the USA https://www.worldcat.org/ You will need to work out which volume your Dad was in. A librarian may be able to help.
A keyword search in https://www.abebooks.com/ turns up at least one I saw. Try boats today motor and other keyword combinations. This site you can buy from. There are other secondhand dealer networks/sites so try a google search on them. I search for secondhand books but I get lots of Australian content because of where I am.
I good hunt around Google Books can't hurt https://books.google.com.au/
I will forward your letter to Duckworks' Captain Chuck and he can put it in our next letters. Maybe one of our readers can help.
Keep your eye on ebay as well.
Hope this helps a bit.
Mike John

Information wanted
Hello friends
Merry Christmas and Happy New Year.
I know this site is visited by hundreds of sailors and amateur builders every day, and that is why I'm looking for help getting information from a Depth and Fishfinder.
Fujion FS 201 - A
Thank you very much
Alberto
"Cachivache"

Chuck –
I would like to learn more about the small trimaran pictured in the January WebWatch by Bob Trygg (Duluth, MN).
Thanks-
Matt
__________________________
Hey, Chuck,
How about seeing if you can get Bob Trygg to give us more detail on his trolling motor set up? That's way cool.
My forehead is always sore after I read how clever boat folks are. I smack myself, saying "of course!" Seeing how a rope wick can be used was one of those moments - I've done that with house plants. Never put it together.
Bill Prater
___________________________
Bob Trygg replies:
Chuck:
I didn't know that it would stir up the interest that it did but I am glad to let people know about the project. I have plans to write an article or two for Duckworks if I can find the time. After about 30 home built boats and turning 72 last month, I tell myself that I should put the hundreds of pictures of the builds together along with a few artlicles for your readers while I still can.
The trimaran is indeed a John Marples design (SeaClipper 16) which I just finished building this fall. It is totally complete but has not been launched yet (Minnesota winter) but hopefully will be in the spring of 2011. It uses a Hobie 14 Rig with new sails that I have modified to my liking. It can be sailed from either cockpit as some have noticed and uses a modified trolling motor that can pivot up under the starboard wing when not in use.
I know that I always pull up your site every morning to see what's new and interesting going on with home built boats. Its addictive and even though I say no more building of boats - there always is another design that peaks my interest. I thank you for your support for the boatbuilding fraternity.
Bob Trygg
P.S. I think you have to accept some of the blame for stiring the pot, as it was you that printed the letter and pics. (joke)

Hey Folks ! Spread the word !!
We (Steve Bosquette and Bob Throne) need your input .. we'd like to see your boat, sail with you - and maybe swap tillers, and swap ideas, stories, and boating yarns . preferably over a good meal (potluck) by the water.
So we've started a Yahoo Group hoping we can put together a good time in 2011. It is described as:
Information about and for people who want to gather to "mess about" in boats .. sailboats, powerboats, canoe & kayak .. home built or manufactured . 6' to 25 -35'.
Two were held in 08' and 09' at Hawk Island Marina, on the Rancocas just off the Delaware River north of Philadelphia. We had a great time and there are write-ups on Duckworks magazine online.
But there was no beach and limited camping, and couldn't find a better location for 2010. ... SO ...
Do you know of a venue with ramp, beach and campground say between northern Jersey, Southeastern Pennsylvania or southern Maryland/Delaware?
Are you interested and would you like to come?
What time of year would you suggest .. avoiding the Michalak Rend Lake Messabout Fathers Day, the Texas 200, and the Mid-Atlantic Small Craft festival in the Fall?"
Here's the url - groups.yahoo.com/group/EasternMessabout
Fair winds,
Bob Throne

| | |
| --- | --- |
| Here are samples of some of some of the wonderful electronic Christmas Cards we have received this year at Duckworks! | from Mike and Jackie Monies |
| From François Vivier | From Flavio Faloci |

Mike:
You cover other designs from Sevtec, but this particular design plan, Mariner, is NOT listed on his web page, but it is listed in his web store site.
I'd like to see it in your list.
Thank you as usual for Mike's Boat Indexes.
Best regards,
Eliot
___________________________
Mike replies:
Hi Eilot
Thank you for that. It's done.
Mike

Hi Chuck and Jim:
Great to see you navigating on Woodenboat pages!
cheers
Wojtek

Would love to get into boatbuilding
Hi,

I would love to get into boat building. I have worked for some of the largest furniture companies, so the wood shop is home to me. I actually draw the plans for factories now. I would like to start with something small and try to perfect the technique then move up to a 18' to 20' runabout. Can you recommend a plan for a small boat that with teach me everything I need to learn for a larger boat?
Thanks,
Channon
____________________________
Chuck replies:
Channon:
There are a number of different techniques used in boat building. Probably the most common for small boats is "stitch and glue". But Strip planking, plank on frame and glued ply lap are others. My suggestion would to build a small boat that uses the same building system as the larger boat you want to build.
Chuck