Skinboat Part 4
Part 1 - Part 2 - Part 3 - Part 5
Well I got the coating on! What a bitch! It's like working with epoxy! No such thing as being neat! Rubber gloves, old clothes, etc. are mandantory as well as throw away brushes, reading glasses ,etc.!! You have to stay with this stuff to keep track of the sags, runs etc. It's thick and will sag if not flat. It just puddles on the flat! I put on the required 3 wet coats, and instead of yellow like I expected, it's a clear translucent as you can see! Which also made it very hard for me to see voids or thin spots when I first started. I found a 4 inch brush was better than the plastic squeegee laying on the ground! As time went on it got better and better, and I was able to tell whether or not I had complete coverage.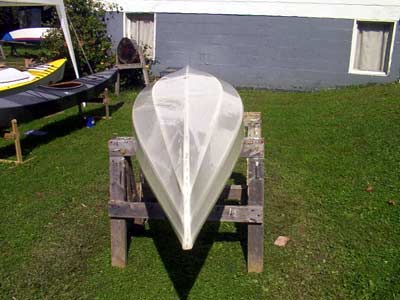 It's curing now, so launch date ain't dat many hours away! To start off with, I don't recommend it for the first time builder. When I say "IT", I'm talking about the nylon as well as the coating! I'm sure it will be tougher in many ways but the cost for a first skinboat will be way out of line. This is used on those thousand dollar boats! The cloth is the same price as canvas but then you include shipping and the price goes up...and the coating averages $1.00 per ounce! Cotton canvas is available locally most of the time...like Jo Annes Fabric Store, etc. I used on the 2 previous boats and haven't had any problems yet. The blue boat has been all over the place!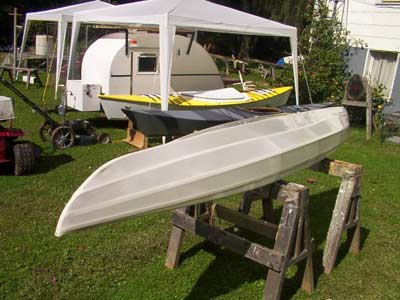 When this stuff cures I'll put on a thin keel strip and rub rails; then I have to come up with something to make light floorboards from, and I'm off to the lake. I might not have the deck pieces on but that has no bearing on how the boat will perform. Damn near anything can be used for the little deck pieces. I mixed 3--12oz. batches to do the hull-- that's 8 oz to 4oz. same as 2:1 epoxy and have enough left for the deck pieces.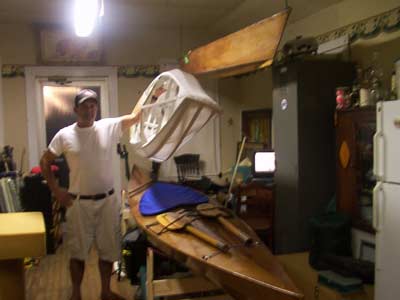 The process took a little over an hour. I don't have any data on this stuff as far as curing goes. Even called many paint stores, etc., and got no help at all. So we'll just wing it and see what happens. I am excited about getting the boat wet! Hope it will do the job but at this writing has cost me more than both of the 14 footers put together! Bugs were there as usual!! I swear, everytime I work with anything that's white..."here they come!" so I have a few little black specks mixed in the coating! I sure wish I could have done it inside but the shop is full of other boats! Gotta go check on it! Later,

Richard