Clones of our Dianne's Rose have now been launched! Some displaying slight genetic anomalies, regardless, Dianne and I are very excited about each completed Tiny Houseboat! They are emerging from their "cocoons" (garages, sheds, tarped shelters, etc.) and are looking beautiful!
Proud builders are starting to head out on adventures in all directions. A call from my bus driving buddy proves the point! He frantically reported that our boat had been stolen!!! Understandable after he saw an apparent twin heading down the highway behind a strange vehicle. I chuckled when explaining that he had seen one of the recently launched boats! Time to give a "heads up" to Duckwork's readers so we can avoid a similar error!
Finished boats may soon be seen on the roads or waters near you! Plans have been sent out to such far afield places as.... all over the United States, Canada, Australia, England, Holland, Belarus, The North West Territories, and even the Ivory Coast of Africa!!! Roses are budding throughout the garden but not all will be easy to spot! A few have been built to their builder's personal wishes (hence the genetic anomalies previously mentioned) an example is one that is stretched to 24'! This is one of three boats I know of that have wet their bottoms. But lets start with an email from Tim and Kim from Indiana:
"Hi Roy. Hope all is going well with you and Dianne. I wanted to send you a few pictures of our boat since we have finished. It has been a really fun project to work on and we are more than satisfied with the outcome. As you will be able to see I made a few changes and added a few things that we thought we would like. I installed awnings over the windows so during rain storms we would be able to leave the windows open so the cabin would not get so hot (works really well), I put in a marine head and installed the holding tank under the rear deck. I also cut the door opening to the head lower to make it easier to enter. In the rear deck area I made shelves that attached to the transom to hold the gas tank and battery box thus freeing up deck space where we can put our two coolers. I also put in a fresh water and a grey water tank under the sink area.

I would like to take the time to say Thank-you for making these plans available and helping me to be able to do something that I have wanted to do for years. My wife and I have already taken the boat out 3 times and we love it. We have plans to take it to Lake Cumberland in Ky. In the next few weeks and from there who knows, which is the greatest thing about this boat, you can take it anywhere. We look forward to many fun trips in the years to come, your plans were easy to read and very detailed, which made the build fun and easy. I am so glad that you made them available to the public, Thanks Again. Tim Summers."
For a designer, the feeling is like having a new family member enter the world. A legacy that continues beyond ones lifetime! But what is really cool is what the design offers their new owners! Pride of accomplishment, just scratches the surface. One couple was swarmed at a gas station with questions about their boat. It was not a bother but instead they seemed rather pleased by the attention! Another noted how passing boaters feel the need to snap photos on their river tour! We can confirm this is the norm, so welcome to the club guys! Dianne and I also know how much fun is in store, as the reports of "Big Trips" planed and a few completed are coming in! A "Tiny" houseboat is an affordable way to explore local waters and being small expands the possibilities! It's practical to trailer to far horizons and once launched, just find an isolated beach or creek and you're at your new home with all the comforts!
The first birthing/launching actually came from our Facebook, Build Group (private). It includes 39 members of the 79 plans out there. Here we share the building experience. The other 40 hints of the possibility that there still may be more boats launched, which we have no knowledge of. If you see one, please report the stolen boat to me, not the police;-) A young family, out of London (Canada), not too far from us. Ryan and Stephanie MacQueen stretched their boat to 20 1/2 ft (It is easy enough to add one or two frame sections). Their build was completed in less than six months, under the approximate 600 hrs I've estimated in the plans. Stephanie was right in there with Ryan throughout the build! The cushions she upholstered add that homey feel and are just one example of her hard work! A cautionary tale, that there are risks in building boats. She also suffered from a rash each time she sanded cured epoxy (first time exposure) and had to bow out of such work but still found plenty to do. All ended well and I was amused to see they even added a flat screened TV as part of their finished decor. They now take their two preschool children out exploring with Sesame Street playing to lull the kids to sleep, if the waves slapping on the hull do not do the trick! The MacQueens took to heart my assertion that the boat could be built affordably with materials bought from the local building centre. Necessities like a motor and trailer can also be purchased used, if the budget is smaller, which they did. I'll let Ryan explain in his own words:
"Stephanie and I were so excited to build this boat. What was initially supposed to be a 2-3 year build quickly became a goal of 6 months. Once we started working on our boat the idea of using it this year became too tempting to be patient. What struck us most about DIANNE'S ROSE was it's beauty and ability to get out there and explore nature in comfort. It did not let us down! We have already taken four trips this year and have two or three planned before things ice over. The build took about 500 hrs, using regular plywood and cedar from a local building supply store. The plans are well laid out and very clear. Roy is extremely approachable and very knowledgeable craftsman. I don't believe I ever waited longer than a few hours to get a response to any question I threw Roy's way". "We couldn't be happier with the boat! There are still details to take care of but the build is done... let the hobby begin!" Ryan and Stephanie MacQueen.
When we visited, them during the build, Ryan explained how he managed to acquire 16 oz fibreglass cloth left over from wind mill construction. With this used, the resulting boat will not easily brake and it did not brake the bank either! Dianne and I are pleased to have met this inspiring family!
Luck would have it, another boat was also being built in London and we dropped into Rick Hill's shop on the same day!
Bob's Build
Ed's Build
Ray's Build
Ryan and Stephanie's Build
Sandy and Wayne's Build
| | |
| --- | --- |
| | |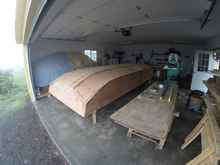 Rick and Robin Laura have extended there build to 24'. It looks like a floating cottage setting her apart from the other builds! We enjoyed chatting with Rick about the boat and the massive trailer he was customizing, which includes a full set of stairs! The hull was ready to flip later that day and his helpers were busily prepping! This was as close to a "production" build as I've seen. Rick shared pictures as we had to be off before all their hard work was complete! Two fork lifts flipped the boat and then moved it onto the trailer. He has kept the group updated with the many unique features. On his wish list were; a covered rear deck, an extra one foot of height along with the added length, a beautiful kitchen and bathroom, a separate full stand up shower. The recent launch looks like a huge success and she floated nicely on her lines! This "mini mansion" with a real front door is massive when comparing to our Dianne's Rose. It still shares a similar motivation as many of the builds as this boat is for the comfort of his lovely wife!!! A recent update...."We travelled to Port Franks this weekend. This boat draws lots of attention and compliments. Travelling up and down the Ausable River we watched as many other boaters would snap photos of our boat as we passed."
Richard and Mary Mertins out of Florida has an interesting take on the design and has modernized "the look"! Reminding me of a Model "T" chopped into a Hot Rod! The roof's centre raised section has been eliminated. Laminated full length curved roof beams support the sleeker lid. The three side windows are a single long window with tracks for the glass to slide. Take a look and see what you think... I'm looking forward to seeing the end game as details like his port holes are very well crafted and hint of great things to come!!! It will likely be in the water when you all read this! They are having some difficulty naming the boat but on the list of fifty possible names, "Queen Mary" caught my eye!
Sandy and Lee Freeman are doing well:
"Work has progressed. We wanted to launch this year but it looks like next Spring now. Built by the plans except one window is longer and we added one in the bathroom (Sandi insisted). Also a hatch that lifts over the front door was added as we are getting older, 70s, and it makes it easier for us to enter and exit. Thanks for all your help! Sandi and Lee." I do try to be available for questions. It is not a bother as I enjoy chatting about the build!
Roger Risk from Australia has a bit to go before the launch but shows great promise! While he is in the midst of lots of "sanding"! A sunken foredeck, sliding slatted couch-to-bed detail, access hatches on the rear deck are some of the changes made with more surprises to come! Such changes add a bit of time but what's the point of building your own boat, if no personal touches are added! I am happy to see it!!!
"Hi Roy, I'm getting closer each day to launch. I commenced two years ago as a hobby, the attraction is a houseboat that is different and tailorable. Fortunately, I became friends with a chap who was a professional boat builder who taught me some skills before I commenced. The boat is built with marine ply, treated pine, epoxy and stainless screws. I found the plans easy to follow, however several parts have been adjusted as I made some errors. I adjusted the internal layout to suit my wife and I to stay aboard for 3 to 4 nights. Birthdays and X-mas has given an easy choice of presents, outboard motor and tandem trailer!!! Currently I have started the small detail stuff, doors, floors, plumbing, electrical and painting. It should be in the water next year."
Paul and Jane Rodwell are also from Down Under. He is a very talented gentleman and was one of the first to get a set of plans. He offered kind critique to correct a few details. The plans are now better for all to come! Paul has worked restoring old rail passenger cars and decided to rework the windows so they drop down into the hull. The boat was first built as a cool model with working windows! A full sized mock up of the window arrangement was also built. It required a change to the hull framing to accommodate the dropped windows. Adding some time to the build but they work well! The front deck was lowered with a small "landing craft" styled hatch on the bow. These modifications where to ease boarding for his lovely wife, Jane. A covered rear deck also added comfort. Other exciting innovations are the use of electric motors. Many others have asked if this is an option and I think it is! Paul is going to answer that question once launched. He told me it would have already "test" launched "Rosie Lee" but for a drought that has his choice ramp far from the water's edge. Paul does a great job chronicling his build with articles in Australian Amateur Boat Building Magazine. In lieu of launching they have hosted a "Boat Party" so their friends could see the progress. It was a great time and all were impressed. As were Dianne and I!!!
Ed Colpitts! Has turned his hull! A big deal for any boat builder! He has mentioned that he will build a cabin that will look more "shanty" than what I have drawn! I'd be disappointed as a designer to hear of these changes, if I weren't so excited to see what he comes up with!!!
Others hulls are out there, Ray and Katherine Gottschall is in no hurry:
"Hi Roy, as you may know, I started this project with the intentions of having it ready by the time I retire in 4 to 6 years. I've been on it now for a year and a half."
He is finishing up the runners on the bottom of the hull and soon will be then ready to flip. "Susquehanna will make a good name", after the Pennsylvanian River of Ray's birth place.
Susan and Wayne Roberts are also few getting close to the "flip day"! This is all great fun and the possibilities are endless! I'll end with another comment from Tim Summers. When building the boat they informed me they would often ask out loud "what would Uncle Roy think?" when looking at a possible change in the plans. I like that!!! As does "Aunty" Dianne! We do feel very related to each new family member!