Beach Rollers
Hi Chuck,
Just got an email from Charles Hodges in South Georgia. He built this from a photo. Helmless steering, inboard diesel, sea bright skiff stern, phew. Used Bolger's Idaho as starting point.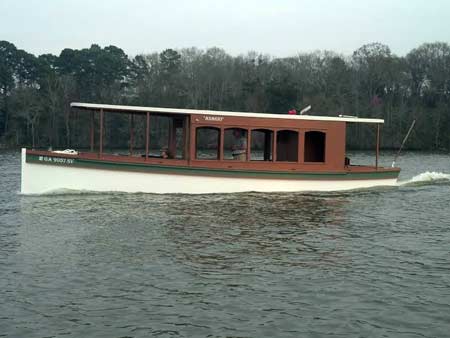 Tom David
---
---
PSA
Dear Media Friend,

Massachusetts Breast Cancer Coalition (MBCC) will be hosting its 17th Annual Statewide Swim, Kayak, Walk, Run and/or Aquathon event on Cape Cod on Saturday, August 20!

We are requesting your pro-bono media support to kindly run the following Against the Tide Poster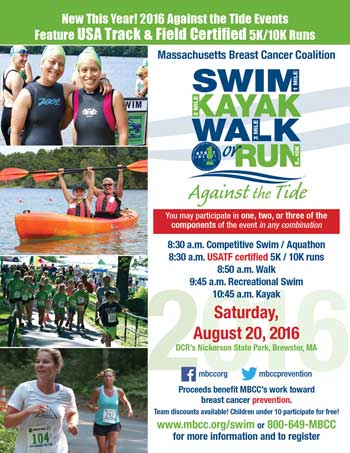 click to enlarge
As the state's leading breast cancer organization, MBCC is the only organization both locally and nationally to focus on the preventable causes of breast cancer. As a small non-profit organization, MBCC is often overshadowed by other larger organizations with a dedicated media budget and it is your pro-bono support which directly impacts the success of our Against the Tide fundraising events.

Thank you so much for supporting MBCC's goal towards breast cancer prevention for our future generations.

Kind regards,
Cheryl Osimo
Executive Director
Massachusetts Breast Cancer Coalition
cherylosimo@comcast.net
508-246-3047
---
New Videos
Hi Chuck, 

Giving you a heads up that we have launched a new Mystic Seaport video today, "Bringing History to Life: Interpreters at Mystic Seaport." With skills from printmaking to shipsmithing, a team of interpreters at Mystic Seaport brings the past into the present. Visitors enjoy theatrical performances, live demonstrations, and engaging with these storytellers to connect with the 19th century. Here is a direct Link.
Let us know what you think!
Here is another video: "Celestial Navigation: Finding the Way at Mystic Seaport." In the years before GPS technology, sailors relied on the sun and stars to find their way home safely. The times have certainly changed, but Mystic Seaport explores the surprisingly precise science of celestial navigation. Here is a direct link.
Connor

---
Always room for one more department
Chuck, Good gravy, did I step in it! Sunday I'm going up the state a piece to pick up a partially completed CS 17 on a BRAND NEW trailer, for next to nothing. Less than I have in the Frolic, already... Changes nothing in my world, except now I have an awesome trailer to share between the boats, and another boat to build. What's new, except the trailer.
Also, just read the mag. One more stencil item is Liquid Mask. I know a company called Parma made it for years. You paint it on, then cut out your stencil shape, then peel off when done. Like liquid acetate. Of course, I think stencils are cheating, but, sometimes you just gotta.
Thanks again, for all you do
Peace,
Robert
---
I have a question... or two to your readers.
I have a ton of fiberglass cloth I picked up for almost nothing. I want to make some long 4 inch strips (like fiberglass tape) for a stitch and glue project, but when I try to cut the stuff it de-weaves, or unravels, and becomes useless. Is there a method to cutting strips of fiberglass cloth that keeps it intact long enough to apply to a seam? Using masking tape perhaps, or laying a line of hot wax or something along the intended cut?
Secondly; as I understand Proa boats, some may only be tacked port and starboard by switching bow and stern so as to keep the outrigger upwind, while other Proa like boats may be tacked with the outrigger to either side. I have been unable to find out why this is so. I can only imagine it has something to do with how much flotation the outrigger provides. Id like to build a single outrigger sailboat, but I do not have the patience to keep switching bow and stern around when tacking. I'm doubly confused when I consider that trimarans tack port and starboard without effort.
Any assistance your readers can provide would be greatly appreciated... thanks
Respectfully
clyde
Readers, if you have suggestions or information for Clyde, send it to me and I'll pass it on - Chuck
---
some folks find mushrooms in their yard, I find boats. but just like mushrooms, I don't know what this is?????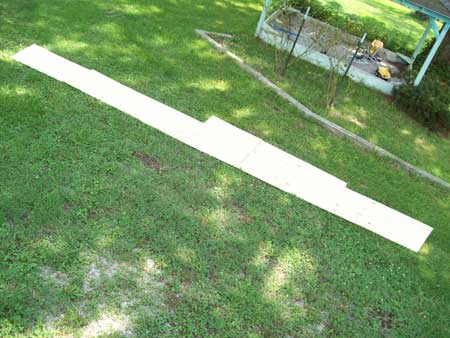 im going to watch it grow for awhile and see if I can identify it later. I hope it isn't poisonous.  
Gene Berry

---
Red Barn Boats
Chuck:

Just wanted to let you know that I got a new Action Camera; a Gitup Git2 Pro, and it's a pretty sweet camera for $160.  So I have been using it to video sailing a couple of my boat designs on my favorite lake.
Warren Messer
Red Barn Boats
---
A new design
Last weekend I launched my latest design - kids' kayak "Pinocchio". Designed and built for my 7 year old son who wants to learn paddling.
The boat behaves very well - meeting all expectations, my son loves it!
Alex Bogdanov
---
An oldie but a goodie
Hi Chuck,
Here's a picture of Dragonfly, a 1969 Dutch built 20' Celebrity that my friend Mike Fernandez (in the red shorts) rescued from years of neglect. Mike and I haven't sailed for years, so taking this old lovely out was a great joy.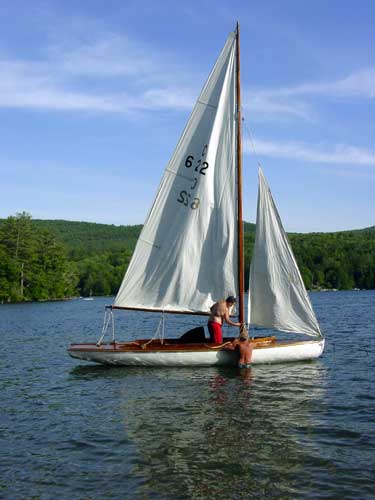 Tim Ferguson
Thetford, Vermont
---
Wow! Four Incredible Solo Adventures
For me, this one image shows the REAL Race to Alaska: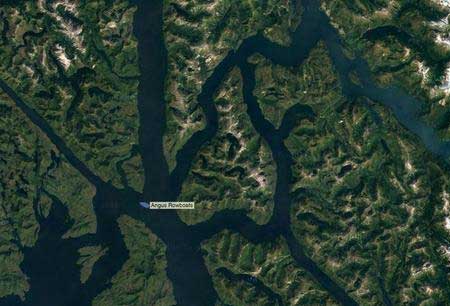 1. COLIN ANGUS
That tiny dot is Colin Angus, as he headed deep into the Inside Passage, completely alone, for the final days of his 750-mile race.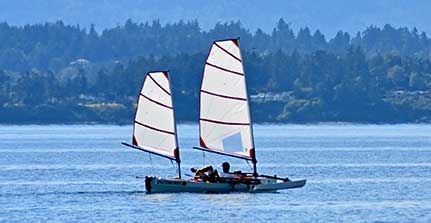 At 59 years old, Mathieu Bonnier just completed the Race to Alaska, solo, in a boat he also designed and built.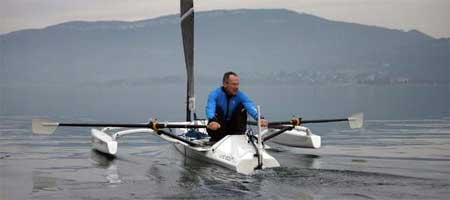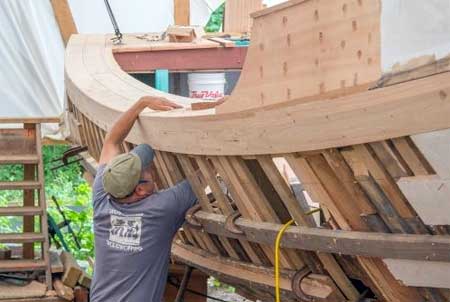 You'll never believe what caused Karl to quit the Race to Alaska on his stand up paddleboard.  See R2AK's story on The Success of Failure — this is, to me, the best boating story of the year.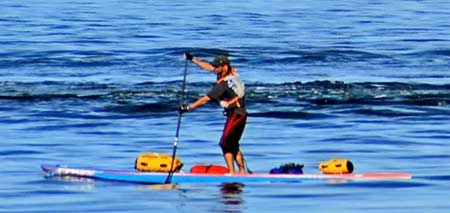 Our hats are off to these remarkable men.
Warm regards,
Steve Stone, Co-Founder
Off Center Harbor
---
Wayback Department
Here is another of Herb's wonderful catalog scans: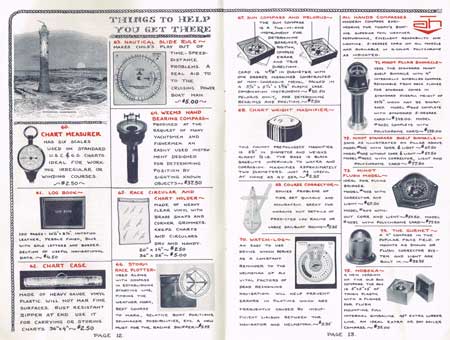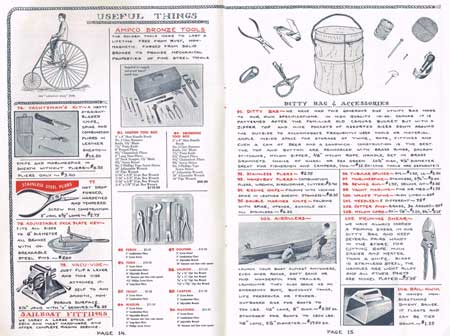 ---
To comment on Duckworks articles, please visit one of the following: