Jon Boat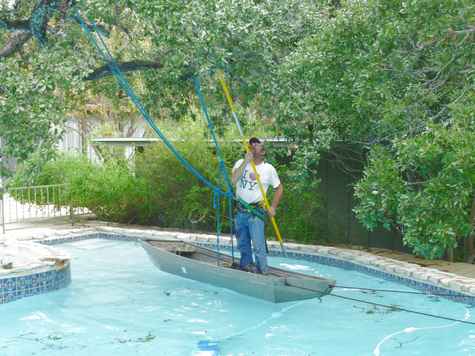 After trimming trees for 40 years, my neighbor's arborist found a new use for his jon boat.
Steve
---
---
Motor Fixing
Never a dull moment around here and if things slow down someone will break something. As Crazy Steve says, "your tragedy is our entertainment" especially if it's something impossible to fix; we thrive on the impossible (as long as Howard's around). We have Phil and Howard working on an outboard motor. Phil got this great deal on a boat and motor and naturally the motor self destructed after the first half hour. Something got really hot inside and things were melted beyond all comprehension.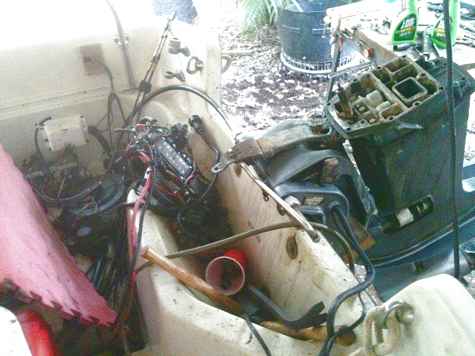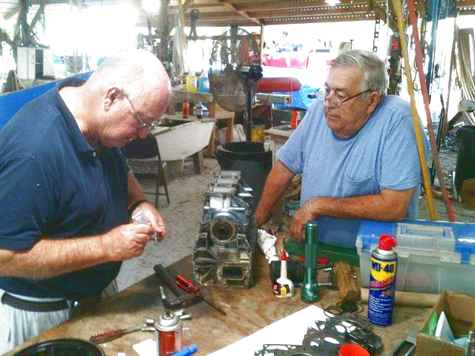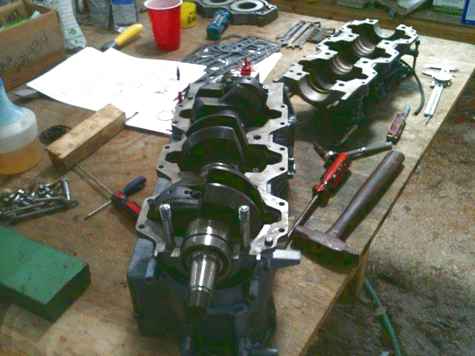 Phil was all down about it and couldn't understand why the rest of us were happy and excited. Phil's the new guy around here and hasn't seen Howard at work. Howard's the old guy with hair in these pictures. We have access to wholesale motor part prices from a company that has everything. You can see what happened. The whole dam thing was taken apart, broken bolts drilled out, cylinders reamed out, new pistons and bearings put in, new pumps all round, carbs overhauled, all put back together and the thing runs like a sewing machine. You have to see it done to believe it, parts strewn all over the place.
David Lucas
Lucas Boatworks and Happy Hour Club
---
Flagship Sailing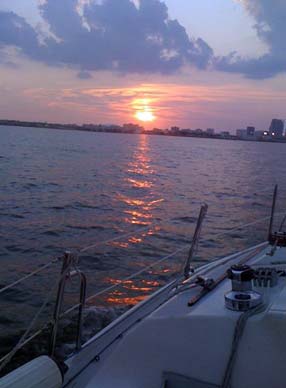 The greater Tampa Bay area is in one of the most sought after sailing communities in the United States, St. Petersburg, Florida. Offering year round sailing in Tampa Bay and the Gulf of Mexico, our facilities at The Harborage Marina include a swimming pool, ashore restrooms and showers. The Greater Tampa Bay area is served by three major airports - Tampa, St. Petersburg/Clearwater and Sarasota. The Flagship Sailing office is only four minutes from I-275. It is a year round vacation destination. We recognize that members of a family may not all be consumed with a desire to sail. The Tampa Bay area offers more than incredible sailing. Nearby you will find professional baseball, football and hockey together with award winning beaches, museums, hotels, and restaurants. Orlando, with its attractions, is only a two hour drive.
Flagship Sailing, Inc. sails out of The Harborage Marina in St. Petersburg, Florida. It operates the Flagship Sailing School, which is certified by the American Sailing Association and offers beginning through advanced sailing lessons; captained charters; and the Flagship Sailing Club.
The Flagship Sailing Club is designed to provide its members with a source of continuing sailing education while at the same time enabling them to sail in a variety of locations along Florida's west coast including Tampa Bay without the high cost and hassle of ownership. Every Flagship Sailing vessel is outfitted with all of the equipment required by the US Coast Guard as well as that which is additionally recommended by the American Sailing Association.
Flagship Sailing Club membership is open to any sailor holding, or interested in obtaining, sailing school certification from the American Sailing Association as well as to sailors with equivalent experience, but who have not obtained formal certification. A member may choose either a three, six or twelve month membership.
Membership Dues:
(12 months) $295.00/month
( 6 months) $375.00/month
( 3 months) $445.00/month
Membership is contractual for whichever time period you choose, but may be cancelled anytime thereafter with thirty days notice. Each entitles members to unlimited usage of Flagship Sailing vessels for day and weekend voyages on a bareboat basis.
Members do not have to concern themselves with, nor pay for, the cost of fuel, maintenance, insurance, or slip rent. There are two Catalina 27's, two Catalina 270's and a Catalina 30 available for club use.
Should members of the Flagship Sailing Club wish to increase their formal sailing school instruction, they may register for any of the sailing lessons offered by the Flagship Sailing School. If the member is willing to become part of an already scheduled sailing class (or they may form their own class), the member will receive discounts of 15%, 20% and 30% (respectively) depending upon whether the group consists of two, three or four people.
Additionally, Flagship Sailing Club members may, while staying onboard one of the Flagship Sailing vessels, use the swimming pool, showers and restrooms located at The Harborage Marina.
Please let me know what additional information may be helpful. Thank you.
Gardner Lloyd
Flagship Sailing
---
Reefing Claw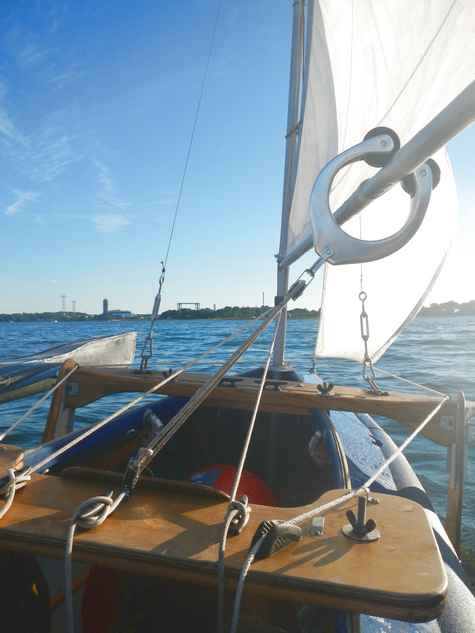 I've had my first sail with the reefing claw, and I'm happy to report that it operated as I was hoping. The tension of the wind on the sail prevented it from slipping away from the position I had placed it (on the midpoint of the boom). Up to now, I'd been tying a sheet line to the end of the boom. Pulling from the midpoint on the boom created a far more efficient "shape" to the sail, and I discovered I was able to sail much faster than with the previous arrangement. As you may be able to tell from the attached photo, I secured my line to a simple cleat. This is probably inferior to using some sort of cam cleat. I had a momentary panic when gusts came up, and it was difficult to quickly free the line, so I'll be shopping for something to replace it soon. The Klepper sail I'm using was thoughtfully designed with a cut-away just at the point where I placed the claw, so it didn't really come into contact with the sail material at all (at least when the sail is fully deployed). Soon (I hope) I will have the jib-furler I've requested from Klepper USA, and I will feel fully prepared for long distance trips.
Rick Alpert
---
Tall Ship Models - Elegant Bookshelf Sailors
SD Model Makers Expands Tall Ship Model Offering
SAN MARCOS, Calif., Sept. 11, 2012 (GLOBE NEWSWIRE) -- San Marcos California based SD Model Makers announces the expansion of their tall ship model offering. From classics like the USS Constitution ("Old Ironsides") and HMS Bounty (of "Mutiny on the Bounty" fame) to modern tall ship training vessels as the US Coast Guard Barque Eagle and the German Navy's Gorch Fock.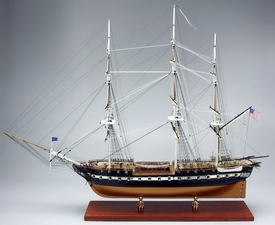 As a widely recognized leader in handmade tall ships, SD Model Makers master model shipwrights produce models in magnificent detail. From hand laid decks, tarred standing rigging, complex running rigging and furled sails to Nelson's HMS Victory's copper-sheathed hull, each model is a museum quality masterpiece. Each model comes fully assembled with a solid hull -- hand carved from kiln-dried mahogany. Other parts are made from a variety of woods, putty, resin and metals. Every model includes brass pedestals, a polished mahogany base board, and a brass name plate. Model sizes start at 12-inches.
SD Model Makers offers true museum quality Tall Ship Models, in virtually ANY size or scale desired. Models are only made-to-order, typically with a 12-16 week delivery time. SD Model Makers motto -- "We offer our clients, quite simply -- The finest ship models in the world!"
Additional options include a protective display cases edged in a polished mahogany frame with crystal clear Plexiglas sides.
SD Model Makers owner Captain Brad Poulos explains: "We specialize in making museum quality ship models. We have built scale ship models of all types including workboats - container ships, tug boats, LNG carriers, OSVs -- even offshore oil platforms. As well as replicating private power and sail boat, mega yachts and catamarans. Providing models as gifts, office displays or trade show exhibits in any size or scale for ship builders, boat yards and vessel owners is a core competency of our business. The expansion of our Tall Ship model offering provides our clients with unique display models of these amazing ocean going vessels, with incredible detail and workmanship - quite simply, the finest sip models in the world!"
SD Model Makers offers museum quality replica ship models of commercial, military and private vessels. The company can produce ship models in any size or scale desired, as well as display and transportation cases. For further information
Captain Brad Poulos Office: CaptainBrad@SDModelMakers.com