Chuck, I would like to get more information on the boat building project in Feburary Reports under the words "A Boat". Is there any chance you could email me the builders first name and email address? Thanks for your help.
Bud

Bud: We have lost track of the unsigned letter that delivered the information. Maybe someone out there will help out. Here is a photo: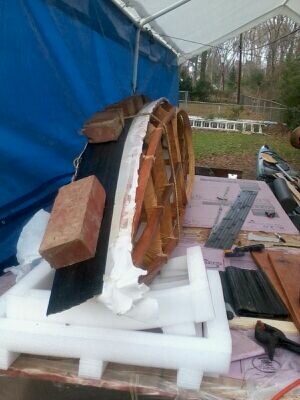 Heat shrink Dacron with bamboo. Hull - black bamboo (dyed),
Deck-carmalized bamboo veneer. 12' x 23".
Chuck
---
2012 Progressive Insurance Miami International Boat Show & Strictly Sail Charts New Course for Sailors with Rare Appearance from Jimmy Cornell, Hundreds of Educational Seminars, and Interactive Attractions 
World's Premier Boat Show Offers Ideal Destination to Discover the Sailing Lifestyle and Learn the Ropes Feb. 16-20 
MIAMI, Jan. 30, 2012 – The 2012 Progressive Insurance® Miami International Boat Show & Strictly Sail will provide sailors of all skill levels the nautical know-how needed for years of fun on the water with an entire new lineup of education and entertainment Feb. 16-20 at Miamarina at Bayside. For the first time, Jimmy Cornell, one of the world's most accomplished sailors, will make a rare U.S. appearance, offering show-goers the exclusive chance to hop aboard a sailboat for a day of cruising and instruction, as well as first-hand accounts of his worldly sailing adventures. Cornell's seminar is one of hundreds of educational, interactive learning experiences on deck, providing sailors of all ages and skill sets with a multitude of opportunities to get on the water and discover the excitement of the sport. Attendees also will be entertained from deck to dock with several fun features including Yoga Onboard, the popular Cruisers' Party, the new Sailing Simulator and more. 
In addition to showcasing hundreds of the newest sailboats from around the world, including a 95-foot luxury sailing yacht, and cutting-edge accessories for cruising, Strictly Sail highlights include: 
Meet and Learn from World Renowned Jimmy Cornell
Cornell's class, Long Distance Cruising Master Class including Planning Your Dream Voyage, will be held on Saturday, Feb. 18, from 9 a.m. – 3 p.m., and includes six hours with the famous sailor, one two-day ticket to the show and a buffet lunch aboard the Biscayne Lady at Miamarina at Bayside. Registration is $155 per person and seating is limited. Enroll early for a seat.
As one of the world's most experienced sailors and acclaimed authors on the subject, Cornell has sailed more than 200,000 miles in all seven oceans and completed three circumnavigations and voyages to Antarctica, Alaska and Spitsbergen. Through the guidance provided in his 16 books, thousands of sailors have navigated the seven seas, and his World Cruising Routes has become one of the world's best-selling nautical publications, with 150,000 copies sold to date.
"We're so honored to have one of the world's most accomplished sailors join us for this year's show," said Strictly Sail Show Manager Kevin Murphy. "His global travels and extensive sailing experience are sure to enthrall and inspire all sailors as they plan their next voyage." 
Venture from the Classroom to Sea with Hundreds of Sailing Seminars
Strictly Sail offers classes for sailors of all ages and experiences. Premier classes include everything from Introduction to Cruising Catamarans to Radar and Troubleshooting Your Diesel Engine. For those eager to discover more about the effects of the weather, Lee Chesneau, senior marine meteorologist, formerly with NOAA/NWS's Ocean Prediction Center, will offer a comprehensive, full-day course on determining weather forecasts. Sign up to reserve a spot at these advanced classes today. 
Hundreds of complimentary classes are offered each day on a variety of topics including specific regions around the world, such as the Bahamas or canal boating in France, as well as hurricane preparation, electrical troubleshooting, solar power technology and docking techniques. 
Simulate Setting Sail, Practice Yoga in Motion, or Discover Sailing with Free Rides along the Bay
For the first time at the show, sailors can discover how a boat reacts to wind and waves on a Sailing Simulator before they hit the water. The new technology simulates the actual movement of a boat under sail, allowing novices to learn how to handle a boat and experienced sailors the opportunity to practice under different conditions. 
Boaters eager to feel the wind in their sails on-water can learn first-hand what sailing is all about during complimentary, hour-long sails with an experienced Coast Guard-approved Discover Sailing captain. New sailors also can have all their questions answered at the Welcome to the Water Discover Sailing Center, featuring experts offering unbiased advice on finding the right boat, local resources, boats for every budget and more. 
Feeling Zen? Attendees also can learn how to stay stretched and balanced during a voyage with special classes of Yoga Onboard. 
Party with Fellow Skippers, Hear Tales of Adventure at Sea
On Saturday, Feb.18, for those looking to continue the fun after an exciting day on the water, Latitudes & Attitudes will host its annual Cruisers' Party with live music by Eric Stone.  All guests that arrive by 6 p.m. will enjoy complimentary drinks and pizza! 
In the Authors' Corner, hear storytellers from around the world share their adventures on the seas. 
Visit StrictlySailMiami.com for more information on all-things sail at the boat show.
Show details:
When:            
Thursday, Feb. 16, through Monday, Feb. 20, 2012
Thursday, Feb. 16 (Premier Thursday): 10 a.m. - 6 p.m.
Friday, Feb. 17 - Sunday, Feb.19: 10 a.m. - 8 p.m.
Monday, Feb.20: 10 a.m. - 6 p.m.
Sea Isle Marina & Yachting Center and Miamarina at Bayside open 10 a.m. - 6 p.m. daily 
Where:           
Miami Beach Convention Center
1901 Convention Center Drive, Miami Beach
Sea Isle Marina & Yachting Center – Miami International Boat Show's in-water display
1635 North Bayshore Drive, Miami
Miamarina at Bayside – Strictly Sail Miami returns to Bayside for 2012!
400 Biscayne Blvd., Miami 
Admission:    
Premier Day (Feb. 16): $35
Adults: $18
Five-day adult pass: $80
Two-day adult pass (valid Feb. 17-20): $32
Youth 15 and under get in FREE 
Advance tickets can be purchased at MiamiBoatShow.com or StrictlySailMiami.com.
Ticket includes a one-year magazine subscription to your choice of the following publications: Yachting, Boating, Salt Water Sportsman, Cruising World, TransWorld Surf or Flying ($7 value).
Parking:     
Daily parking at the American Airlines Arena is $10. 
Web:               
Visitors can now pre-shop the show online at MiamiBoatShow.com or StrictlySailMiami.com; get up-to-the-minute news at www.twitter.com/MiamiBoatShow; find us on Facebook.