The Treasure Chest
The Treasure Chest is a place in Reports to put those cool sailing, cruising, motoring, boatbuilding or boating tips you have. Send us your ideas... We just need a photo and a short description.
This time we have...
Spray Shower Tip
Solar showers of the gravity feed or pressure sprayer tank type for small boats are immeasurably improved by using a kitchen sink spray head and hose replacement unit. They only cost a few bucks. The main improvement is the finger control on the spray head that enables easy flow start and stop, thereby allowing ultimate conservation of water. I've used the units on both types for years on the Chesapeake.
Carl Cross
Improved Fillets
Let me suggest an improved method of producing fillets. In my experience using tongue depressors leaves smudges on both sides of the fillet. So take a plastic card, cut one side to get an angle of about 70-80 degs. Cut the acute angle to the fillet radius ( I know there is a geometrical problem). Put down the glue bead, hold the card spatula firmly so the fillet radius is at the correct spot and pull the spatula maintaining constant pressure so glue is not left behind.
Gil
Paint Goes Hard
I was grieving over lost paint the other day and Mark Bowdidge suggested I put the lid on the tin and then shake the tin. We are not exactly sure how, but it seems to stop the paint from going hard inside the tin when closed.
Mark's plans are available at Duckworks.
Mike John
---
Restored Huon Pine Boat
I was talking to this bloke about his boat and he did the video. I am not much of a reporter as I forgot to get his name. The video spells out what he did.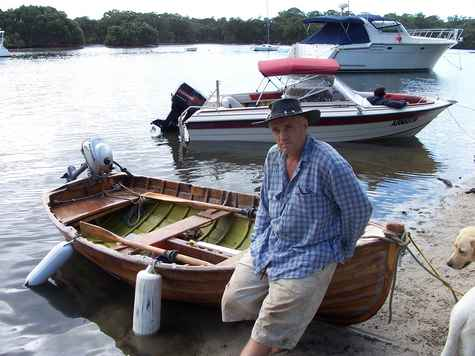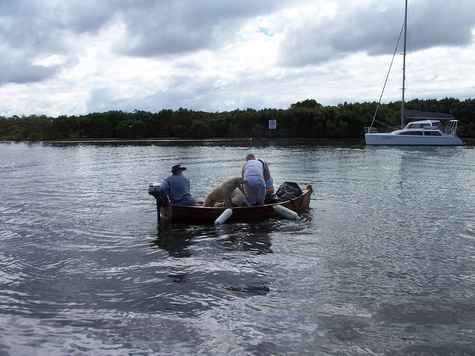 Stewart
---
Loonie
Here's A photo of the one-sheeter Loonie which appeared in a Duckworks article in 2001. I had it out today on the Hog's Back reservoir of the Rideau Canal system here in Ottawa. Still water tight and still fun to sail.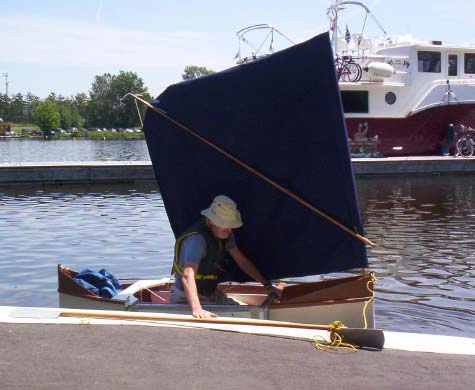 William R Watt
---
Proa Report
Here is a report from Skip Johnson about his P51 Proa. He has been working on it for years and has a new set of rudders.
Chuck
Sail today at Somerville went well, or at least as well as can be expected with so little wind.

Items of note, rudders work quite well up to 5-6 mph, will need more wind to verify operation at more reasonable speed. Note the difference in surface vortex with and without tip fence, couldn't tell any difference in feel or performance but there definitely is a difference in the surface wake. Will probably add fence to the fenceless. Rudder feedback is pretty much nonexistent at these speeds, there's a touch of lee helm which goes to neutral in the gusts (?!). Some fiddling with sail position could probably fix it up but I could shunt thru 90 degrees per compass (GPS kept dropping out of lock, probably due to lack of maintenance). I could also take out the lee helm by lowering the forward rudder a bit but that seems pretty risky until things are sorted out a bit more. Both rudders down do let you turn on a dime at slow speeds but that's just a docking nikineat.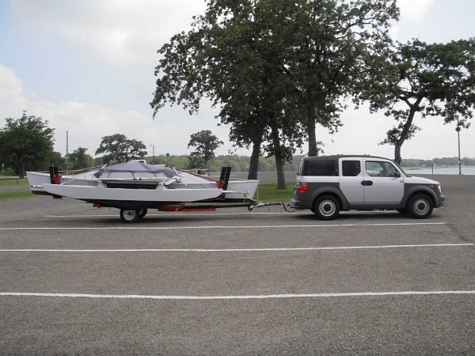 Shunting feels almost sinful, raise working rudder, pull shunt line to switch tack of biaxial sail, lower other rudder. This all happens while taking the three steps or so from one end of cockpit to other. No hassles, grunts, small dollops of adrenaline, just pull on three easy lines in sequence (actually 5 since there's a lock/unlock line on rudders) and you are headed in the other direction.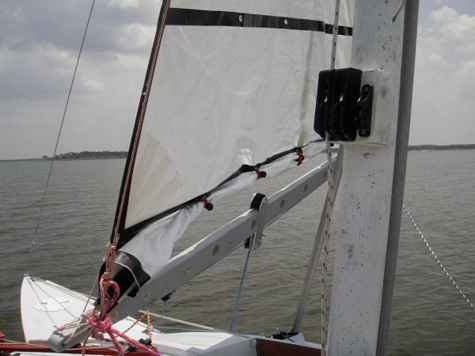 Shifting sail to downwind mode is easy also, but will wait to sing any praises until after some real wind.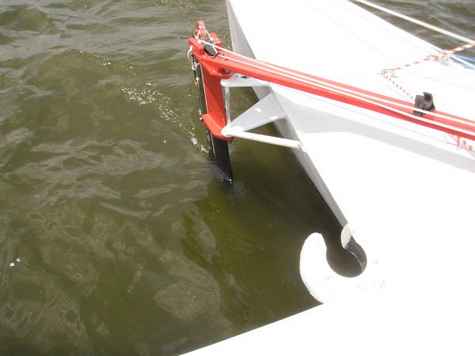 One last item, the last minute down dirty and messy jacklines are one of the best things I ever did on a boat....ever. Raising and lowering sail without it ballooning downwind is a treat.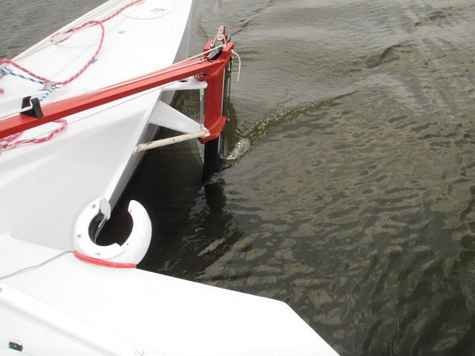 cheers,

Skip
---
Steamboat 1880
She has had a close call with a chain saw looking far better with out all the add ons.
This little gem was built in Littleton 1880s as a steam launch then converted to oil 1900 and then converted to sail in the 1940s. She then spent some years on various lakes on the lower South Island. She sank at Wanaka and she was then salvaged and has spent the last 15 years as a garden feature in Alexandria. The green hull is the original boat all the cream is a add on. You can see were the old deck line is. All the old ribs have a rebate for the inner belting stem was plum. She is 16' x 5'4" beam depth amidships is 2' she can fit a 16" prop. Hull is Kauri.
Peter and Angela Murton
Murtons Timbercraft

Boat Yard News

1895 fantail steam launch restoration Project
We have a Hasbrook twin 2 1/4hp steam engine and a gas fired black staff 25sqft water tube boiler. It is missing some of its fittings. The site glass fittings are ½" pipe thread and blow off safety valves ¾" pipe thread and a working presser 125psi. We would like to use vintage gear similar to what's left on the boiler. We are also looking for any vintage steam valves a whistle gauges hand boiler feed pump and a mechanical feed pump and any other bronze hull and deck fittings to suite.
Please contact Peter Murton on 5441818 or 027518027 if you can help.
Our Thursday nights amateur boat building sessions 630-930. If you want some hands on boat building experience we have two projects on the go the steam launch above and a small sailing boat or bring your own boat.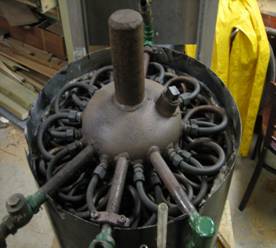 Peter
---

THINK YOU CAN BEAT TAO BERMAN IN A KAYAK RACE?
Extreme Kayak Racer and Bad Boy Tao Berman Makes A Wager to Challenge All Competitors At Oskar Blues Lyons Outdoor Games
LYONS, Colo. - Think you can beat three-time world record holder Tao Berman in a Kayak race? Come test your skills and celebrate with Oskar Blues June 11-13 at the Lyons Outdoor Games. Tao Berman, who has jumped out of a helicopter in his kayak to tackle a 65-foot waterfall for the cable show Stunt Junkies, believes that the race course in the Lyons Outdoor Games is the best course in the country and wants to compete against other top kayakers. In order to create more competition, Tao decided to up the ante and throw in $500 of his own money to bring the winning wager to $1,000 if anyone can beat him. Tao's no dummy though, and negotiated a deal for himself. If Tao wins, he acquires a year's supply of free beer from Oskar Blues and $500, bringing his cash purse to $1,000 as well!
In its eighth year, the Oskar Blues Lyons Outdoor Games offer competitions, exhibitions and opportunities to learn from elite professional athletes in the sports of kayaking, fly fishing, mountain biking dirt jump, pump track & short track events along with skating, chainsaw carving, dog competitions and a new 5K Dash and Bash run. All these activities will be set under the backdrop of Rocky Mountain National Park, Sandstone Park, Lyons, Colo., alongside live music & a party environment only Oskar Blues Brewery can provide. Smith Optics will be teaming up with Oskar Blues to create the blow out post party on Saturday evening.
"The wager all started because I know they have the best race course in the country, but their purse isn't big enough to attract the country's best talent," Berman says. The race on South St. Vrain Creek began in 2007 when Andrew Holcombe won the inaugural event. But since 2008, no one has had faster lines than Berman. Tao's new challenge is creating excitement amongst the professional kayak community and is sure to be an exciting event for spectators and participants alike.
The event begins with a kick-off party in Sandstone Park, where attendees enjoy delicious signature Oskar Blues BBQ and Beer. Oskar Blues is the number one producer of great craft beer in a can. Saturday's events culminate with live music in Sandstone Park and a party after at Oskar Blues Brewery. The mountain sports will take place throughout the town's various world-class facilities. For a complete schedule and to register, check out http://www.lyonsoutdoorgames.com/.
---
Star, Longboat and new shop
STAR

Ain't it one awesome looking boat? This thing looks like it's ripping along just sitting there. This is the 1929 wooden Star that Howard's finishing up. It's gone from a rotten piece of firewood to a rare beauty, probably stronger than it's ever been. Before you run out and get one for yourself just remember that the big red thing hanging down underneath weights about a thousand pounds so you'll need a sky hook to fool with it. The 100 year Star anniversary blow out will be held somewhere on Long Island next year and I'm sure this boat will be one of the center pieces. I doubt if any of us will own it, too much of a piece of history for the class.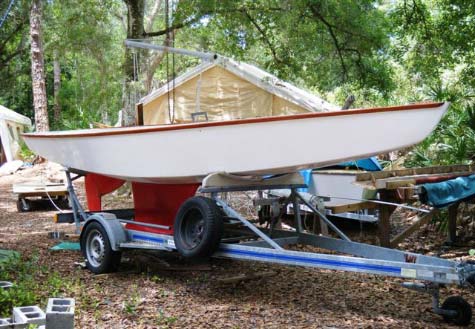 LONGBOAT

The museum just finished the longboat they built for the park service and this is another beauty. The attention to detail and fit show the real dedication the volunteer crew put in. This thing is huge. I asked Doug to stand next to it for a reference. The oars have to be fitted to the seat you're in because of the changes in the beam. This boat will be kept at the DeSoto park at the end of 75th Street in Bradenton.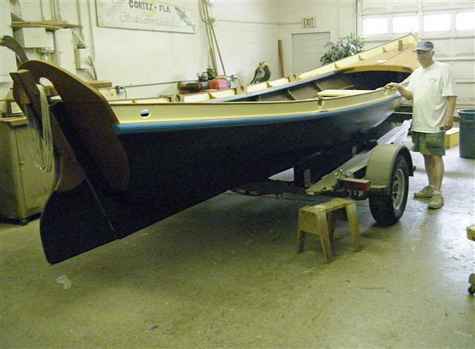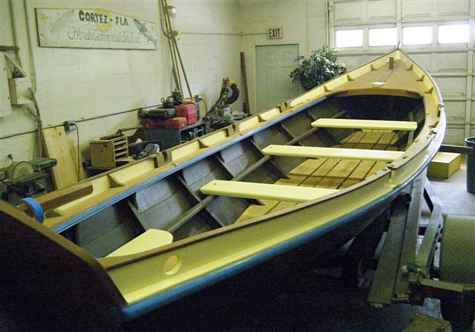 THE NEW SHOP

The new shop is coming along, not bad for a couple of fat old men with bad everything!!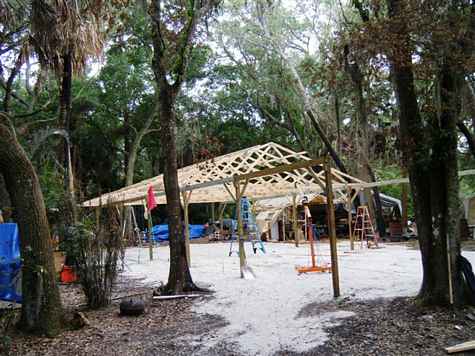 Regata schedule


David Lucas
Lucas Boatworks and Happy Hour Club
(941) 704-6736
http://fgctsca.weebly.com/index.html
---
Tennessee Build Pics
Here are some pictures of my "Tennessee" build of 1995. As you know, there was no building key to these plans. Chuck, your assembly method probably was similar to what we came up with.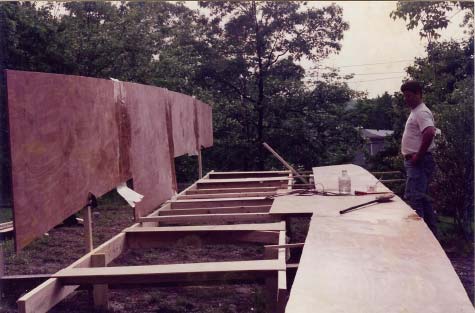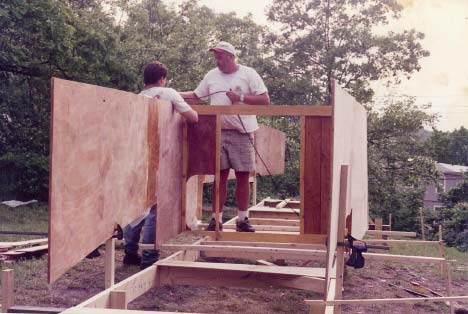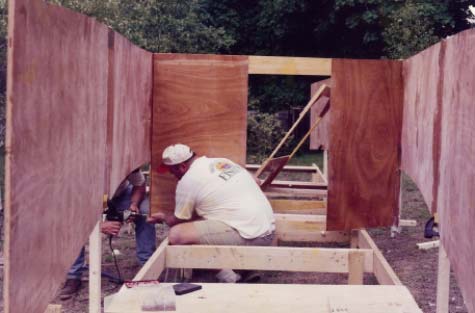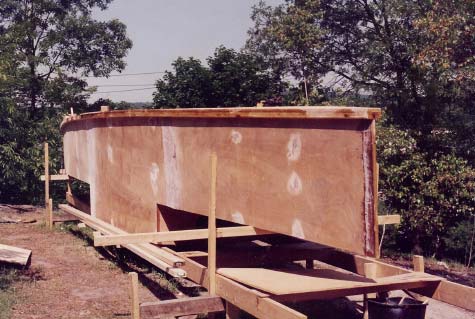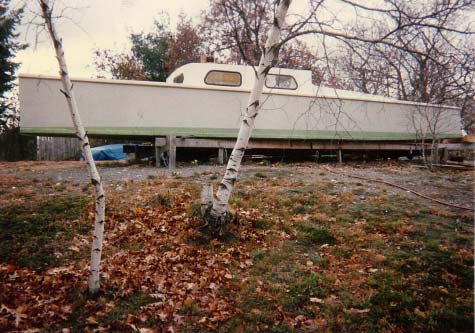 These are the only pics I have left. I wish I had some in water underway.
Phil Bolger approved of the changes I made. You can see the storage compartment was changed to be part of the cockpit (the sheer doesn't drop down).

Jack Curley
---
Van Boat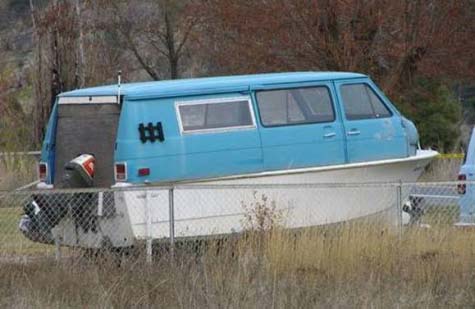 Self explanatory picture.
Bruce Armstrong
---
Canvasback Kayak
I found the pictures of your tandem Canvasback and wanted to send you some pictures of the one I am building. I took the Mechanix Illustrated plans and am making a 15' single. I was lucky enough to find a log with 16' clear pieces enough to make 15' 2.25" sheer clamps and stringers, I settled on 15' total length. I am thinking of using aircraft fabric to cover it.
The sawmill is my fathers. It is powered by a 1944 military surplus Caterpillar D4 stationary powerplant. The wood that we cut for the Kayak is white pine. We got very lucky to cut a few clear boards just over 16' long. Out of that log we got about 4 boards 1"x11"x16' that are clear. I thought of using this frame as a mold for making a fiberglass / carbon fiber boat too.
Take care, Bill.
---
Clean Water
I commiserate with the loss of clean water in the gulf. I read where BP has set up response teams for every thing you can think of. The only thing not there is a fix it up now team. So here is my fix it up response teams effort as posted on my blog spot. The photo shows the water I have to put up with.
Thursday, June 17, 2010 Oil spill
1/ The riser from the oil well is to be cut off by any means possible leaving an open pipe.
2/ A plug is to be made in copper with a wall thickness of about 20 thou wall thickness with hydraulic hoses attached. Multiple "O" ring seals are to be placed on the outside diameter so when the plug is inflated with about 6,000 hydraulic pressure will make a seal on the well riser pipe This plug is to have a steel pipe through the centre with a valve on the end that protrudes from the hole.
3/ The pressure should be enough to distort the riser pipe stopping the plug from being expelled when the plug valve is shut.
4/ The well hole above the plug can then be grouted with pollyisocinate Simple yes but putting it into practice no as I understand the problems of working in extremely difficult circumstances using robotic equipment under water.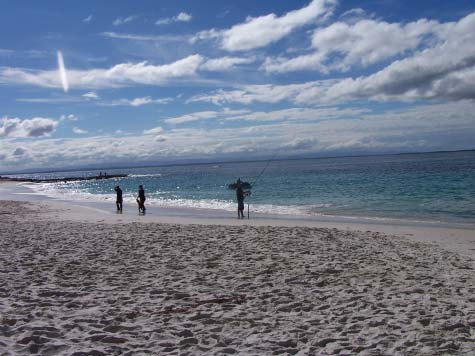 Cheers Stewart
---
A Capsize almost caught on film
Have Julia May in water here right next to 5th wheel on the St. Louis River up stream from Duluth. Check out new mizzen--leg o mutton to lug. Extra area is plus although I had knocked her down just before pic was taken--Main sprit with 2 reefs was too low for bimini and snagged during tack. She was horizontal before I could clear the wreckage. Thus, notice the bimini is folded down now so I can tack without snagging it.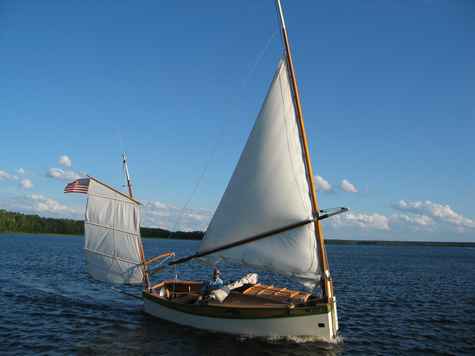 No water in foot well or cabin tho, as she floats high on her side. Got her upright and it almost sailed away before I could climb back in--water only 2 feet deep there.
Regards
Dennis Bradley
---
Extreme Sailing Series at Cowes Week - Race Schedule Announced
In 2009 thousands gathered along the shoreline in Cowes, Isle of Wight, to watch the Extreme 40s in close quarter combat. The racing, easy to understand for both the sailors and non-sailors alike, was intense and spectacular, with the teams cheered on as they crossed within inches of each other and the beach.
The Extreme Sailing Series returns to Cowes again for the fourth consecutive year and for 2010 will host more days of racing than ever before. The fleet will be put through its paces over six days, with a mixture of the short, sharp courses the circuit has become renowned for, as well as longer 'classical' Cowes Week type races, stretching the legs of the dynamic Extreme 40 catamarans and the tenacity of their crews.
Event organiser OC Events is passionate about making top level professional sailing, also entertaining for both sailing and non-sailor audiences. Once again the Extreme Sailing Series Race Village at Egypt Point will have a mix of high-end corporate hospitality, along with bars and food outlets for the general public and in the evening DJs. "We aim to entertain both on and off the water at every event," commented Gilles Chiorri, Event Director for OC Events. "The visitors last year were fantastic in their support of the teams and were very vocal in their enjoyment of the racing. We look forward to putting on another great show this year."
Friday 30 July will see the only UK leg of the circuit kick off with an exclusive media day, reserved for the visiting national and international media. The non-point scoring racing will give the teams the opportunity to assess each other's improvements in performance and teamwork over the 8 weeks since the opening event in Sète at the end of May.
Every morning from Saturday 31 July to Thursday 5 August inclusive (except for Tuesday 3 August) there will be a long distance morning race, starting from the Royal Yacht Squadron line. Lasting up to 1 hour, the longer races will pitch the teams' boat speed head-to-head on relatively open water.
The short course racing will take place at Egypt Point every afternoon. For the first three days from 3pm and for the final three, the entertainment will begin from 4pm with racing from 5pm, to ensure as many of the Cowes Week competitors can enjoy the top flight action, after the waters are largely clear of the Cowes Week racing yachts.
Nine teams are anticipated to be on the start line in Cowes including current Series leader Yann Guichard and his men on Groupe Edmond de Rothschild, defending Series Champions, Oman Sail Masirah led by Mr Multihull himself Loick Peyron, double Olympic Gold Medallist Roman Hagara with Red Bull Extreme Sailing and local hero Mike Golding with Ecover Sailing Team. A new entry joining the line-up in Cowes will be announced shortly.
Mike Golding, skipper of Ecover Sailing Team commented, "It is always nice to be sailing in familiar waters, in front of a home crowd, but that also comes with additional pressures. We had a good result in Sete and we are hoping to reach the podium for the Cowes event. It will be interesting to see the teams' performances on the longer races - I'm sure boat handling will be crucial, as will the communication onboard. It's a long race compared to the short sharp 20 minute racing we are used to, I'm sure concentration will also be key to success on the water. The Island is famous for its tidal currents, and I'm hoping local knowledge will help us gain a bit of an advantage over some of the other teams in that area."
Four Extreme 40s will take part in this weekend's J. P. Morgan Asset Management Round the Island Race: Ecover, Team GAC Pindar and The Wave, Muscat as well as defending line honours champions, Oman Sail Masirah.
Golding commented on this weekend's marathon. "This will be the first time we have raced as a team for more than 20 minutes at a time so I'm sure its going to be testing out there, hopefully we'll have some good conditions and be back in time for breakfast!"
2010 Extreme Sailing Series at Cowes Week Schedule
Friday 30 July
1pm - Media Day, Press Conference
2.30pm - Informal racing, first start off Royal Yacht Squadron
Saturday 31 July - Monday 2 August
10am - Start long-distance race off Royal Yacht Squadron
3pm - Afternoon, short course racing off Egypt Point End of Racing - Daily prizegiving
Tuesday 3 August - Thursday 5 August
10am - Start long-distance race off Royal Yacht Squadron (no race Tues 3 Aug)
5pm - Afternoon, short course racing off Egypt Point
6.30pm - End of event prizegiving
Click here to watch all the action from the first leg of the Extreme Sailing Series in Sete: Videos.
Photo Credit: Photo 1, 3: Th. Martinez/Sea&Co/OC Events, Photo 2: Vincent Curutchet/DPPI/OC Events, Photo 4: Thierry Seray/DPPI/OC Events
---
Top 10 Places To Float Your Boat
Need a Vacation? Boating Industry Announces Top Boating States
Discover Boating Adds Fun, Affordable On-the-Water Destinations for Top 10
CHICAGO (June 9, 2010) – Summer is here, and millions of Americans are looking for ways to escape with loved ones without traveling too far or spending too much. The U.S. recreational boating industry's trade association, the National Marine Manufacturers Association(NMMA), today announced the 2009 top ten boating states based on annual sales. In conjunction, Discover Boating, the industry's non-profit awareness program, has identified affordable, must-visit boating destinations within each state.
"Considering 90 percent of Americans live within a one hour drive of a body of water, boating is an ideal way to spend quality time outdoors with family and friends," says Carl Blackwell, vice president of NMMA and Discover Boating. "To coincide with NMMA's announcement of the top boating states, we've identified must-visit nautical hot spots within each state, illustrating just how easy it can be to get on the water close to home without having to break the bank."
Here are the top ten boating states, ranked in order by total annual expenditures for new powerboats, motors, trailers and accessories in 2009[1], including popular on-the-water destinations from Discover Boating:
Florida ($1.2 billion)
Hot Spot: Treasure Island – A tropical community that's part of the Tampa Bay area is popular for cruising with the family and sportfishing the infamous Kingfish. While the region currently remains untouched by the recent oil spill in the Gulf of Mexico, residents remain cautiously optimistic. The oil spill has been devastating to areas of the Gulf Coast, however, according to the National Oceanic and Atmospheric Administration (NOAA), 68 percent of the Gulf remains open for fishing at this time, including Treasure Island.
Texas

($906 million)
Hot Spot: Lake Austin – In the heart of energetic Austin, Lake Austin offers an ideal setting to cruise, waterski, fish and be entertained with a plethora of restaurants and live music venues to dock at along the shore.
California

($417 million)
Hot Spot: Big Bear Lake – Cruising, sailing or waterskiing, Big Bear Lake, just 100 miles northeast of Los Angeles, offers something for every boater. Don't own a boat? Boats and equipment can be rented at one of the many marinas that dot this resort community's 23 miles of coastline.
North Carolina ($395 million)
Hot Spot: Lake Norman – Just north of Charlotte, Lake Norman is the largest man-made lake in the Carolinas at 34 miles long, boasting 520 miles of shoreline. This popular boating destination provides year-around water access with boating activities of all types for novices and experienced captains, plus chartered cruises for those just looking to take in the scenery.
New York

($381 million)
Hot Spot: Lake Champlain – Spanning 120 miles from Quebec to Whitehall, N.Y., Lake Champlain is renowned for its beautiful scenery and boating opportunities, particularly fishing – named one of the top five bass fishing destinations in the U.S. by FLW Outdoors magazine.
Louisiana

($370 million)
Hot Spot: Shreveport – Louisiana's "Other Side" is a sportsman's paradise. Straddling the Red River where watersports are plentiful, and adjacent to Cross Lake, which offers 13.4 miles of scenic cruising, excellent fishing and sailing, there's something for every outdoor enthusiast.
Washington ($339 million)
Hot Spot: San Juan Islands – The San Juan Islands, located in the northwest corner of Washington – just 90 minutes north of Seattle, are like no other archipelago, boasting diverse natural beauty with rocky shores, sandy beaches, towering forests and sweeping grasslands. The 700-plus island chain is home to hundreds of anchorages and harbors and is perfect for boating because their waters are protected, tucked away behind Vancouver Island.
Delaware

($330 million)
Hot Spot: Rehoboth Beach – Rehoboth Beach has everything needed to enjoy all facets of recreational boating and offers hundreds of slip and boat rentals. Whether interested in cruising, crabbing or clamming, waterskiing or fishing, the area offers a summer getaway perfect for the family.
Michigan

($317 million)
Hot Spot: Traverse City – With 181 miles of Lake Michigan shoreline and surrounded by 149 lakes that are 10 acres or larger, Traverse City is a hub for recreational boating, offering a variety of ideal settings for sailing, fishing, waterskiing or Great Lakes cruising.
Minnesota ($305 million)
Hot Spot: Detroit Lakes – With more than 400 lakes within a 25-mile radius, Detroit Lakes offers a summer vacation for every type of boater and plenty of family fun. An abundance of public boat launches, marinas and boat rentals, makes it easy to discover boating in Detroit Lakes.
For more boating information and resources, visit DiscoverBoating.com.
# # #
About Discover Boating
Discover Boating is a national awareness campaign developed by the North American recreational boating industry and managed by the industry's trade group, the National Marine Manufacturers Association (NMMA.org). Discover Boating programs focus on improving the boating experience and building interest in recreational boating by providing a resource for Americans to explore the benefits, affordability and accessibility of the boating lifestyle. To find out more, visit DiscoverBoating.com.
[1] NMMA's 2009 Recreational Boating Statistical Abstract
---
Interlux® Fiberglass Bottomkote® NT Antifouling Paint
Interlux® has introduced Fiberglass Bottomkote® NT Antifouling, which is optimized using a dual resin blend - delivering a unique, durable & fast-drying antifouling paint that offers the benefits of both hard and ablative antifouling paints. Fiberglass Bottomkote® NT has the durability of a traditional hard paint but with a slow polishing mechanism built-in that continuously smoothes and renews the active surface, avoiding the heavy build-up of paint layers like a traditional polishing paint. Fast dry formula allows a boat to be painted and launched in the same day. Suitable for the underwater surfaces of fiberglass, wood, and properly primed metal (except aluminum) power and sail boat hulls in fresh, brackish and salt water. Available in red, green, blue and black in US quart and one gallon cans and three gallon pails.
More info: www.yachtpaint.com or call 1+800.468.7589 (US).
Interlux – 2270 Morris Avenue – Union NJ 07083 USA
---

Sea Tow Services International and Sea Tow Foundation
Kick Off National Safe Boating Week with 10 Tips for Boaters
Southold, N. Y., May 21, 2010 National Safe Boating Week is May 22-28, 2010, followed on May 29-31 by Memorial Day Weekend, the traditional start of the summer boating season in most of the U. S. and Canada. Sea Tow Services International, the world s largest marine assistance provider, and its non-profit arm, the Sea Tow Foundation for Boating Safety and Education, encourage all boat owners to enjoy a healthy and happy experience on the water by following these 10 boating safety tips:
1) Wear a Life Jacket. Sea Tow and the Sea Tow Foundation encourage the active use of life jackets by all recreational boaters, regardless of age. In 2008, the most recent year for which U. S. Coast Guard statistics are available, more than two-thirds of all fatal boating accident victims drowned and of those, 90 percent were not wearing a life jacket. Our Sea Tow captains tell us they are frequently called to the scene of an accident where boaters are in danger of drowning because they are not wearing life jackets, even though there are now approved life jackets on the market that are lighter and less obtrusive than ever, says Michelle Zaloom, Executive Director, Sea Tow Foundation for Boating Safety and Education. Most boating accidents occur because of bad decisions rather than bad conditions and the most common bad decision is the failure for every person to wear, or even have on board, a life jacket.
2) Choose a Designated Boat Driver. Alcohol is the leading contributing factor in fatal boating accidents, according to a U. S. Coast Guard report. Just as on land, law enforcement officers will stop erratic drivers on the water and test them for BUI (Boating Under the Influence), an offense punishable to law, similar to DUI. Zaloom adds, With the combination of sun, wind and exercise, even a boater with a small and legal amount of alcohol in his or her blood can become dangerously dehydrated and disoriented, and should not be at the helm. A designated driver will keep everyone safe without spoiling the fun.
3) Check Your Fuel Level. Sea Tow recommends starting each boating trip with a full tank of fuel and an adequate oil supply, particularly for 2-cycle outboard engines. Fuel drop requests are among the most common calls received by Sea Tow operators. Don t trust your fuel gauge stay on top of the fuel level by knowing your boat s fuel consumption per hour and keeping track of the time you have been under way.
4) Vent Your Bilge. Always remember to shut off the engine(s) while fueling and run the blowers for the required amount of time to vent all fumes from the bilge before restarting.
5) Inspect Your Bilge. Make sure to visually inspect the bilge for excess water and ensure the bilge pump is in proper working order before leaving the dock. If you are putting in at a boat ramp, spare yourself an unexpected bath by replacing the drain plug(s) before launching.
6) Update Your Charts. Another frequent call for help to Sea Tow comes from boaters who have run aground. Make sure you have the latest charts on board, both paper and if you have a chart plotter digital, so you can stay up to date on shifting shoal areas and other submerged hazards. For more information, visit www.allianceforsafenavigation.org.
7) Check the Weather. Be sure to look at the tide tables, if you boat in tidal areas, and get an updated forecast before setting off for a day of boating. Learn to read cloud formations and look for the telltale anvil clouds that signal the approach of a thunderstorm. For more information, also be sure to listen to the National Weather Service broadcasts via your VHF radio.
8) Test Your VHF. No matter the size of your boat, a VHF radio is an essential safety tool. Make sure it is in working order before you leave the dock. Check with your local Sea Tow franchise; a growing number of locations offer free automated VHF radio checks to Sea Tow members on one of channels 24 to 28. A cell phone can be a useful back-up (especially if your boat has a 9-volt outlet you can use to charge the battery), but due to the unreliable nature of cell signals on the water, it should never replace a VHF.
9) File a Float Plan. Leave a float plan with details of your planned boating itinerary with a reliable person ashore whom you can count on to notify the U. S. Coast Guard and appropriate authorities if you don t return by a designated time. For a detailed, U.S. Coast Guard-designed float plan template that you can fill in online and print out or download, visit www.floatplancentral.org.
10) Carry an Anchor. It s surprising how many boats leave the dock without an anchor and an adequate amount of rode. Don t overlook this vital safety tool, which can save your life in the event of engine failure by securing your boat until help can reach you. When in doubt, call Sea Tow, adds Kristen Frohnhoefer, Sea Tow s Chief Administrative Officer. We have spent more than a quarter of century providing unmatched service to the boating community in the U. S., Puerto Rico, the U. S. Virgin Islands and around the world. Boaters can rest assured that if they see one of our yellow boats approaching, help is on the way.
About Sea Tow: Sea Tow Services International Inc. is the world s leading marine assistance provider. Founded in 1983 by Chairman & CEO Capt. Joe Frohnhoefer, Sea Tow now serves over 160,000 members in more than 121 locations throughout the United States, Europe, Australia, the U. S. Virgin Islands and Puerto Rico. For a full list of membership benefits, or to inquire about becoming a Sea Tow Services International franchise owner, please visit seatow.com.
About Sea Tow Foundation for Boating Safety and Education In 2007, Sea Tow Services International received 501(c)(3) nonprofit status for the national, nonprofit, public service Sea Tow Foundation for Boating Safety and Education, which was created by Sea Tow Founder Capt. Joe Frohnhoefer to promote safe boating practices that directly reduce accidents, fatalities and property damage related to recreational boating. For more information, please visit www.boatingsafety.com. For more information or to schedule interviews, please contact: Emily Corman, Corporate Communications Dept., at ecorman@seatow.com (800) 473-2869 x3136.
P.S
Sea Tow Services International, the world's leading marine assistance provider, reported today that this Memorial Day Weekend was its busiest in two years. Sea Tow?s 24-hour national call center dispatched 69 percent more calls during the 2010 holiday weekend (Saturday-Monday) than in 2008, and 54 percent more calls than in 2009.
Louisa
---
Paint Sprayer from Milwaukee Power Tools

The Milwaukee® Electric Tool Corporation has recently introduced their M4910-20 Airless/Fine Finish Paint Sprayer. The innovative and patented delivery system is the only system in its class to deliver both airless and HVLP-assist spray performance. The .31 gpm airless piston pump produces up to 3000 PSI to atomize a broad range of latex and oil based architectural and commercial coatings. The operator can quickly add the performance of the two-stage HVLP turbine to produce a fine finish spray pattern utilizing the same professional quality spray gun. The M4910-20 comes complete with a professional airless + HVLP-assist spray gun, 310 and 619 reversible airless tips, 25' of fluid and air hoses, integrated tool bag that mounts to the frame and a five-gallon bucket lid.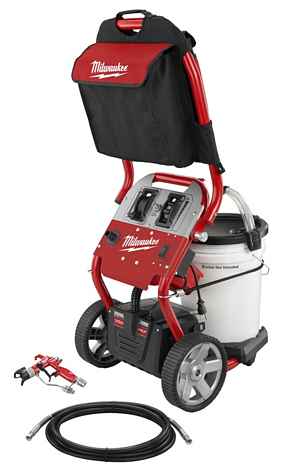 The robust and versatile design of the M4910-20 makes it ideal for spray application of many paints and coatings for the marine and boat building industries. Typical spraying of sealers and varnishes on walls, beams and decks is quickly and easily completed in standard airless mode. What sets this sprayer apart from the rest is its ability to quickly switch to fine finish applications with the flip of a switch. Spray application of stains, clear-coats and lacquers to cabinets, shelving, staircases and custom woodwork are achieved with amazing results. The multiple spray technologies incorporated into the M4910-20 allow contractors and DIYers to accomplish the work of many sprayers with just one tool.

The exclusive frame design is made from high quality 1-1/4" steel tubing and has a fold down handle for portability and storage. The cart has a platform for a five gallon bucket and nine inch never-flat rubber wheels to make transportation over all terrain and steps easy.

The Milwaukee M4910-20 sprayer is available at The Home Depot™ and www.homedepot.com. For more information visit www.milwaukeetool.com or call 877-203-0880.

---
Oil Spill Cleanup Tips For Boaters
UNION, NEW JERSEY (USA) – In the wake of what could be the largest oil spill in US history, leading yacht paint manufacturers Interlux and Awlgrip offer boaters in the impacted areas the following tips to help clean contaminated boats.
INTERLUX GUIDELINES: TREATMENT OF ANTIFOULING CONTAMINATED WITH OIL
The surface of an antifouling paint that has become contaminated with oil can become "blocked" i.e preventing the biocide from being released, which subsequently leads to premature fouling. It will also result in a contaminated layer that will make adhesion of new antifouling applications difficult.
Cleaning of contaminated antifouling surfaces:
For hard polishing and ablative antifouling paints that have been heavily contaminated the best method to use when treating the bottom is to use a paint-stripper such as Interstrip 299e to remove all the pollution and the paint, then scrub the substrate using Fiberglass Surface Prep YMA601 and a coarse Scotch-Brite pad. Rinse with fresh water. Repeat until the surface is clean (when the water cascades off of the surface with no beading or separating). Allow the surface to dry thoroughly prior to re-painting. The same process is recommended on metal boats however to avoid corrosion the metal substrate should be prepared by grinding or blasting after the cleaning process and prior to priming. To aid adhesion apply InterProtect 2000E primer per label instructions.
Sanding or sand blasting a surface that still has oil on it may drive the oil into the surface and cause a loss of adhesion of the subsequent coats.
If the coating of oil is light, powerwash and then use a household detergent with water to scrub off any pollution. Then scrub using Fiberglass Surface Prep YMA601 and a coarse Scotch-Brite pad and rinse thoroughly with fresh water. Let dry prior to re-painting. Polishing paints such as Micron Technology, may be re-launched without painting assuming the film thickness of remaining paint is adequate (2-3 mils dry after scrubbing) & the next application is scheduled within 5 months.
AWLGRIP GUIDELINES: TREATMENT OF TOPCOATS CONTAMINATED WITH OIL
Cleaning of contaminated topcoat surfaces:
Contaminated topcoats should be cleaned as soon as practically possible to minimize the damaging effects of the crude. If the surface of a topcoat is contaminated with crude oil, staining and possible degradation of the topcoat may result from the acidic nature of the contaminant. The recommendations below apply to Awlgrip®, Awlcraft® 2000 and Interlux® Perfection topcoats. If there is any doubt of the type of surface in question always test a small area first.
In the case of heavy contamination, the material may be a thick, sticky tar-like material due to its exposure to the elements. It is recommended that these surfaces first be cleared by wipe down with T0016, T0170 or Mineral Spirits followed by power washing, and then cleaned with Awlwash® at a 4 oz/gallon level (or household liquid detergents such as Dawn). The detergent washing step of the cleaning process must be done in manageable areas. Each area should be then be thoroughly rinsed with plenty of clean water before moving on to the next. DO NOT allow detergent solutions to dry on the surface.
Hulls exhibiting 'sheen' contamination may be cleaned with the regular concentration levels of Awlwash, though they too may benefit from a prewash wipe down with T0016, T0170 or Mineral Spirits to loosen the film.
In both cases, it is recommended that the newly cleaned surface be protected from further contamination with application of Awlcare®.
IN ALL CASES:
Contaminated waste water should be collected per local marina guidelines, local authority regulations and/or Clean Water Act requirements. Collecting the water and the emulsified crude will prevent spreading of contamination. Crude and solvent contaminated wipes must also be disposed of in a responsible manner.
For further assistance, call Interlux Technical Service, 1+800.468.7589 or Awlgrip Technical Service, 1.888.355.3090. For more information about Interlux products, visit www.yachtpaint.com/usa. For more information about Awlgrip products, visit www.awlgrip.com.
******