Tool Review: Shinto Saw Rasp

This open faced rasp reminds me of my Surform plane (which is like a long slender cheese grater with a handle). As all the instructions on the package are in Japanese, package reading didn't provide me with much benefit. I did find a description at the Japan Woodworker site:
Shinto Saw Rasps are manufactured from high quality saw blades with coarse teeth (11 teeth/inch) on one side and fine teeth (25 teeth/inch) on the other. Because of the saw tooth design, clogging is eliminated. Use the coarse side for shaping and very rapid removal of material and the fine side for a finish cut. Wood carvers love our saw rasps. They are also suitable for use on plastics, fibre glass and soft metals. Blade length is 9˝, overall length is 13½˝.
The working faces of this tool are 1" wide and do a good job of evening up plywood edges where a low angled block plane would have some difficulty given that such edges have both cross and with-the-grain wood. It creates sawdust rather than shavings. As the handle is in the same plane as the cutting edges, using it on large flat surfaces is difficult as one's fingers get in the way, which is one advantage the raised-handle Surform plane has over this rasp. On the other hand, having both course and fine surfaces in one tool is handy, and it certainly does not clog. It gets the job done much faster than a file and but is less coarse than the solid wood rasp I have. At first I doubted I'd have much use for it, but for the right application it comes in very handy.
Like my very thin Japanese single edge rip saw, which has become a favorite for various applications in part because it is fun to use, depending on the project at hand this handy tool may get a lot of use.
Steve Lansdowne
---
Murray Stevens' Ladybug
I am busy this week trying to get floorboards finished, the gunwale delamination repaired, submersible LED lights installed on the trailer, a small shelving unit built and installed on the rear bulkhead to hold sunscreen, drinks, etc, etc and if I can do it.... lazyjacks! It's fun to be back in the garage figuring things out and making stuff!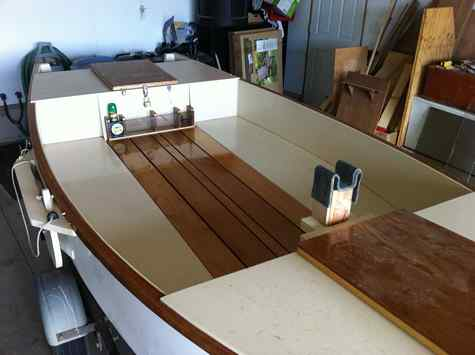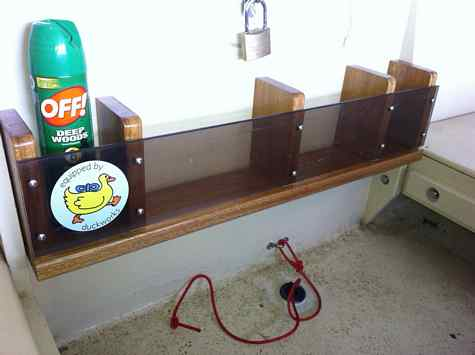 Murray
---
Parenting Youth Sailors
Setting the right goals & What parents can do to build a strong foundation
Jessica M. Mohler is a Clinical and Sport Psychologist for the United States Naval Academy and a sailing mom too. In this US SAILING Blog exclusive, Mohler provides insight and offers tips and solutions to successful youth sailor parenting. Read it Here.
---
Stand-Up Paddleboard
Last week at the Outdoor Retailer Show in Salt Lake City, the C4 Waterman company from Hawaii, unleashed the world's biggest Stand-Up Paddleboard. A couple of clips of the outrageousness are here along with the description of the beast from the company. I shot the still photo after the board was moved from the lake to the inside of the exhibit hall with a random human being for scale.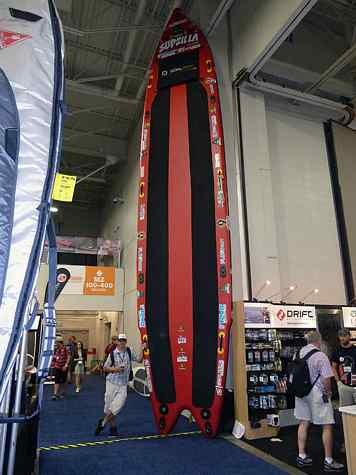 Chris
---
Aqua Star USA Launches Sleek High Tech Underwater Dive Scooter for Two and Dive Air Helmet
The affordable AS-2 Scooter is the latest high tech, underwater scooter to hit the marine leisure market! A must have for mega yacht owners, diving enthusiasts, turnkey leisure operators, and dive operators.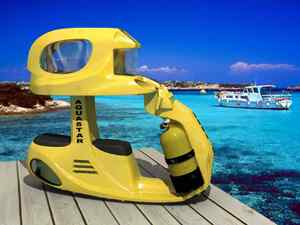 Welcome visit Our WebSite: https://www.aquastarscooters.com
Building upon the success of the single seat AS1 model, Aqua Star envisioned a two person scooter, the AS2. After intense design and engineering, it is now a reality. Now couples can share the underwater experience together. The second person at the controls eliminates any fear for the timid. The AS2 is perfectly suited for couples to explore underwater wonders in a very safe environment. Both riders are free to dismount, swim around and climb back aboard.
The diving helmet is nicely integrated into the scooters body; the rider's head goes inside an air chamber within the helmet which is constantly supplied with air from scuba tanks lasting seventy minutes attached to the front body of the scooter. The helmet features a flat fog resistant glass, 99% distortion free giving a clear underwater experience, thus reducing the noxious feeling commonly associated with the bubble top models of the past.
The new Aqua Star scooters are sleeker, faster, and are much lighter (AS1 80 lbs and AS2 160 lbs.) than older models currently in operation. Aqua Star incorporated the latest in technology, design and quality using only the best very substrates available today.
Each scooter is powered by two electric motors one for forward movement and another for vertical movement, providing precise control, maneuverability and safety. Both the controls operate like your typical motorbike, just turn the handlebars for direction and push the batons for speed and depth. Pressure and depth gauges are provided on the control bar.
With speed up to 3.1 mph and operating depth of up to 12 meters, riders have access to shallow reefs and caves. The motors run by a rechargeable battery lasting up to 2.5 hours, which means it is very environment friendly and in no way damages the fabulous underwater ecosystem.
Novices can master the controls in the training course which can be completed in just a few minutes Those who are not strong swimmers or who have minor disabilities can still ride the bike and you can wear your glasses or contact lenses without difficulty. No diving certification is needed, no experience is required. Safety divers control ascent and descent into the water, then you have control of direction. A line attached to a buoy keeps the scooter safely tethered to the world above.
---
Tricia Marie
Here is Tricia Marie leaving the shop. Howard's taking her away to a consignment shop. Trish is the most beautiful boat ever built, sails great, comfortable, mahogany trim all over, built in electric motor. Absolutely perfect. The problem is that we're great builders but terrible salesmen - been thinking about advertising but just never got around to it. Someone willl end with a truly fabulous boat for a bargain price. Helen didn't want him to ever sell this one but we need the space.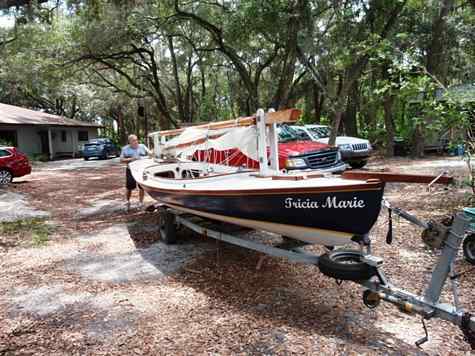 David Lucas
Lucas Boatworks and Happy Hour Club
---
Fabric Cover
North Sails One Design launches new breathable fabric cover range.
North Sails One Design, the world leading sailmaker for one-design classes, has launched a brand new range of breathable boat covers. Manufactured to the highest quality standards using high performance materials, the new cover range is available for a growing range of one design dinghy and small keelboat classes, and offers the ultimate level of protection for hulls, spars and foils.
Using WeatherMax fabric to provide enhanced breathability and maximum water resistance, North Sails One Design Covers are highly durable and lightweight. A range of top and bottom covers are available, with over-boom and trailing options.
Each cover has been carefully designed by North Sails One Design team of experts to ensure a perfect fit, with generous skirts and ergonomic fastenings featuring throughout. Thanks to the monofilament fibres used in WeatherMax fabric, the material retains high elasticity under tension, which ensures the cover maintains its precise shape; this helps prevent water pooling on the top of the cover as well as eliminating flapping when the boat is being trailed.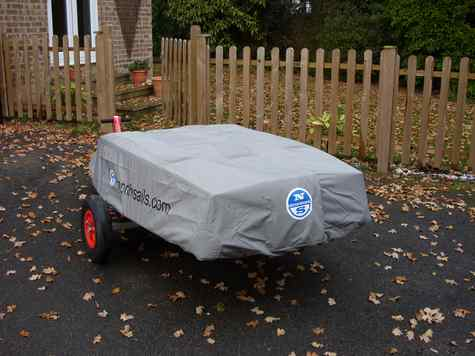 This high-strength WeatherMax material is shrink-resistant due to its stability, which additionally means it won't stretch over time. WeatherMax also resists fading when exposed to UV. Its impregnated water-resistant HydroMax finish includes an anti-microbial component to prevent dirt and staining, and provides a soft-touch feel which ensures minimal abrasion on contact with deck or hull surfaces. Lock-seams feature throughout to prevent water ingress.
---
Calendar Listing: 2011-2012 Boat & Sportshows
I thought you might be interested in the 2011-2012 calendar of NMMA's boat and sportshows - 18 total held throughout the U. S. - which showcase the latest in boats, fishing gear, outdoor equipment, RV's, camping and marine accessories, water sports paraphernalia, sailboats and gear, plus attractions for every outdoor recreational enthusiast.
2011/2012 NMMA BOAT & SPORTSHOWS
50th ATLANTA BOAT SHOW®
January 12-15, 2012
Georgia World Congress Center, Atlanta, GA
AtlantaBoatShow.com
33rd ATLANTIC CITY BOAT SHOW®
February 1-5, 2012
Atlantic City Convention Center, Atlantic City, NJ
ACBoatShow.com
58th BALTIMORE BOAT SHOW®
January 19-22, 2012
Baltimore Convention Center, Baltimore, MD
BaltimoreBoatShow.com
82nd CHICAGO BOAT, SPORTS & RV SHOW®
January 12-16, 2012
McCormick Place, Chicago, IL
ChicagoBoatShow.com
58th KANSAS CITY BOAT & SPORTSHOW®
January 19-22, 2012
Bartle Hall, Kansas City, MO
KansasCitySportshow.com
55th LOUISVILLE BOAT, RV & SPORTSHOW®
January 25-29, 2012
Kentucky Exposition Center, Louisville, KY
LouisvilleBoatRVShow.com
71st MIAMI INTERNATIONAL BOAT SHOW®
February 16-20, 2012
Miami Beach Convention Center,
Sea Isle Marina & Yachting Center
Miami, FL
MiamiBoatShow.com
40th MINNEAPOLIS BOAT SHOW®
January 19-22, 2012
Minneapolis Convention Center
Minneapolis, MN
MinneapolisBoatShow.com
26th NASHVILLE BOAT & SPORTSHOW®
January 12-15, 2012
Nashville Convention Center, Nashville, TN
NashvilleBoatShow.com
56th NEW ENGLAND BOAT SHOW®
February 11-19, 2012
Boston Convention & Exhibition Center, Boston, MA
NewEnglandBoatShow.com
107th NEW YORK BOAT SHOW®
January 4-8, 2012
Jacob K. Javits Center, New York, NY
NYBoatShow.com
35th NORWALK BOAT SHOW®
September 22-25, 2011
Norwalk Cove Marina, Norwalk, CT
BoatShowNorwalk.com
80th NORTHWEST SPORTSHOW®
March 28-April 1, 2012
Minneapolis Convention Center, Minneapolis, MN
NorthwestSportshow.com
58th ST. LOUIS BOAT & SPORTSHOW®
February 8-12, 2012
America's Center & Edward Jones Dome
St. Louis, MO
StLouisBoatShow.com
33rd ROSEMONT SPORTFISHING,
TRAVEL & OUTDOORS SHOW®
January 25-29, 2012
Donald E. Stephens Convention Center
Rosemont, IL
RosemontOutdoorsShow.com
46th TAMPA BOAT SHOW®
September 9-11, 2011
Tampa Convention Center, Tampa, FL
TampaBoatShow.com
SAIL SHOWS
17th STRICTLY SAIL® CHICAGO
January 26-29, 2012
Navy Pier, Chicago, IL
StrictlySailChicago.com
27th STRICTLY SAIL® MIAMI
February 16-218 0, 2012
Miamarina at Bayside, Miami, FL
StrictlySailMiami.com
Sarah Ryser
Public Relations Manager
National Marine Manufacturers Association
Follow us on Twitter @NMMABoatShows; @MiamiBoatSho; @NEBoatShow; @AtlantaBoatShow
Get started in boating at www.discoverboating.com
---
Sailrite Photo Contest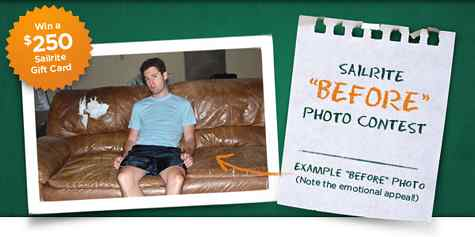 If you're like us, you probably have a project (or two!) around the house, on the boat, or at the office that could use a little work! We want to help you start that next project, but first we want to see your "before" pictures!
Share a "before" photo of you and your next project for a chance to win a $250 Sailrite Project Starter Gift Certificate!
It's quick and easy to enter:
1. Go to our contest site or www.facebook.com/sailrite.
2. Upload one photo of a future project that features YOU (or someone you know) and an item(s) that can be replaced, fixed, or refurbished with a product, kit, or tool sold by Sailrite between August 1–16, 2011.
3. Add a convincing caption for why you deserve to win (under Image Description #1).
Example: "Josh has two choices – Re-upholster his beloved college couch (which has seen better days) or be forced to replace his faithful companion!"
4. Tell your friends about the contest!
VOTE for your top 5 entries between August 17–31, 2011!
Sailrite will pick a winner and 2 runner-ups from the 5 photo entries with the most votes. The Grand Prize winner will receive a $250 Sailrite Gift Certificate and two Runner-ups will each receive a $100 Sailrite Gift Certificate. Winners will be announced September 1, 2011.
For complete contest details, read the Official Rules.
---
McMurdo Fast Find PLB alerts emergency services after teens suffer bear attack
Les Ulis 01 08 11 – Orolia (NYSE Alternext Paris – FR0010501015 – ALORO) announces today via its subsidiary MCMURDO:
A group of seven 16-18 year old backpackers were rescued by State Troopers in the early hours of the morning on Sunday 24th July, after activating their 406MHz Personal Location Beacon (PLB) following a vicious attack by brown bears. The PLB, a Fast Find 210 from leading emergency distress beacon manufacturer McMurdo, alerted the emergency services who were able to find the group by following the beacon's signal. The incident took place in the remote Talkeetna Mountains, north of Anchorage, Alaska.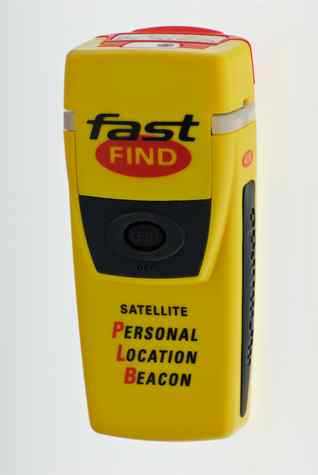 The teenagers were on day 24 of a 30-day Survival Skills course organised by the National Outdoor Leadership School, and were trekking for the first time without their instructors. The attack came as the group was crossing a river, and was entirely unexpected.
With no other form of communication available and in desperate need of help, the group activated the Fast Find PLB as soon as the attack subsided. With four members of the team suffering severe injuries, two of which were considered life-threatening, the group was forced to remain on the scene and wait for help to arrive.
Alerted by the beacon's distress signal, which transmits using the global COSPAS SARSAT satellite system, the Rescue Co-ordination Center (RCC) immediately dispatched a team of Alaskan State Troopers by helicopter to the group's aid. Three members of the group were immediately evacuated to hospital, and a State Trooper was dropped in to remain with the two most severely injured members of the group together with a third boy who was in the best health, whilst a medically-equipped aircraft was scrambled to the scene by the RCC. Within 11 hours of setting off the beacon, all members of the group had been recovered safely and were receiving medical attention.
A second group of young people and a team of three instructors from the organisation, who were also trekking in the area, were rapidly found and informed of the incident, before being returned safely to base camp.
It is recommended that anyone venturing into remote areas where there are limited means of communication carries a PLB, which gives a direct method of alerting the search and rescue authorities, no matter how remote your location. As well as sending out a distress signal by satellite, the Fast Find PLB also transmits a 121.5MHz homing signal, to enable search and rescue teams to home in on the beacon once in the vicinity. The Fast Find 210 PLB has a 50-channel GPS, to give precise location co-ordinates, and make recovery speedier and more efficient. The device is rugged, compact, lightweight and easy to carry tucked into a pocket or on a belt. With a simple activation process and emergency signal transmission guaranteed for at least 24 hours via a powerful 5 watt output, the Fast Find is easy and reliable to use.
Praise has come for the group of young people, who had been given the PLB to carry and instructed to use it only in an emergency situation. Despite carrying bear spray and having been trained in outdoor survival skills, the group could not have anticipated or prevented the sudden attack, and by activating their PLB as soon as possible after the incident, were able to maximise their chance of rescue.
---
Elco 26
I just wanted to share my pictures of Elco 26. Plans bought by internet and built 2002 in Turkey.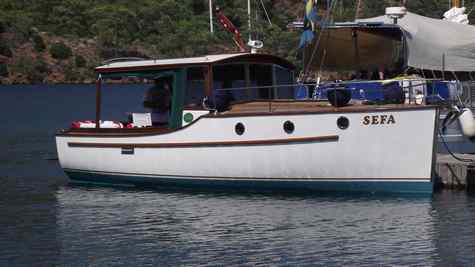 Furkan Olcer
---
Yellowbrick launches the world's most advanced tracking device
Yellowbrick, the world's largest truly-global tracking provider, has launched Yellowbrick 3, an advanced professional tracking device incorporating a unique Two-Way Messenger function. This latest device from Yellowbrick enables communications and social media updates to be sent from any location in the world, no matter how remote, thanks to its use of the Iridium Satellite network.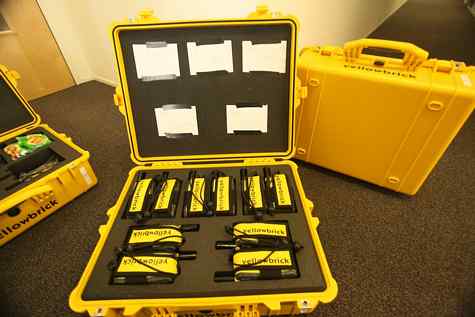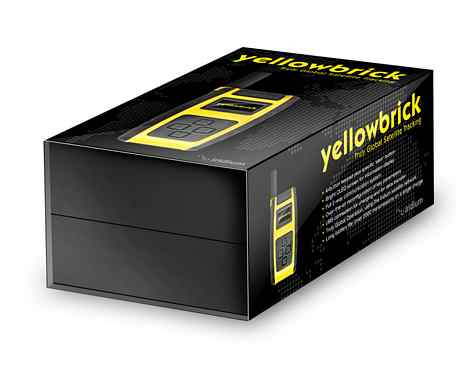 Yellowbrick tracking devices enable online supporters to follow real-time position progress of individuals taking part in adventurous treks, trans-ocean yacht races and many other ventures into areas where conventional communication devices will not work. The highly successful Yellowbrick Standard and Yellowbrick MAX trackers have been developed to produce Yellowbrick 3; in addition to reporting its exact GPS position at preset time intervals, Yellowbrick 3 also offers a basic messaging function, accessed via the 4-button keypad and bright OLED screen.
This compact and rugged device can also offer advanced messaging when linked via Bluetooth to a smartphone or tablet to send more complex email messages, SMS, Twitter or Facebook updates - no matter where you are in the world. When integrated with Yellowbrick's online position tracker portal, this advanced functionality offers a complete media information package for online spectators of races and challenges.
As an additional safety feature, Yellowbrick 3 incorporates an alert button which, when pressed, sends a message back to the user's nominated contacts via email and/or SMS together with the Yellowbrick's precise location. With its own internal battery, Yellowbrick 3 is entirely self-powered, lasting up to 12 months or 2000 transmissions on a single charge.
Nick Farrell, Director of Yellowbrick, says; "We are very excited to launch Yellowbrick 3, which offers the most advanced functionality yet from a tracking device and brings new elements to online tracking in remote areas. We have already trialed the Yellowbrick 3 at some key recent events, and have had excellent feedback on its performance from event organisers. The aim was to develop a feature- packed product at a more realistic price point for consumers and corporates alike, and I'm pleased to say we've achieved that!"
Yellowbrick 3 is available now for rental in volumes from one to 100 to 500, and will be available from the end of September for purchase by corporate companies and event organisers in any quantity. Yellowbrick offers a fully professional service and reliable product delivery, with support from its expert technical team and high quality after-sales service.
Yellowbrick 3 is ideal for professional use anywhere in the world. Offering full data encryption to AES-256 standard, it includes multiple language settings. Yellowbrick 3 has been professionally rated to EU standard IP67 for waterproofing and dust resistance, and is ruggedly constructed to US MIL Standards. Extensively tested to ensure its robustness and reliability in extreme environments, the device has been fully trialed to prove its functionality.
Yellowbrick 3 is available in four different contract options; basic, standard, professional and corporate, with a staged pricing structure offered according to the level of functionality chosen. Multiple units can be used for Professional and Corporate accounts.
Further information regarding Yellowbrick can be found at www.yellowbrick-tracking.com
---
Washington Dan, Crystal River, Tiki Hut
You guys remember that old Glaspar that Dan Rogers was rebuilding, the one that proved he was a true "boatnut"? (Imagine what his wife said when he showed up with the pile of rot on a trailer). Well, I guess we all have to take it back, this really looks like the perfect motor boat, big enough, small enough, fast enough. Hats off to you Dan.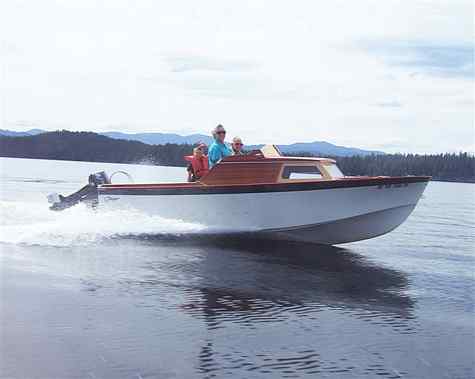 David Lucas
Lucas Boatworks and Happy Hour Club
---
New Online Channel "Sea Tow Captain's Corner"

At BoatingLocal.com Provides Boating Safety and Seamanship Tips

July 28, 2011—Southold, N.Y.—Recreational boaters and mariners in the Northeast now have an authoritative new resource for boating safety tips, news and information. Sea Tow Services International, Inc., the nation's leading provider of marine assistance services, announces it has created an online Channel for boaters, "Sea Tow Captain's Corner", hosted by the website BoatingLocal.com.

Since it was founded in January, 2010, BoatingLocal—"The Source for New England Boaters"—has supplied regional boating enthusiasts with breaking news, product reviews and up-to-date fishing information targeted to their interests. The new Sea Tow Captain's Corner further enhances the site by adding a Channel of essential boating safety and seamanship tips and advice from Sea Tow's experienced professional captains.

Recent Sea Tow Captain's Corner topics include tips on fire safety, filing a float plan, and designating a Sober Skipper for summer weekend celebrations on the water. News from Sea Tow operators throughout the Northeast and stories on local boating events are also posted regularly to the Channel.

"We're very excited that Sea Tow has signed on as one of BoatingLocal's first Channel sponsors. The Sea Tow Captain's Corner is a perfect venue for the company to broadcast its important boating-safety messages and tips, while also showcasing the expertise of its team of New England towing professionals and the services they offer," said BoatingLocal Director Tom Richardson. "BoatingLocal can help Sea Tow deliver all of this content to a broad audience of avid regional boaters via our social media network, high SEO ranking, RSS feed and daily e-mail alerts."

To visit the Sea Tow Captain's Corner, just click on https://boatinglocal.com/channels/seatow