| | |
| --- | --- |
| Almost There - the build | |
By Milton "Skip" Johnson - Houston, Texas - USA
Skip Johnson took his new boat Back to the River with a new partner this year and they were able to finish the grueling 100 mile race. Here is his report on building this unique boat.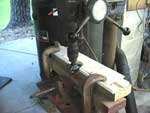 Foam strips are ripped 1-1/8" wide then run through the shaper that's cleverly disguised as an old drill press. The ½" thick strips are bead and coved with a ¾" diameter bit, full depth bead and cove isn't necessary and is a little wasteful of material.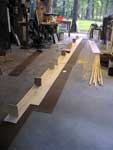 Building box beam strongback. A strongback under a stripper is handy as you can move to different height sawhorses at different stages to keep from bending over too much. As I get older I spend much more time thinking ahead to keep everything within an arms reach.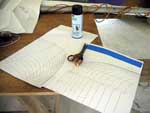 Full size patterns pretty much a necessity when you've got so many of them. Patterns spray glued to poster board, cut out around outside pattern. Trace on pegboard (flip pattern for other side). Cut around next pattern, repeat.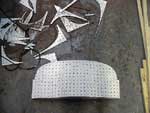 Bow sections cut out.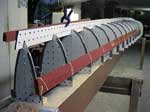 Set up and started stripping. This is going to be a one off boat, no sense in spending time to notch all the molds for a keelson. I brace the molds at the center with some blocking and then keep everyting lined up and square with a notched piece of scrap pegboard until there are enough strips in place to hold everything square.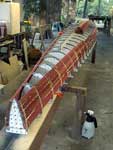 Stripping right along. The handheld pumpup sprayer is a very useful tool when using polyurethane glue. Even East Texas 90% humidity isn't enough moisture to make this glue work right. You must moisten the joint before applying glue.

High tech gluing jig for bread and butter glue up on stern (bow similar).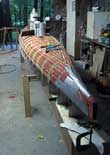 Almost done stripping. Sundry weights stacked up to hold last fit pieces in bottom. Stern and bow pieces glued in place. The rudder cut from a piece of ¼"x4" aluminum is visible on end of beam. I've been known to hold rudder up in place and make little burbling sounds at this stage.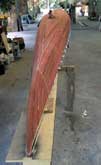 Shaping up, a lot easier and quicker than a wood stripper. A sureform style tool is really helpful at this stage followed be a little airfiling or sanding.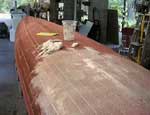 The dark side of foam stripping. The relatively coarse pores of the foam need to be sealed or you will use enormous quantities of epoxy laminating the hull. Here I'm squeegeing a very thick mix of microballons into the foam to seal it.

Done, the difference in color is due to using up different bits of different epoxy systems to clear out stuff.

Almost ready to glass. The 17 ounce biaxial cloth laid out on hull but not yet trimmed.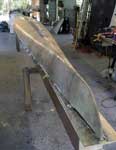 Laminated. The dark stripe along the keel is a 15' strip of 3" unidirectional carbon fibre under the cloth for longitudinal stiffness. The transverse dark stripes are a little gunk left in the biaxial cloth from being in a couple of floods. I used some epoxy from Fiberglass Industries that was far thicker than what they used to sell. Resin would not pump so we marked up a bunch up cups and Susie poured and mixed. I was a little concerned about wetting out the carbon and the less than pristine biaxial and really slobbered the epoxy along the keel joint. That was a mistake, The carbon floated a bit in the sea of epoxy and I ended up with a wavy surface over part of the bottom. And probably added an extra 5 or so pounds of epoxy.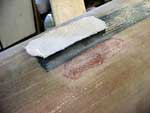 Insult to injury. I missed one spot toward the bow where the biaxial puckered and got a bubble about 2" wide and 6" long. Easy to fix, cut off bubble and sand a taper ½" or so wide around cutout. Taper down to the foam. Patch piece is cut out and ready to laminate in.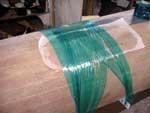 Patch done, except for some serious sanding. Glass patch plus a piece of peel ply held in place with some southern-engineered "vacuum bag".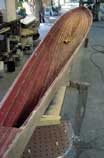 Turned over. The molds are taken off the strongback (any one interested in a special deal on a set of mold?)
A set of cradles (4 in this case) hold the hull in place and in shape. Everything is still pretty flexible at this point. The mold in foreground is out to check the shape of hull, which was OK. Once again a sureform style tool is handy for shaping inside.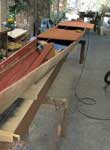 Preliminary fitting of deck pieces.

Vacuum-bagging (sort of). I've had some good results with vacuum-bagging small parts using 'space saver' bags and a shop vac. Here I've tried to extend the idea using 6 mil visqueen, duct tape and the vacuum valve from a torn space saver bag. Too many leaks, had to keep hitting the bag with a shot of vacuum every 3-4 minutes. Not quite a didaster but not really worth the hassle either.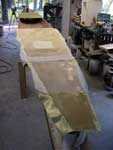 Kevlar on underside of deck. Go back to the techniques I know, more or less. Not that much experience with Kevlar but this works fine. The lighter yellow is 5 ounce kevlar, the darker is a super fine 2 ounce. Most is covered with peel ply and the light squareish area is where a hatch will be.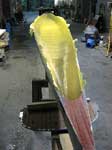 Kevlar inside of hull. Five ounce in this case, goes much easier than I expected at least partially because the epoxy is so thick and sticky.


Gluing on deck. The drain tube between footwells is visible, made from a slit piece of 1" light pvc pipe.

More deck fitting.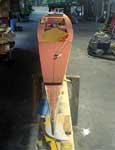 Marking the fore deck for the raised blister in front of Sue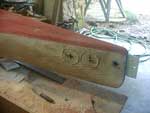 Stern showing the start of cutout for hand hold and the ACM (aluminum composite material) tab for the rudder mount. The (waxed)tab was inserted into a cutout in the foam filled with epoxy/graphite/wood flour mix.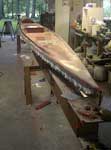 Glassing the deck. 6 ounce in the middle half of boat, 4 ounce toward the ends, still using scraps. Even the 1-1/2" wide unidirectional along the gunnels was leftover from another project.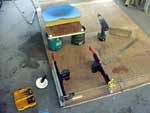 Rudder pedal mockup. Maybe not completely necessary, but I wanted to check out the real amount of cable movement to help size rudder quandrant and check feel. Much better feel with the assemblies angled out a bit.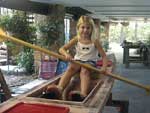 Caution, non boat related content. Younger granddaughter Brynna manages to be first to sit in boat.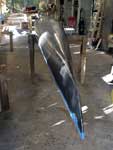 Graphiting the bottom. Turned out to be a lot of work, even minimized a lot of area and tough to sand plus those wavy bits in the bottom. Took four rounds to get it reasonably good.


The sanders version of punch drunk. Sanding and sanding and sanding; mind wanders "is this really worth it?" Take hammer in hand and whack bottom to see. Not hard enough to drive a 16d nail but easily hard enough for some 6d finish nails. Not a scratch, not a mark. Continue sanding.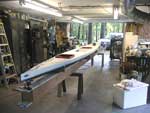 Amost done with Almost There. Except for all the fitting out and trimming, but it is getting closer.

Sue's seat. I had gone to hobby shop to get some more expanding foam and they no longer carried product. Closest, quickest alternative was West Marine at $100 quart. Nope. Tried some leftover spray can material and learned what works and what doesn't. Part of a new $5 can of spray foam and Sue has a fitted seat. Time will tell how the spray foam holds up and holds its shape. I was going to get a picture of Sue sitting in the mold but we were busy talking about the finer details of double blade paddling.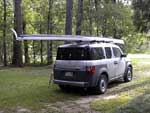 Out in the sunlight, time to get front mount fitted and start paddling. At this stage boat weighs about 63# and is a load for an old man to move around. Working in stages help. Out on sawhorses, bow up on ladder, swing stern up on rack, then bow. Its much easier at the lake there's two of us.


Other Articles by Skip Johnson: