Chuck,
Attached are a few photos of River Runner 16 on the water. We tested it using paddle, oars and motor. This boat is sweet and handles really well with the oars and/or paddle. I can tell this boat is going to work really well floating down rivers.
Under power it has a few quirks but otherwise motors well. Turning sharply, the boat wants to roll or tip over. This is not dangerous, but one needs to be aware of this tendency. The boat clips along with the 2 1/2 Johnson. One would not even want any more power. What really surprised me however is the motor cavitation plate being at least 4 or 5 inches under water when running. It seems like the boat isn't drawing any more water than when rowing. The motor bracket height is 16 1/2 inches above the bottom of the hull. According to what I am seeing, the motor board could be at least another 4 inches higher. We are going to raise the motor board 4 or 5 inches.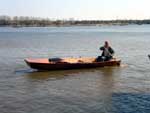 River Runner 18's motor height right now is 19 1/4 inches above the bottom. I was ready to cut that way down but after today's testing will not. Maybe I'll even have to raise that one even more too.
Hope you enjoy the shots.
Best,
Jim