About the Author
Chris is a late 50's, ex-surfer dude who grew-up at the beach in Southern California. An early introduction to sailing from his Scout Master while messing around in an Optimist dinghy at the local Sea Scout base got him hooked and it's been one crazy waterborne adventure after another ever since.
Over the years he's been in just about every kind of boat built and also some that should have never seen the water on a calm day. A teenage life of surfing, freediving for abalone and lobster along the rocky shores of Palos Verdes Peninsula and a constant desire to explore the sea led to one wonderful caper after another.
After a bit of service during the Vietnam episode, Chris returned to finish college at UCLA as a Film and Video Cameraman/Director. Along the way he entertained himself with well-thought-out adventures with his friends such as their own creation of Aquaneering. This is a sport in which the participants suit-up in their surfing wetsuits, complete with hoodies, footies and webbed gloves and swim down the smaller, swift running rivers of the Sierra Nevada, far from any roads. Not advised for children.
Chris was a founding member of the Newport Aquatic Center (NAC) in the Back Bay of Newport Harbor in 1981. The NAC is now one of the most highly regarded Olympic training facilities for rowing and paddling sports in the US. The boating activities continued as Chris expanded his outdoor interests with serious rock climbing and mountaineering adventures all over the Northern Hemisphere. He has summitted numerous big wall climbs in the Sierra Nevada Range including several in Yosemite Valley and Tuolomne Meadows. He has also climbed both of the 18,000' peaks outside of Mexico City, Mt. Popo and Mt. Orizaba.
Chris has surfed and boogie boarded in 20-foot waves, with his favorite boogie board spot being The Wedge in Newport Beach when a south swell is cranking. He has also sailed hundreds of miles in SoCal as well as Baja's Sea of Cortez.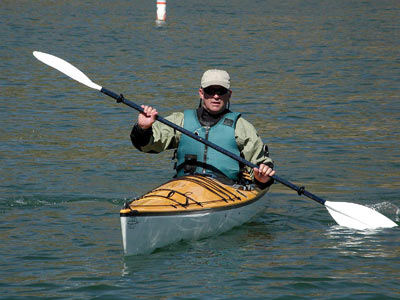 15 years ago, he left California and has since become an avid river paddler in kayaks as well as canoes. He's done Class 4 rapids in his self-supported Prijon, Yukon Expedition kayak and paddled the length of Jackson Lake in the Tetons. He has also paddled hundreds of ocean miles in sea kayaks, camping along the shores of many interesting destinations along the way.
He now designs canoes, kayaks, sailing boats under 25 feet along with an interesting portfolio of power boats for fishing and utility.
All these varied interests in the outdoors since the age of five, when his dad first took him camping, have shaped his expansive knowledge of just what makes-up the best equipment for the outdoorsman who is seriously connected to water sports and boating. From clothing to techy gadgets, from paddles to watermakers for the ocean environment, Chris has probably messed around with it, stupidly broken it and then found a way to get it going again so that the expedition could continue as planned.
He'll be passing along his unique insight regarding gear for the boatbuilders and enthusiasts here at Duckworks in a series of reviews that cut to the bone about what really works and what doesn't.