SOF Update
(original post)
The frame came out pleasingly stiff. I let the 3M5200 set up over night then I took the frame off the strongback, turned it over and put the last of the stringers on.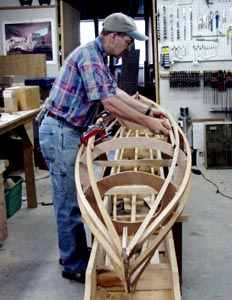 I had to weigh it at that point, and I was really pleased to find that it was only 12 lbs. at that point.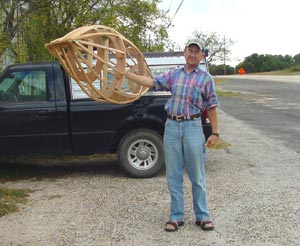 About six months ago, I ran across a nice canvas dropcloth at Home Depot and bought it with the idea of making a sail out of it someday. This seemed like the perfect time to use it. We also scored some SS staples at HD. The boat takes shape really fast when you use one of these electric staple guns. It does take about a thousand staples for each boat, though.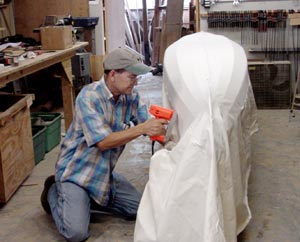 You go all the way around the perimeter, stretching and stapling with a small tuck at each end...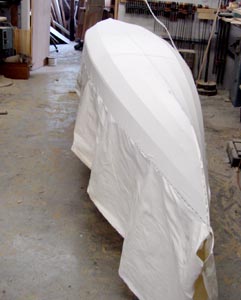 ...then you cut the overhang with sharp pair of scisors. Don't throw the trimmings away as you will need them for the top.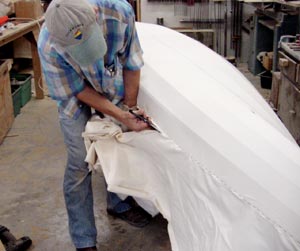 Here I have done the side panels and am ready to...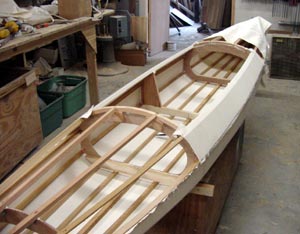 ...stuff some scrap styrofoam in the ends for flotation....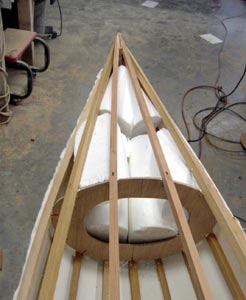 ...then stretch and staple the ends.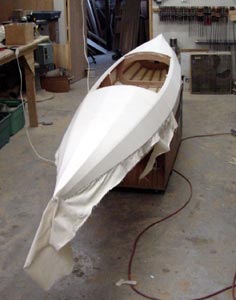 Now I trim the excess off and she is ready to paint. I am going to use some teal oil-based paint left over from another job and Sandra has promised to paint flames on the front like a hot rod. That should be good!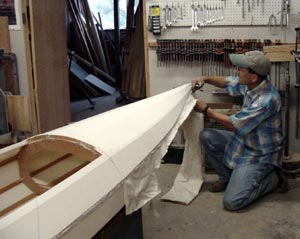 I haven't weighed it at this point, but I think it is under 20 lbs still. It's more delicate than Sandra's since the stringers are Cedar as opposed to the Yellow Pine on hers, but with care, it should do just fine. You have to be careful with a boat that is covered with cotton cloth anyway.
Chuck