Hot Chili Update1
(click here for more about Hot Chili)
Jeff, Little Chilli contimues to progress. I am sure that the hardest thing in the whole job will be to get the gunwhale stringer to behave. You have to pull a fair bit of twist into it s drawn. It is ok though and I think the way I have developed will prove successful though may may opt for more purist approaches. I have the following photos for you:
Temp wedges for bow - This allows you to use a clamp to pull the
twist into the stringer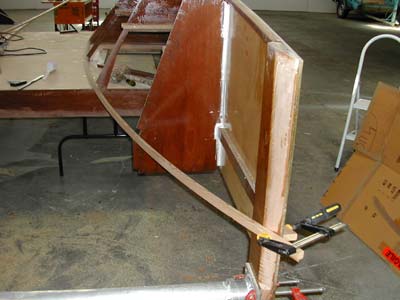 Gunwhale stringer takes twisting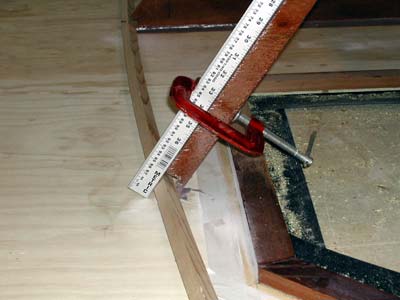 Checking lay of planking. It falls into place pretty well, but will need
a few strokes of the plane later on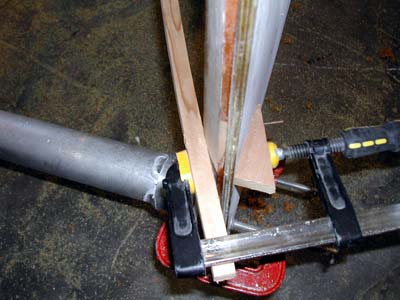 Temp bow wedge - It hurt to hammer it into my 'finished' side. but with
no-one to help in the middle of the night. Oh well.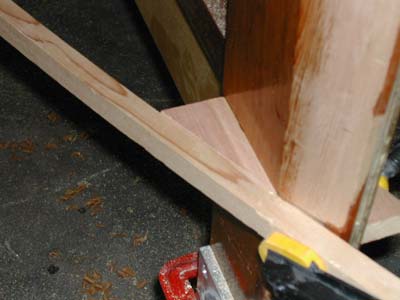 Bow assembly - Shows the use of the wedge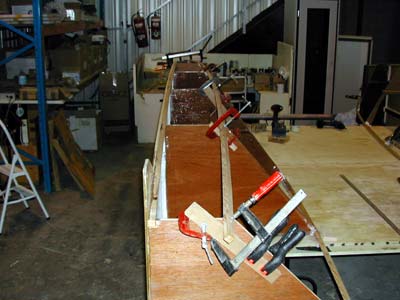 Chine stringer going on - much easier with less twist!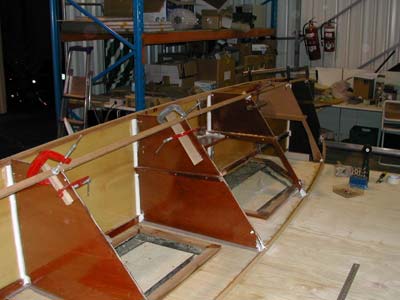 Chine stringer - general view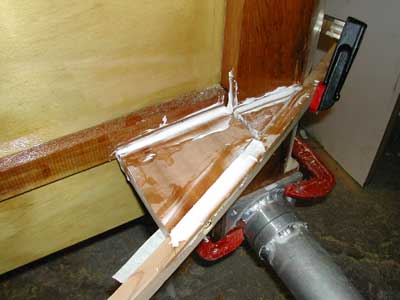 Bow breasthook detail - I decided to put additinal reinforcing in. I bet
it will stay together now!
Forebeam
Jeff, the forebeam is now almost ready. I think it looks great and reminds
me that I have not sent you the engineering drawings. I attach 3 photos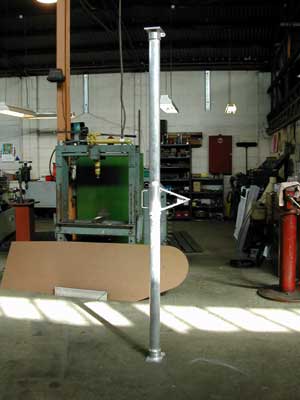 The overall beam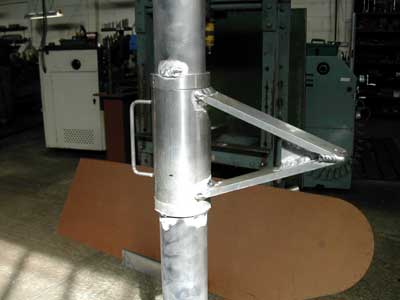 The centre detail. This shows the seagul striker and attachment point
for forestay and tack for wire luff jib. The whole assembly is able to
rotate and thus align itself with the thrust of the foresaty or wire jib
luff. This means it can directly oppose the forebeam bending force. I
think this is a considerable advance on the Roger Simpson et al approach.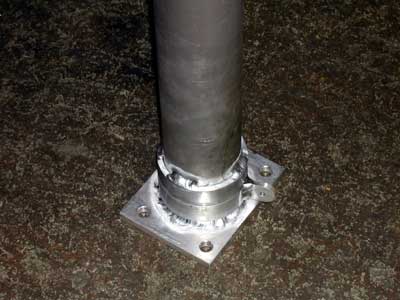 The flange area showing the rotating attach points for the seagul
striker wire.
Jim Townsend
Technical Director
Micromet Pty Ltd.
ph. +61 8 8362 6699
mob 0419 8144 64
mailto:jim.townsend@micromet.com.au
www.micromet.com.au