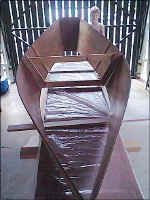 Framed - click to enlarge
As I said in my last article, I planned to build a bigger version of Ira Einsteen's Double Paddle Dory. Woodeny, the original boat follows Ira's original design of 10' LOA (9' if you measure her at the waterline as Dory's do) fits two crew easily but sets safety limits on fishing gear and a decent picnic – essentials to us.
With no boat design knowledge I set out by working out how much bigger I wanted her. I figured about 2" extra would do the job nicely. I started by simply multiplying all Ira's measurements by 1.2. Seemed simple enough and get that smirk off you face! Well the shock is that it worked. I'd be interested to hear from any skilled designers how mad they think I am. I'm not saying you could multiply these simple lines by 100 to make a dory super tanker, but clearly up to some point it works.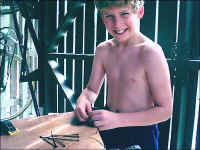 Alex stitching - CTE
Trim, as my 10 year old son, Alex named her was built over a four week holiday to introduce my son to the world of boatbuilding. Those who have read my previous article will know of my vast experience to pass on. Alex and I had a ball watching her come together. We went for a heavier ply to give a little more stability but she still weighs only 24 kilograms – still light enough to lift onto the car roof. In fact the real treat came the day we played Babushka dolls and carried both at once. Woodeny went on first and then Trim was put on top. The roof racks coped and we were able to take our little Downunda Dory flotilla and sail them both. Alex can easily handle Woodeny by himself while I row Trim with oars. She also takes well to my 30 lb thrust electric outboard.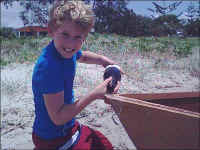 Alex blessing Trim - CTE
Recently I took Trim to Noosa on Queensland's beautiful Sunshine Coast and rowed her for 7 kilometres with no ordeal. She handles beautifully and even attracted the attention of the local Surf Lifesaving team who offered me a place in their surf boat team as I appeared to effortlessly row her against a monster tide.
By the way, Trim was the name of the English explorer Mathew Finder's cat; the first cat to circumnavigate the world and Australia. Flinder's account of his feline companion inspired us that such a lovable and brave rascal deserved a permanent memorial here.
Now, I wonder if I can simply double the dimensions to make a 20' dory cruiser……..