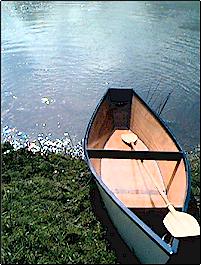 I've just finished building a Double Paddle Dory and highly recommend it to anyone who wants to take that apparently huge step into boat building.
I'm one of those who have been reading and dreaming for years about building my own boat. I was drowning in study plans and terrified I didn't have enough skills or knowledge. I can now say with confidence that the only enemy the first time builder has is procrastination. That first terrifyingly huge project is actually very simple and enormously rewarding.
I read somewhere that first time builders have spent so much time looking at artworks in Maritime Museums and books that they worry that theirs wont look as good. It wont. But it will give you more satisfaction than any visit to a museum ever will.
The skills needed are not difficult. There's little you can get wrong; more likely you'll be a little messier than you'd like. My boat, Woodeny is painted to cover these little "lessons" that my friends assure me are invisible to all but me anyway.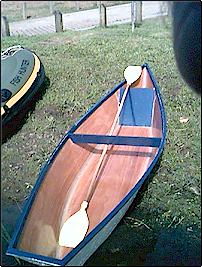 Ira must be one of the nicest people on the planet. Not only has he designed a great little boat, he gives the plans away and answers email questions. The final straw was when he complimented my fiancÚ as being better looking than my boat! She is, I have to admit but really!
Woodeny, is a delight. Easy to build over about 24 hours, 4 drips of paint/epoxy on the garage floor, if anything too light (I can lift her one handed and have to be careful she doesn't catch the wind as I load her on my car) and despite Ira's concerns, carries two with comfort. She is designed as a solo craft but I thought I'd do a simple modification of putting in a back rest forward for a passenger as well as providing a wet locker for an anchor and line. Despite losing some freeboard she copes well and actually paddles much better with the additional warm ballast.
She's a perfect river boat and despite being a little tender, has been safely handled by beginners. She is also very pretty and attracts attention wherever she goes (also like my fiancÚ...).
So to all you boat building virgins, don't start with a monster 60' Ferro cruising beast. Start small with a project that will always be useful, cost you little and inspire you to the next project. I have 2 planned.....a slightly stretched version of Woodeny and an 18' stretched version with a cuddy cabin.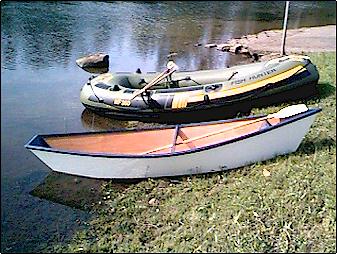 Free plans for Ira Einsteen's Double Paddle Dory - click here