---
Chuckanut 12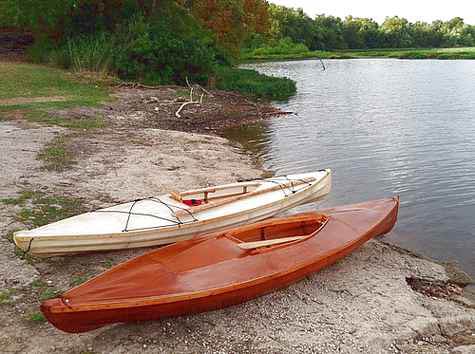 My friend Brian D. and I put our Dave Gentry Chuckanut 12 skin-on-frame kayaks in the water yesterday evening. I'd had mine out on a couple of short evening test runs, but was waiting for his to hit the water before announcing anything. We started these in October of 2011, it was nice to finally get them out and paddle a bit.
They both move very nicely through the water. Requiring much less effort than many of the plastic boats I've paddled. Mine is the lighter colored of the two. I went with a utility straight varnish look and he went with the rich leathery stained look.
I have photos and a trip description on my blog.
Trevor Akin
Springfield, Missouri
---
---
Ady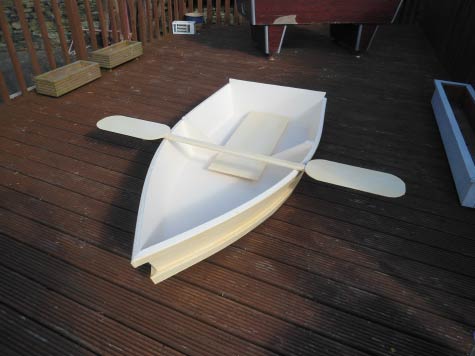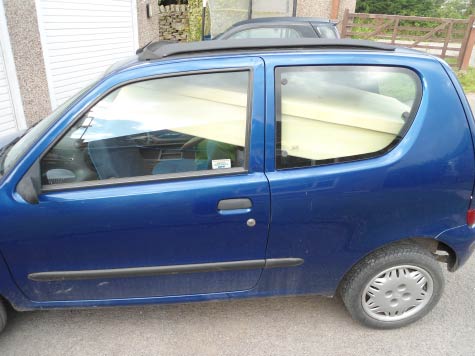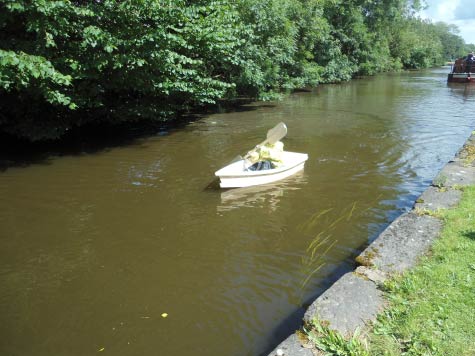 I have been working on an 8 foot skiff, sorry a 6 foot skiff, as this fits nicely into my sons Fiat (so long as you don't shut the boot down too fast).
Ady
---
Roberts Blessing Bolger Design 505, 27'0" x 8'2" x 1'4"
I built Bolger design #505 in 2000. It is closely related to the "California Lobster Boat" (FoldingSch Ch#2).  She's the first and only one built to this design as far as I know. We fished her yesterday outside the Golden Gate Bridge - she's very much in use... Here's a couple of photos: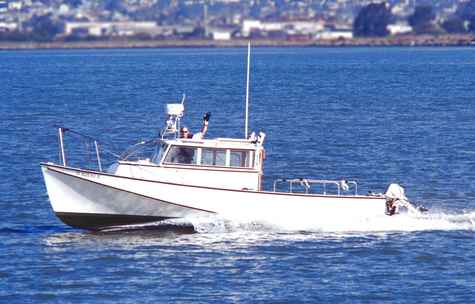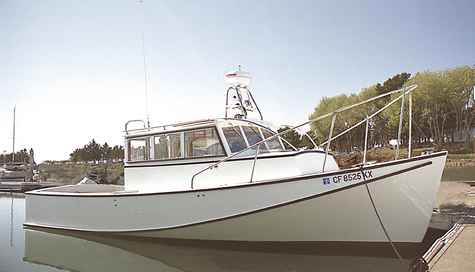 While the design is well outside the "Folding Schooner, Super Brick" style of originality, it's remarkable in it's fuel economy & comfort at speed - not a small thing. Visually it's traditional, which suits my tastes, but compared to every one of the sport fishing boats typical to our area & purpose it's seriously radical where the wood hits the water.
Peter St. John
---
PuddleCat 18
The boat is a PuddleCat 18 footer. It is 8 foot wide and weighs 550 lbs. It was launched on Aug. 5, 2012 and took 31 days to build although it still needs fitted out with windows and cabin accessories such as sink, water supply, head and stove which the new owner will take care of himself. The cabin is 4 x 8 foot with an option to be 6 x 8 foot and more of a front slope angle. It has sitting head room in the middle and 5'6" headroom in the hull areas of the cabin.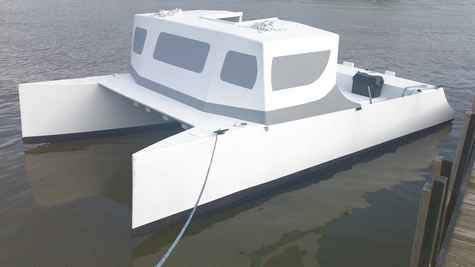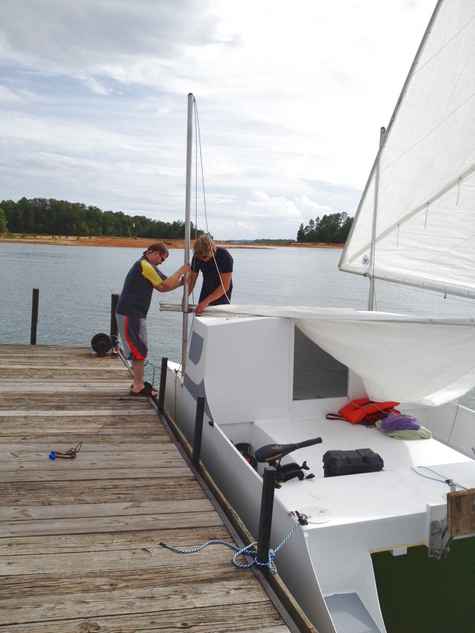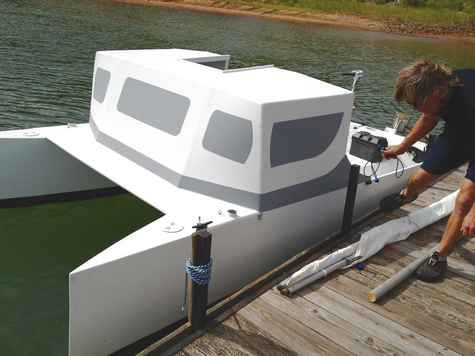 Boat has a biplane lateen rigs and uses Anti Vortex Panels instead of a dagger board (optional). The hulls are flat sided on the outside, dory on the inside and gives it that Hobie 16 shape. It uses no strong backs or forms in its construction and is stitch and glue from 6mm ply which is doubled on the bottom to make it 12 mm. The boat was taken on a 3 hour cruise and did very well making 5.9 kts high speed in light winds of 8-10 mph. With just the small electric trolling motor it would do 4 kts. And as always thanks for the quick service you provide.
Roger Mann
---
KD 860
Here is "Oryx" launched some weeks ago. Pete Hill took the KD 860 and made his own interesting interpretation of it. He stretched the boat to 10 meter (33 feet). The sides remind me a bit of our "Pelican". The most unusual feature is of course the parallel Junk rig. Pete has a lot of experience with Junk rigs and also using these in a parallel rigs configuration. His former catamaran "China Moon" has the same rig. He made a lot of interesting and long trips with the boat. Oryx will be tested the coming weeks. Normally a designer dos not like when customers make changes to a design, but when done sensibly by a person who knows what he is doing nobody could complain. He also had free standing masts which can be lowered and set by one person is ingenious and a big cost saver. The launching was also done in the spirit I like on tidal waters.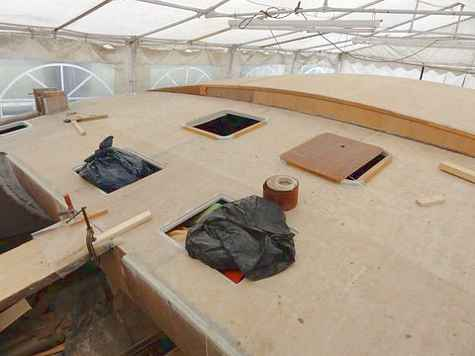 Oryx under construction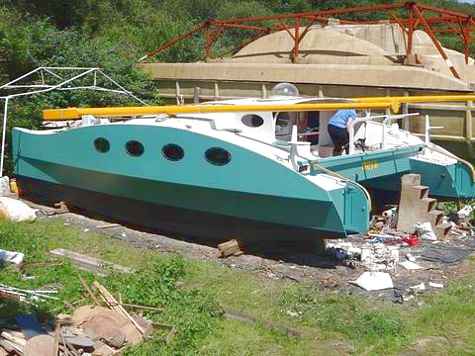 Out of the shed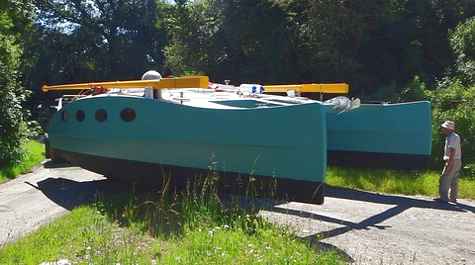 On its way to the water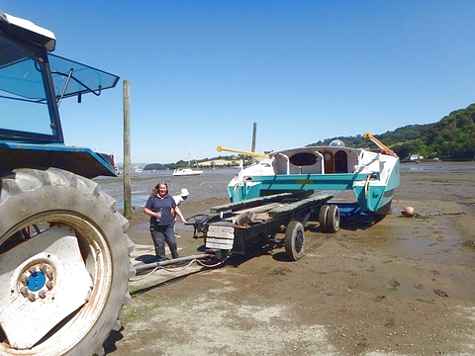 Launch at low water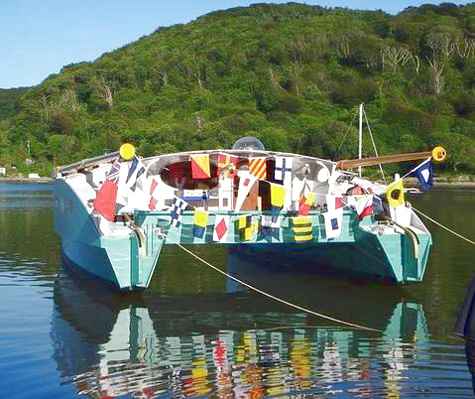 Afloat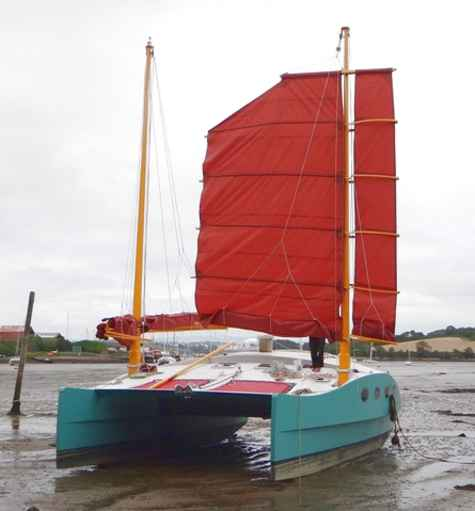 First sail test
Bernd Kohler
https://ikarus342000.com/KD860page.htm
---
Michalak Piccup Pram
Splashed my 2013 ride: Michalak Piccup Pram. Still need to add sail and rigging, but it floats.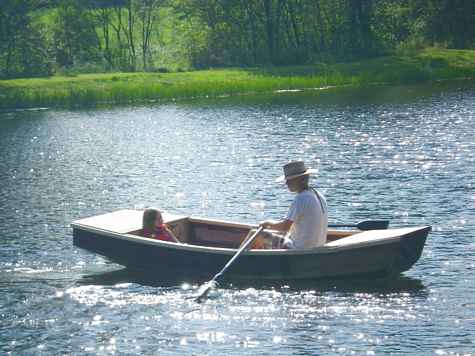 Pehr Jansson
---
Crazy guys and the Worlds Best Tabernacle
[and some truly beautiful photographs]
I once called this guy "crazy John". You notice that it takes a special characteristic to be called crazy in these e mails, you regular nut jobs are just the norm. In this case John is an Aussie which just about qualifies him right there but what makes him special is that he built a boat in the smallest space ever, a raised six foot wide walkway between his house and shed. Take a close look at the picture to see. None of us will ever beat this, who the hell would want to. Now John's an architect who probably likes to get the most from the smallest space, he did. Took six months to come away with this neat little sharpie. Notice the super simple sail rig. He wanted a shallow water boat, this is it. good job. Here's an email from him, they have a fun language.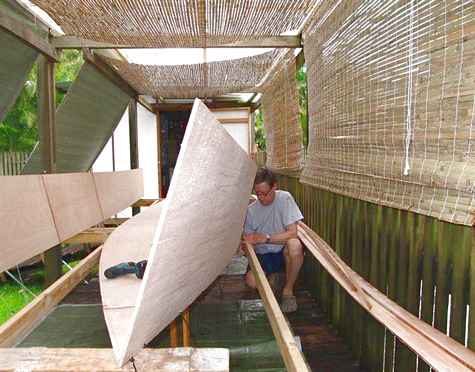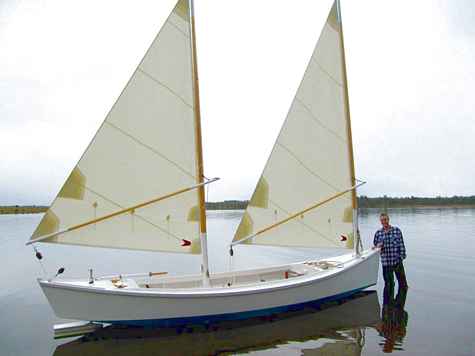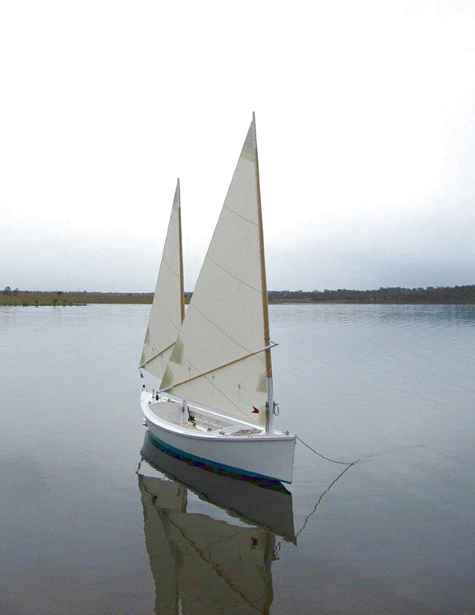 Hi Dave, remember your crazy Aussie mate building his sharpie out on the verandah under the tarpaulins. Well she's finished so I thought I'd better send some photos as promised. Launched about six months after I started building her. Also, as promised, she was christened with rum! She's called Sarah Wilson after my great great aunt. Her brother, my great grandad named his 70' barque (built in the 1850s) after her, so I thought I'd better do the same, in case he came and scolded me or something. She sails like a lizard drinking... that's Aussie slang for 'flat out'! She's a beaut alright. He's a link to a youtube vid as well, though don't mistake the skipper for me, that's my mate, Alan. Love your emails. Crazy John
Dave
David Lucas Lucas Boatworks and Happy Hour Club
Designed by Ross Lillistone
www.baysidewoodenboats.com.au
https://rosslillistonewoodenboat.blogspot.com.au
---
Ocean Explorer
Marshall Katz has launched his Ocean Explorer - with style!
Here is his comments after maiden voyage:
I am really pleased with the sailing qualities this boat has. I'm ready to try some longer sails I hope soon.
Perttu
---
Unicat 2.4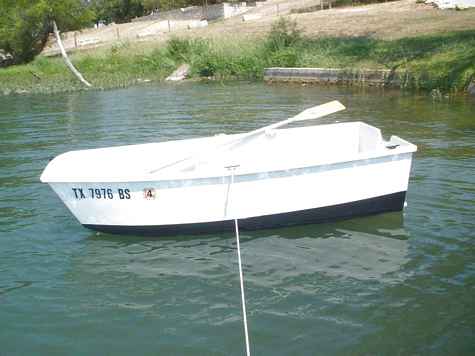 John Ed Drawe launched this Unicat 2.4 near his home in Texas recently. Unicat plans by James Brett are available at Duckworks:
https://www.duckworksbbs.com/plans/brett/unicat2.4
Chuck
---