This time we have the following boats:
Send a picture or three and a short description of your boat and its launch to chuck.leinweber@gmail.com for inclusion here next month.
| | |
| --- | --- |
| | John Welsford is coming to the USA. Here are some details of his trip and a chance to help out a bit. |

This cat was built by Mr Viherä in Finland and launched last month. The boat was sailed in light winds until now. He is very happy with the performance. The boat sails like it's on rails. Coming about is, as can be expected in light winds, a bit slow. As designer, I am happy that he opted for the Wishbone boom. When sailing with his two small children there will be no danger from the boom. Another positive point is that no boom vang is necessary.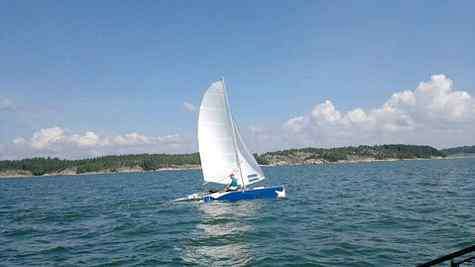 First Sail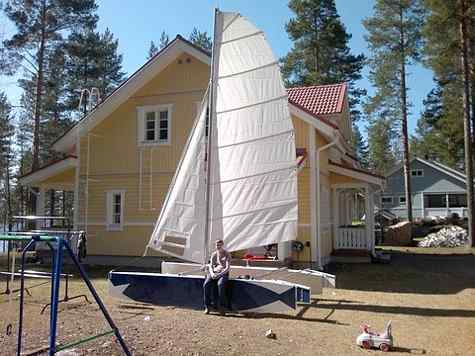 Ready for Launch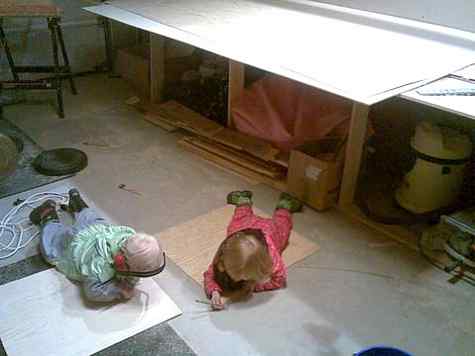 Helping Hands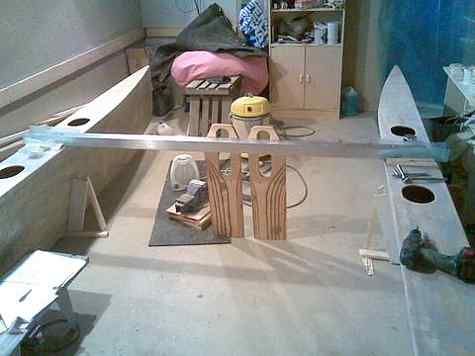 Under Construction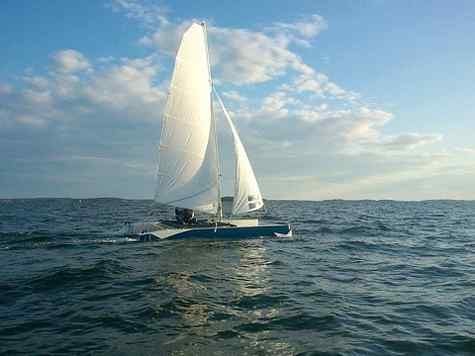 Bernd
K-designs
The Netherlands

Here are some pictures from Fedor Aredakov. I like the atmosphere in the pictures. He sailed the boat in light winds and heavy winds. He is very pleased with the performance. He reports coming about in heavy winds is a bit Difficult, but he is new to catamaran sailing and I am sure he will learn it.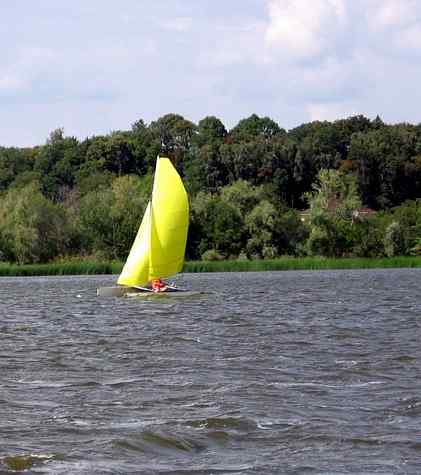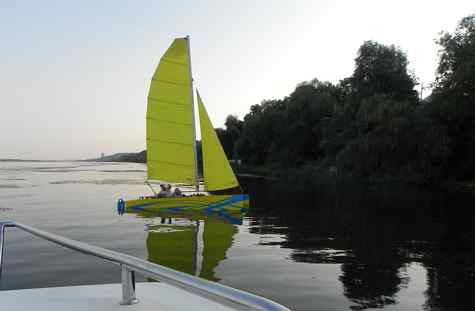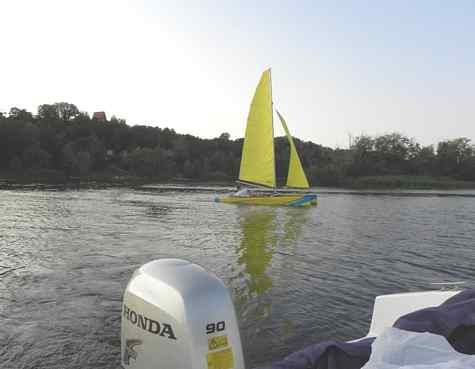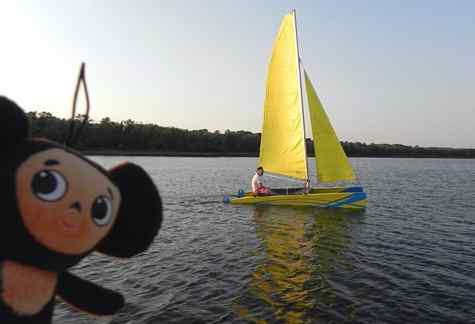 Bernd
K-designs
The Netherlands

"Since 2006, I've been focused on the following idea: to design and build wooden boats that represent a synthesis of traditional aesthetics with modern wood/epoxy construction technology. While I am an unabashed admirer of the beautiful look of conventional wooden boat construction, I felt the skills required would be beyond the reach of most of the folks who might otherwise want to build a boat. And I want people to build my designs - that's why I'm here. To appeal to the largest possible audience, I've chosen the stitch-and-glue method. It's simple, forgiving, and can be easily mastered by anyone with basic carpentry skills and the desire to build a boat. By providing the home-builder with a complete set of construction drawings, a step-by-step building manual, full-size patterns, and timely email support, building one of my boats becomes a smooth and enjoyable experience - and before you know it, the boat is finished and you're out on the water - and isn't that mostly why you wanted to build it in the first place?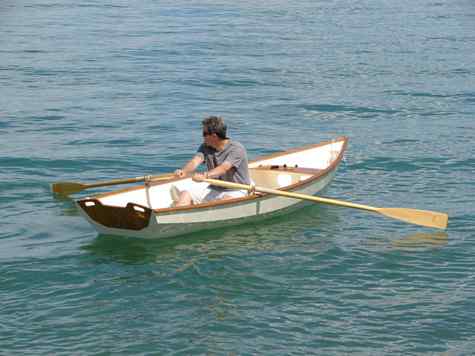 So I'd like to extend a hearty invitation to anyone and everyone to have a look at the Wanderer and Sandpiper study plans that are now available here at the Duckworks store. If you have a question or comment, please don't hesitate to email me - I'll do my best to answer promptly.
Happy Building - Sailing - and Messing About!
Bill Bates, Nomadic Sailcraft, Tucson, Arizona

I take back every bad thought I ever had about these little cement mixer box boats. We finally had some wind so Stan put it in. Shocked is an understatement, we couldn't believe how well this thing went. Even though it had it's small sail up it moved right along, balanced perfectly, would spin around in it's own length and you could stand up in it. And the drink cups are right at hand. Stan has the "Australian" deck on his (it curves out over the sides) cause it looks cool. It tracked straight with very little leeway. He's thinking about cutting out a bunch of panels so we can make um fast and easy. Imagine all us Tiki Hut guys out in the bay with a snoot load of rum and water balloons.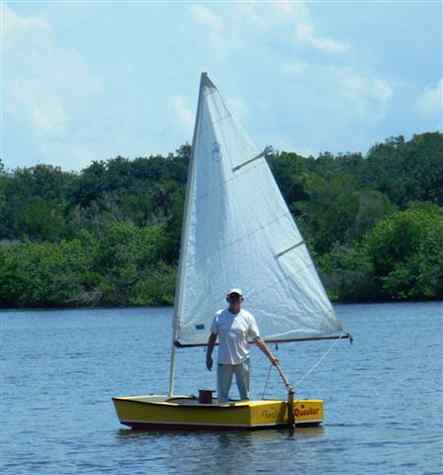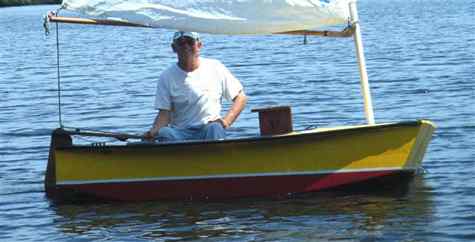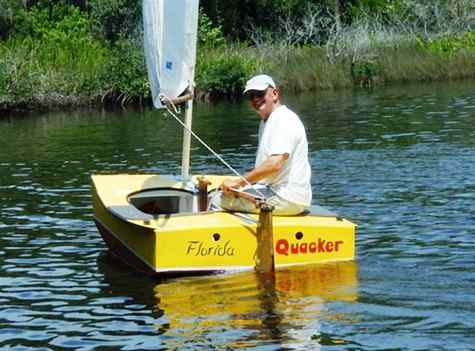 David Lucas
Lucas Boatworks and Happy Hour Club

This is the proof that this catamaran is car-toppable! This afternoon I went to the lake with her.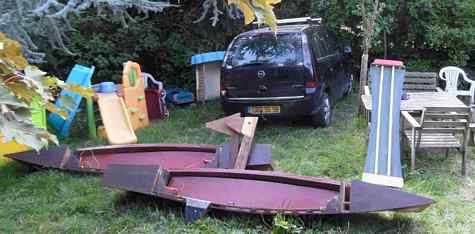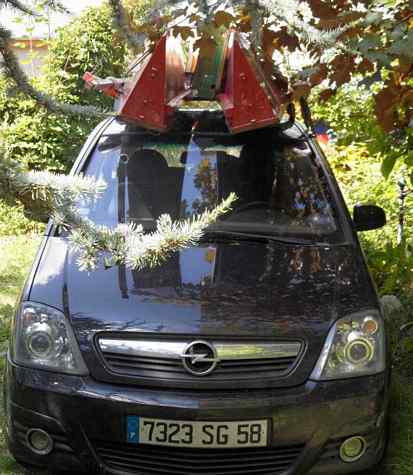 Rod

For a while I have been thinking of a V bottom kayak made from one sheet of ply. (Joint on length direction is allowed .) So I started to build it from a 2d sketch I drew.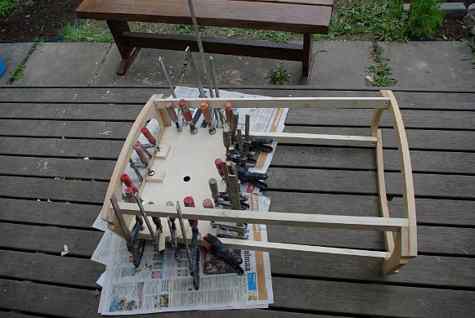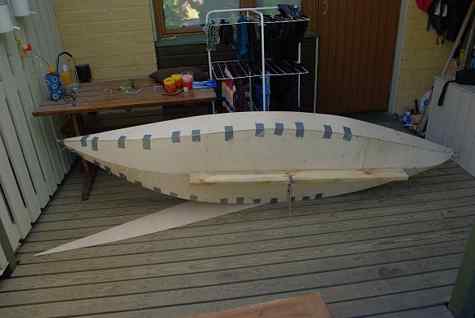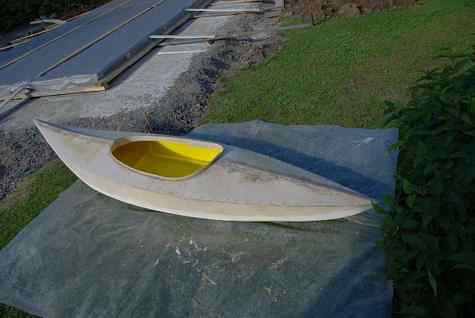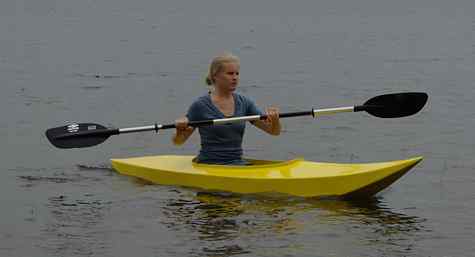 I made two bulkheads and combined them with framings. Then I made seat and seat rest, which is removable and works as hatch cover. ( I like that idea. ) Length is 2.8 meters and I like it. Good enough for day trips and fun on the beach and easy to transport and store - more Photos.
Perttu Korhonen

On Sunday, after an extended build, I launched The Lady Caroline - (Glen L 14 Sloop)
I had the assistance of Ben, and the patience of his whole family who came along to join us.
The boat floated, upright, and no-one drowned.
We even got to the stage where we were confident enough to bring his kids for a spin around the estuary with the sails down, just running the outboard.
Before much more ado, A HUGE Thanks to Ben and Family. Ben and Sarah's patience when they got a lot more than he bargained for was nothing short of astounding.
We did make some pretty good decisions, which resulted in my poor decisions not getting out of hand.
We launched in a sheltered estuary;
We brought an anchor, chain, and rope;
We had an outboard.
We also learned:
It took a LOT longer to setup and tear down than I expected.
Gravel makes a bad launch place for a sailboat with a swinging centreboard.
When the CB is stuck up because it's jammed with gravel, you cannot sail upwind, in fact, you cannot even turn upwind, you have no pivot point.
Leaving a hole in the CB case cover so that you can push down the CB is a good plan.
Forgetting to bring a long thin stick to push down the CB is not.
An outboard helps when you can't sail.
Too much choke is as bad as too little.
An anchor allows you to STOP and think and fix things without panic.
The concrete wall long beside the slip continues underwater a lot further than you'd think.
Old fashioned boats without a plumb bow tend to ride up on underwater concrete walls without too much damage.
Self-bailers are no good if you can't reach them without lifting the floorboards.
The suzi 2.5hp was more than enough power, but the movable bracket is set too low, so part of the bracket drags in the water. Not a big deal, but annoying, I need to sort that.
We did get a little sailing done, a broad reach with the mainsail reefed.
All in all, a success, but I need a LOT of practice sailing.
David

Launching Irascible: a Home- Built and Home-Designed Trimaran Sailing Dinghy.
Pretty successful initial launch. Check out how nicely it sits in the water.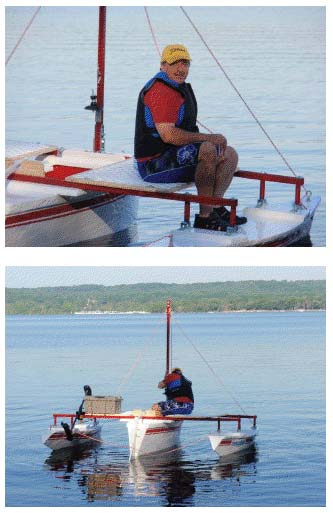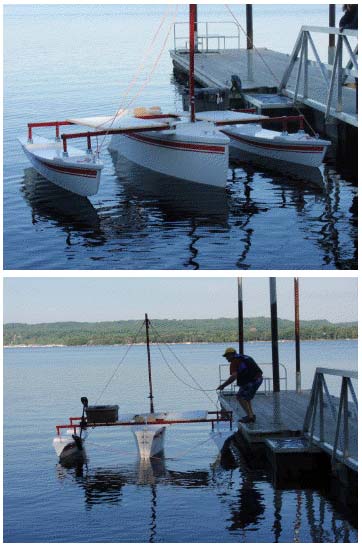 David
Article to follow - Coming soon.

Here is Mike Drost's new solo unlimited canoe sized for a lighter (female) paddler. I'm not a big fan of "winged" hulls but Mike insisted and the results turned out both visually and practically far better than I would have expected.
Skip
Check out the lean you can get on Star-Lite. Great secondary stability. This is with a 5" tall seat. I used a 11oz bias weave carbon tape 2" they came out flawlessly - per your recommendation. Thank you so much for your help.
Mike