| | |
| --- | --- |
| Voyage to Recovery | |
IT ALL BEGAN WITH A REALLY BAD DECISION. I GAVE UP BOATING AND BOAT BUILDING IN JULY OF 2004. I HAD JUST FINISHED BUILDING AN AF4 GRANDE WITH WHICH I WAS THOROUGHLY DISAPPOINTED. IT WASN'T THE DESIGNS FAULT, I THINK I WAS EXPECTING MORE FROM THE BOAT THAN IT COULD DELIVER. I DONATED THE BOAT TO THE LOCAL YMCA.
DISGUSTED I PURSUED ANOTHER HOBBY, RADIO CONTROLLED AIRCRAFT. I WAS TERRIBLE AT THAT. I FINALLY GAVE UP ON THAT HOPELESS PURSUIT THE THIRD WEEK OF AUGUST, 2005. WHAT TO DO NEXT? I LIKE TO KEEP BUSY YOU KNOW!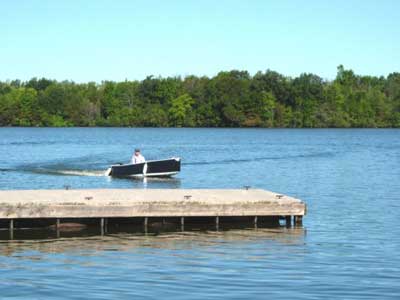 I WAS SURFING THE NET AND DECIDED TO SEE WHAT WAS HAPPENING ON DUCKWORKS. THAT DID IT, I KNEW I MUST RETURN TO MY FIRST LOVE; BOATING. I WROTE TO CHUCK LIENWEBER AND HE SAID… YOU KNOW STEVE A LEOPARD DOESN'T CHANGE HIS SPOTS!!!. WHAT A WISE MAN!!
I THEN CHECKED IN ON BRUCE HECTOR'S SITE TO SEE IF MAYBE HE WAS HAVING A KNIGSTON MESSABOUT THIS SEPTEMBER. SURE ENOUGH HE WAS. I WROTE TO BRUCE AND TOLD HIM OF MY RECOVERY TO BOATING AND TOLD HIM I PLANNED TO ATTEND. I JUST COULDN'T GO WITHOUT A BOAT, SO I DECIDED TO DESIGN AND BUILD ONE. THE FOLLOWING IS THE FAST DESIGN AND BUILDING OF "T3" MY BABY SNEAKEASY.
I NEEDED SOMETHING SMALL ENOUGH TO FIT ON TOP OF THE CAR BUT LARGE ENOUGH TO CARRY MY BULK. ONE OF THE WORST DECISIONS I MADE IN THE PAST WAS TO SELL MY SNEAKEASY "KATIE". SINCE I COULDN'T FIND THE DESIGN I WANTED I DOWNLOADED GREGG CARLSON'S HULLS PROGRAM AND CAME UP WITH WHAT HAS BECOME A PRETTY GOOD DESIGN. SHE IS 12 ½ FEET LONG AND 3 ½ FEET WIDE. VERTICLE BOW, PARALLEL SIDES, FLAT BOTTOM AND "DRAKE TAILS" AFT.
PICTURES OF THE CONSTRUCTION
I CUT THE SIDES OUT PER SPECS AND GLUED AND SCREWED THE CHINE LOG AND SHEER CLAMP. I THEN SET THE SIDES UP AND INSTALLED THE TRANSOM.
AFTER JOINING THE SIDES AT THE BOW I TURNED HER OVER AND PUT THE BOTTOM ON. I WASN'T GOING TO USE ANY FIBERGLASS OR EPOXY SO I SEALED THE BOTTOM AND STEM WITH 3M 5200. I DIDN'T WANT HER TO LEAK.
| | |
| --- | --- |
| | |
| | |
SINCE SHE WAS TO RESEMBLE A SNEAKEASY I PUT A CURVED DECK FORWARD AND FAKE DRAKETAILS AFT.
I THEN WORKED INSIDE AND INSTALLED THE SEAT SUPPORTS, MOTOR MOUNT PLATE AND SOME ADDITIONAL BRACING.
WHEN SHE WAS READY FOR PAINT I CHOSE TO USE THE SAME COLOR SCHEME AS MY "KATIE" BLACK, WHITE EXTERIOR AND GRAY INTERIOR. AFTER TWO COATS OF BEHR 10 PLUS PRIMER I APPLIED THE COLORS.
SHE WAS READY TO TRAVEL TO THE 2005 KINGSTON MESSABOUT IN KINGSTON, ONTARIO.
WATCH FOR MY UPCOMING ARTICLE ABOUT THE MESSABOUT HERE IN DUCKWORKS.
PERFORMANCE
WHILE I WAS AT THE MESSABOUT T3 HIT THE WATER FOR THE FIRST TIME. SHE FLOATED HIGH ON HER MARKS AND HANDLED MY WEIGHT SURPRISINGLY WELL. I HAD BORROWED A FRIEND'S NEW MERCURY 3.3 AND HEADED OUT. I HAD INSTALLED A REAR SEAT WHICH WAS IN THE WRONG POSITION. IT NEEDS TO BE FORWARD ABOUT MIDSHIPS. PAUL MCLELLAN OF BOLGER HOUSEBOAT FAME GAVE ME A MILK CRATE TO USE AND THE BOAT WAS PROPERLY BALANCED. I TOOK OF WITH A NEAT WAKE CAUSED BY THE DRAKE TAILS. SHE SKIMMED ACROSS THE LAKE AND I WAS PLEASED WITH HER SPEED AND LOAD CARRYING ABILITY.
I CAME BACK TO THE DOCK AND ASKED MY NEW FRIEND STEFAN GUTEMUTH, WHO WITH HIS PARTNER GEORGE BUILT A MAGNIFICENT BOLGER WATERVAN, IF HE WANTED A RIDE. HE GRABBED HIS CAMERA AND OFF WE WENT. WE HAD A GREAT RIDE. THE BOAT HANDLED THE WEIGHT OF BOTH OF US VERY WELL. SHE WAS NIMBLE AND STABLE.
SUNDAY MORNING I WAS CHASING PAUL MCLELLAN IN HIS HOUSEBOAT. WHEN I CAUGHT HIM I ASKED HIM TO SEE IF WE COULD FIND HOW FAST T3 WOULD GO. I WENT FLATOUT NEXT TO PAUL AND SHE DID ABOUT 7 KNOTS. NOT TOO BAD FOR A 12 ½ FOOT FLAT BOTTOM BOAT WITH A 3.3 HP MOTOR.
WANTING TO SEE HER STABILITY I PUT MY FULL WEIGHT ON THE RAIL AMIDSHIPS. SHE WENT ABOUT 6 INCHES DOWN ON THE SIDE AND STOPPED. THERE STILL WAS 11 OR 12 INCHES OF FREEBOARD LEFT. YOU GOT TO LOVE THOSE FLAT BOTTOM SHARPIE BOATS.
BOATBUILDING IS A SATISFYING AND REWARDING PASSTIME. IF YOU ARE THINKING OF GIVING IT A TRY GO AHEAD AND DO IT! YOU TOO CAN BUILD A BOAT, SURE YOU CAN!