| | |
| --- | --- |
| Glen-L Power Skiff | |
By Marc Bourassa - North Andover, Massachusetts - USA
Well, I finally got around to providing you with pictures of my Glen-L Power Skiff 14'. I began construction in January, 2004 and, after a long hiatus moving to a new town, completed (is it ever?) the boat in June, 2005. The boat is an absolute joy to drive, and the Fast-G construction process lived up to its billing; fast, efficient and accurate.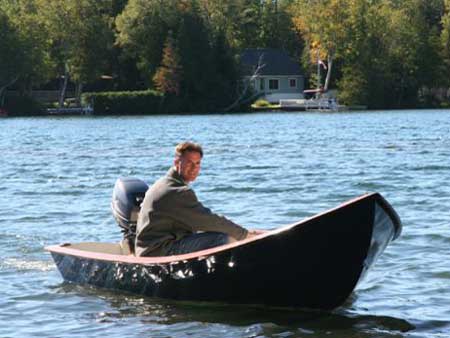 I don't have a lot of pictures of the construction process, but here's a shot right after taping the interior. This was my second boat building project (I built a 12' rowboat last year), and I learned a lot about technique from the experience. I used the "wet on wet" method of taping and glassing, where the filleting, taping and wetting out are all performed simultaneously. This is faster and more efficient; I believe that it also provides a better end product, requiring less sanding and fairing.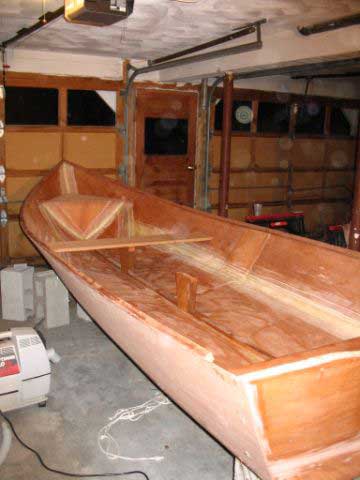 Another important lesson I learned is to NEVER use a roller or a brush when a squeegee can be used in its place. Rolling or brushing epoxy onto panels creates enormous waste which is then scraped and sanded off. The best method I found to apply epoxy, especially on flat surfaces, is to pour a small amount on the surface, then zigzag the squeegee to apply a very thin, even coat. You will use less than ½ the material compared to other application techniques, and you will dramatically reduce your sanding and scraping.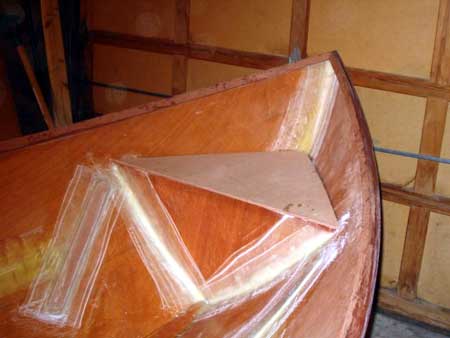 Here's a fast-forward to the completed interior. I made a couple of modifications here, including the addition of a second seat, and a re-orientation of the floor battens, running then longitudinally. I felt this would provide a more rakish, streamlined look, especially with the contrasting bright finish. I also purchased the frame kit from Glen-L. I was happy with it for the most part, but was disappointed to find that the transom was made of Douglas fir. To compensate, I glued a ¼" piece of Okume over the transom and bright finished it. This solution worked well, except that, with the motor board, the transom became so thick that I needed to rout channels into it to mount the motor!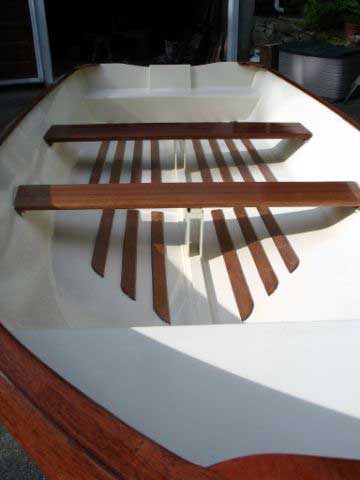 Rollout Day! June 3, 2005. The run-up to this day was a flurry of frantic, late-night activity. The reason: a regatta at Lake Cochituate in Natick, MA featuring boats and boat builders from around New England. I was determined to make that event (with my boat), so I spent a lot of very late nights performing some of the final finish work.
A big note on finish work: do not rush this critical aspect of the project. The overall appearance of the boat is determined almost exclusively by the final sanding, fairing, paint and varnish steps. Cutting corners or rushing during this phase results in a mediocre looking final product; not what you want after the hundreds of hours invested.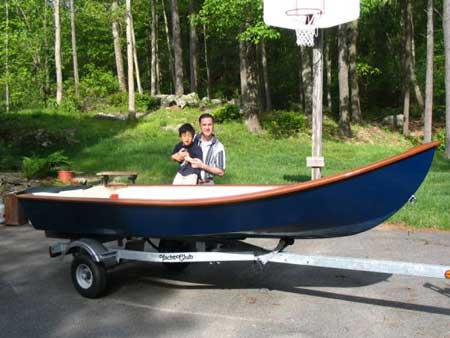 We have enjoyed this boat in many different places; at our summer home on a large lake in New Hampshire, on the Merrimack River up to the Atlantic, and in northern Maine (below). I have powered the boat with a 15 HP Yamaha 2-stoke, and it flies. I'm sure it tops out at close to 30 mph. I can bring my wife and 2 small boys on board in comfort and safety. This boat is versatile, light, easy to manage and economical. I also own an 18' fiberglass runabout. I hardly use that any more.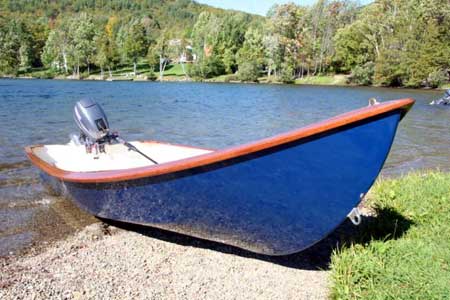 Boatbuilding is one of the few pursuits where utilization of the end product is as rewarding as its construction. The joy of conquering a daunting collection of drawings, diagrams and dimensions and converting it all into a functional craft, pleasing to the eye and solid in its bearing, is, in my opinion, impossible to duplicate. I'm currently building 2 Kid-yaks with my boys, ages 9 and 5. I hope some day they will embrace the thrill that comes with bringing a boat to life from the nondescript plywood panels and other wooden detritus strewn about the garage.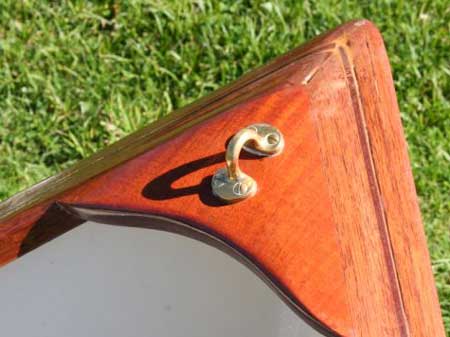 I am not a craftsman, or an artist. I lack the patience and time to toil endlessly with a spoke shave, shaping a tiny component. That's what makes the stitch & glue technique so compelling. It allows impatient, time-starved people like me to make boats that look good and function better.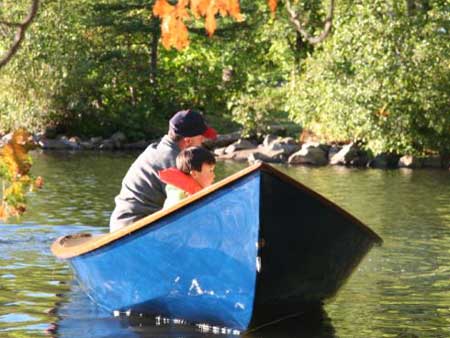 Many thanks to Jeff Smith, my business partner at Grand Image Marketing, for taking some great pictures
A special thank-you to my friend and fellow boat builder Tim Chase (17' kayak) for his many hours of help, and to my wife, Barb, for putting up with the mess. I hope you think it was worth it.
Marc Bourassa
North Andover, MA
Sept. 26, 2005