| | |
| --- | --- |
| Design Contest #6 - Entry 9 | |
By Flavio Faloci - Genova – Italy
Dodo
Drawings - Statistics - Description - Budget - Bio

| | | |
| --- | --- | --- |
| Length over all | - | 4.65 m |
| Length on waterline | - | 4.20 m |
| Beam max | - | 2.10 m |
| Beam on waterline | - | 1.60 m |
| Construction height | - | 0.95 m |
| Draft (board up) | - | 0.22 m |
| Draft (board down) | - | 1.32 m |
| Freeboard midship | - | 0.73 m |
| Sail area | - | 14.2 sqm |
| Wetted surface | - | 7.3 sqm |
| Loaded displacement mass | - | 590 kg |
| Light craft mass | - | 440 kg |
| Max total load | - | 150 kg |
| Metacetric height | - | 0.86 m |
| Dellenbaugh angle | - | 27 deg |
| Immersion rate | - | 38 kg/cm |
| Length displacement ratio | - | 226 |
| Sail area / displacement ratio | - | 23.7 sqm / ton |
Safety: the absolute primary goal

Stability : Dodo is self righting up to an angle of about 120°
Buoyancy : Dodo is unsinkable.
Under the cockpit sole, and anchor well there is about 1 m3 of flotation foam
Structure : Dodo is bulletproof.
Hull bottom is 25 mm thick ( 1 inch )
Rule compliance : As far as possible, CE recreational standard directive have been complied with (even if not required for "amateur" built boats)
Simplicity: keep it simple!
Many plywood cuts are straight line. Even side plating, believe it or not, are four sided straight line panels, as well floors, frames, beams and bulkheads. No professional boat builder tools are required. Everything can be build using only backyard builder hand tools. The hull can be built "free form fashion" without a building jig. No lofting is required
Pretty: or not too ugly
No box shaped : an historical link to sharpie and skiff has been envisaged
Workboat look : everything is simple rugged and painted, "almost" only the tiller has been varnished. Instead of a yachty expensive look, Dodo has the soft feeling of a proper fishing boat
Details : a nice sheer strake, rubbing strakes, a bit of mast rake, rounded stem, a pretty rudder blade. All these details have a big visual impact on the boat
Inexpensive – not cheap
No electronics, piping, wiring, expensive hardware, winches or carbon fiber spars. You can built almost everything is on board but the compass. You can buy almost everything in a hardware shop or lumberyard: plywood, lumber, fastenings, paints, galvanized iron. Even if you are miles away from a yacht chandler you can built your own small cruiser.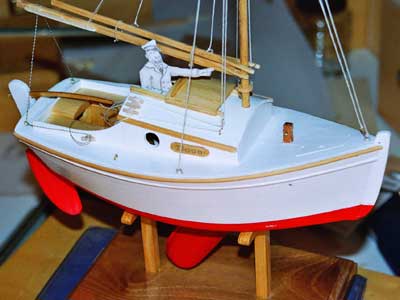 GENERAL DESCRIPTION
To meet design brief and have good chances of survival with freezing cruising temperatures, a decked boat has been the first –obvious- design option.
Taking in account restricted budget, limited tools availability, and poor builder skills a flat bottom sharpie style boat was a logical design option. As side benefit, a flat bottom is the best way to have beaching capability.
Length is a bit less than two 8'x8' plywood sheets (to take care of hull plating curvature). Beam is enough for safe stability without a ballast keel. Freeboard is higher than average to improve stability at high angles of heeling.
Deck house height above deck is designed to offer down below "comfortable" sitting headroom. Deck house and cockpit coaming widths are designed to be about a little above waterline level when heel angle approach 90°.
Hull shape has plenty of shape : strong flare, a springy sheer, and sides that twist as they run forward to the stem. A robust stem protects the edges of the plywood and impart a traditional appereance, as do the decorative sheerstrakes added along the upper edges of the side panels
Gaff rig is simple and inexpensive (and -logic aside- it looks fine)
Mast shaped from douglas fir stock, is only slighty longer than overall length of the boat. All running rigging are leading to the cockpit for single handed handling. Sail area is large enough to sail safely without too much permanent ballast.
The centreboard is bigger than usual to get good windward performances, pivoting to take care itself of shallow water navigation.
The rudder, big and styled nicely, will give sharp control and carry a fair portion of the lateral plane load.
Dodo's simple hull is built with ½ " sheets of plywood for the sides and a doubled layer of the same for the bottom
There is a motor well for a small outboard motor. The motor well is on centre line to improve steering (the rudder is in screw wake, and thrust line is symmetrical), and behind the skeg to avoid damages in case of groundings. With an old 4hp two stroke a top speed close to six knots is hopefully to be expected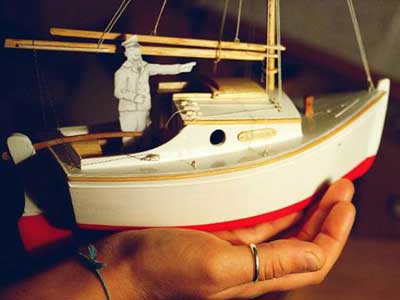 Layout:
Starting from stern, going to stem :
1 – Stern : cockpit
The cockpit is big enough for two persons. Under the sole there is the space for a lot of flotation foam, under the seats there are two lockers. At the aft side of the cockpit, on the centreline, there is a motor well for an outboard motor. The cockpit is self draining through the motor well
2– Centre : accommodation
On starboard side there is a the berth. Under the berth, between centreboard trunk and hull plating there is a lot of stowage space. On the right of the bunk there are three small lockers.
On port side there are two lockers, the after most is for navigation (gps, handheld vhf, bearing compass, nautical charts) and one for cookery, between them there is the space for a gimballed gas cooker.
Between the collision bulkhead and the mast there is a transverse stowage space for a portable ice box, and other items not to be used every day ( a storm sail, a sea drogue, an anchor lantern light, an emergency water canister)
3 – Bow : forepeak
Below deck there is an anchor well big enough for an 8 kg anchor and its chain. Access is from an hinged deck cover. Drainage is from two small scuppers on port an stb side. Below anchor well the hull is filled with about 0.6 cubic meters of buoyancy foam
DESIGN PROCESS
The design process has been carried out:
Studying sharpie and skiff available published designs.
Making a lot of freehand sketches.
Drawing several detailed general arrangement, structural and sail plans.
Evaluating hydrostatic properties using a low cost software.
Building a simple cardboard hull model.
Building a wooden model at a scale 1:20.
During building, many modifications have been incorporated from preliminary drawings.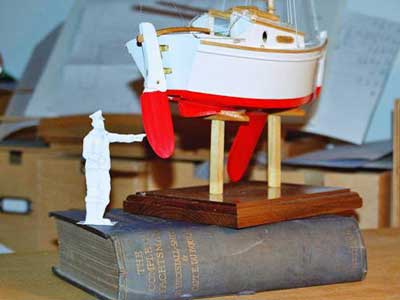 Capt McWhirr seems to be concerned about rudder finish
By the way: Capt McWhirr is 180 cm tall (about six feet) - scaled down -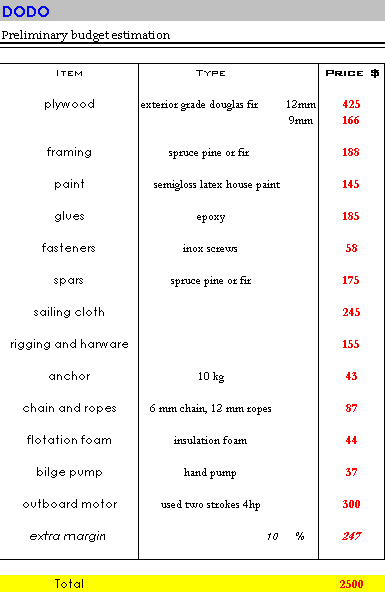 Click Here for Budget Discussion

Forty years old
He lives in Genoa (Italy), about 500 yards far from Cristopher Columbus home. Currently employed as marine surveyor for a leading classification society. Sailing instructor on dinghy and keel boats. Free lance illustrator for sailing magazines.