Stoa Proa in Santa Cruz
by Gary Lepak
Hi Chuck,
Just got back from Santa Cruz Monday night. I took a nice harbor tour in Sausalito around the anchorage with the pedal proa on the way there, and then Saturday my son and I took it out in the Santa Cruz harbor. It was the first time I've had two people in it. My son is 190 and I am 160 so we had it up over 350 anyway. I figured it could carry 400 at 6" draft. The well for the Mirage drive is 8" deep.

We tried something I hadn't thought of before. My son was sitting in the bow facing backwards and he pedalled while I steered. It worked really well, and we went like that over an hour. Unfortunately, there was no one around to take pictures of both of us in the boat but I got these of just my son. I had to put a 5 gallon jug of water ballast in the front to level it out some. The freeboard of the cockpit seemed ample, maybe even more than necessary.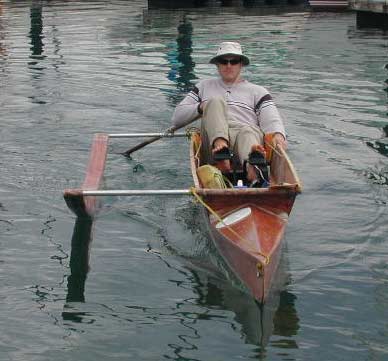 Another thing we discovered was that if he pedalled really fast (he is a mountain bike rider and in good shape) the banana shaped ama would exceed hull speed and start pulling itself down in the water. Also it seemed to go about as fast with two of us as with one. We both felt that the Mirage drive could use bigger fins to advantage for those who would like more of a workout. It is so easy to pedal at cruising speed it is almost no effort at all.

It was an enjoyable trip, and I am already looking forward to the next one in about 6 or 7 weeks. I have to try to put together some sort of sail rig now. I hope the weather cooperates while am at your place. I always like to try out new boats and rigs.
Gary