Tentboat
Hi Chuck,
I've polished the Tentboat concept a little more and thought you might like to share it with your readers. It is shown finished bright - I may come to my senses and go with epoxy paint, but for now the desire to see that much varnish on the water is strong! Originally a simple plywood barge with a Coleman tent, the idea has evolved to cypress strips over ash frames with a custom tent canopy. The strips will be 1" wide (1/2" thick) which will allow them to be glued and nailed - eliminating (in theory) the need for a very expensive fiberglass overlay. Even with the custom made tent canopy this version will actually cost less to build than the plywood/Coleman tent version! If you haven't tried it, I'm sure you will find strip building is a very pleasant way to spend an evening.
Tentboat will carry a 16' (folded to 8') skiff on her front deck. This will allow fishing, boat rides, etc, while Tentboat is safely anchored in a quiet cove or river bend. The skiff (yet to be named) will be made of 3/8"x1" cypress strips. Due to the likely-hood of rougher treatment, the skiff will be clad in a couple layers of 8 oz fiberglass and also have several ash strips (strakes) incorporated into the bottom planks. I want to beach her with no worries.
Power for Tentboat will be a 40hp Johnson outboard. An 18hp would work for lakes; 25hp for rivers, but I have the 40 waiting on an engine stand, so I'll use it. An old slow running inboard two cylinder to push her to hull speed would be great as well, but the logistics of that is more than I want to deal with right now. The skiff will be powered by a 9.9 - 15hp depending on the area it will be used (a 15 is nice on a flowing rivers, it can get you out of a "situation").
The project will start very soon with the skiff. In fact the cypress and ash were delivered last week, hull design sketches are all over the house, and as soon as I can get Matt's canoe out the door I'll start milling the strips. Soon I'll be traveling to Louisiana to talk with a sawmill owner about the cypress for Tentboat (no more off the shelf stuff) and expect construction to begin on Tentboat this fall. Reckon she'll take about a year to complete.
And then...It was a warm sunny afternoon. A cool breeze was blowing lightly across the crystal clear water, gently rocking Tentboat as she floated passively in the current. Looking up at a pair of Bald Eagles flying nearby, I stretched and stifled a yawn, I had a difficult decision before me, take the skiff out for some late afternoon trout fishing, or settle back into the deck lounger and enjoy the beautiful sunset.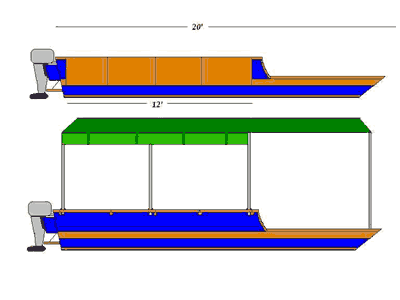 Original Tentboat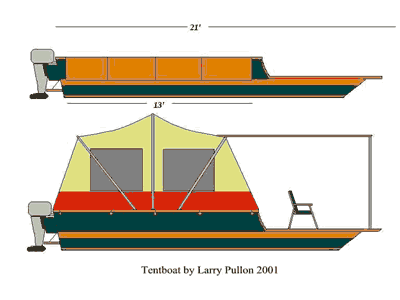 Tentboat Mark II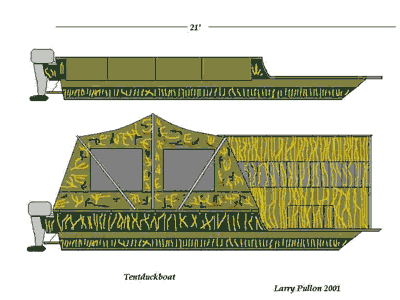 Tent-Duckboat