Building the Rascal
by Chris Bullen
I was thinking that I would like to build a boat. I started to look on the net for a few simple runabouts. I settled on the glen-L boat TNT. Then I saw an add in Wooden Boat magazine for the rascal. It was a ½" by 1" black and white photo not too clear but it looked like a classic design. I thought I would order the plans and have a look.


Julie and Chris on lake Muskoka
The boat is a cold molded hull and deck over spruce frames. I used mahogany instead of spruce for the frames. It was designed in 1989 for a 60 hp outboard, top speed excess of 50 mph. Length 14'10", beam 5'4" hull wt. 450 lbs equipped wt. 750 lbs. Fuel 12 gal.
When we got the plans we thought wow! What a nice design. The next thought was, what do all these lines and offsets mean. Not having built a boat before or even seeing plans for a boat it was all a little daunting. The more we looked at the plans the more confused I got. So my business partner and myself sat down to figure out what was going on. We looked at the plans at lunchtime for a month. During this I also read Building with plywood. After that it was time to take the plunge. I went to Noah's purchased some mahogany for the frames and plywood for the transom.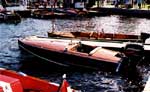 Over the next year I built the boat on weekends and some evenings. The wood part was not difficult and I sailed thought it. I got a lot of help on glues and other needed chemicals from the people at Noah's. I was able to talk to the designer Ken Bassett (Franklin, NH) about questions I had. I did not ask much but I wanted to use a four-stroke motor instead of the 2stroke for which the boat was designed. He seemed to think that this would not cause a problem.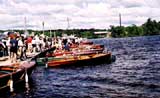 I purchased the motor and installed it. I then looked for the needed hardware for the rest of the boat. This took a long time and was difficult as the hardware sold is for modern boats, not new old looking ones. I then started to install the wiring. There are a lot of wires to my surprise when you add it all up. I went to buy more wire 3 times.
The launching finally came with a big party.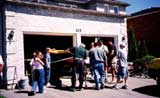 The boat turns well and handles the waves. I always say the boat will last longer then the driver on those rough days. The only problem I had was that at half throttle the boat would porpoise. At higher speeds it would porpoise violently. I added trim tabs, to correct the problem but this lowers the top speed to 44mph. I attributed the problem to the heavier 4-stroke motor. I still like the 4-stroke better and would not want to change it. Assuming I built the boat properly, I would like to know what to change to correct this problem with out trim tabs if I ever made another one. I do have 3 kids so there is a better then little chance.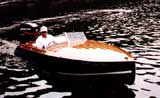 This experience has turned me into a wooden boat nut. I joined the ACBS. I am reading all the magazines and going to all the shows, If only I did this prior to building the boat it would have been much easier. As with most things in my life I ask the questions after I am done.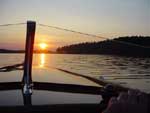 I am currently making a wooden steering wheel for the boat and restoring a 1950 Seabird runabout As well I am gearing up to build a CLC kayak for my lovely wife.
Happy Boating
Chris
sams smile rear top view

sams smile front aug 2001

Test day dad in sams smile side view may 12 2001

Test day

Officially launched sams smile may 19 ,2001

mike with julie in sam may 19 2001

Me in sams smile may 19 2001

feb 2000,mahogony frames and keel inplace

closeup of ash stem

Starboard frames

port frames

Chine in place and bottom battens

bottom notice the delta pad tapers out between frame 2 and 3

Bottom battens complete and shear is in place

1 st layer on bottom 4mm okoume ply

1st layer of plywood in place delta pad needs to be trimed

april 2000. proud son (1st mate)

1st layer of ply from the stern with delta pad

side 1 st layer of ply

bottom and side Ist layer of ply

boat is turned over and battens started

bottom and sides 2nd layer of 5mm ply

finished ribs for deck july 2000

stern motorwell note it's small for steering cable(problem)

sides and bottom 2 layers

deck first layer

deck with 2nd layer 1/4"mahogony. Aug 2000

stained deck sept 2000

caulked and varnished deck

paint job no good! doing it right this time.

almost done fitted motor. Bottom and sides painted Feb 2001

trying to put the boat on a trailier

on the trailier with help from all the neighbours

Gravenhurst 2001 acbs show

amongst the great ones at the 2001 acbs show

me and my boat

sunrise,oh, I love this Boat !!