Messing Around With Mouseboats
By Ian Manley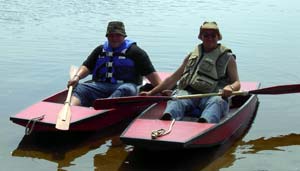 On June 3rd of this year my son Daniel and myself, went to Mystic Seaport, for the John Gardner small boat workshop. Mainly to show off his mystic jellyfish, which we had built last summer. It didnít take long to meet Dave Colpitts and be introduced to mouse boats, designed by Gavin Atkins.

After a couple of hours of small talk, with Dave followed by an early morning seven-mile river paddle in a skinny mouse to convince me that mouse boats are great. In stability, ease of construction and fun to paddle. A project that both adults and teens could get involved in.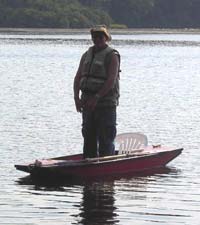 After that weekend and some fast reading from the Yahoo Mouseboat group site to get the plans, a little background and to check other peopleís techniques, construction was eminent. When one of Danielís fishing buddies, Kevin, saw the plans and pictures that we took, he was hooked, and they both wanted to start construction as soon as possible.

I wanted to stay away from epoxy, if possible, and also keep cost to a minimum. After some experimenting with Pl Premium, construction adhesive, and Pl concrete adhesive it proved to be a sound way to construct the boats. The only other thing that was needed was ľ inch plywood and good weather.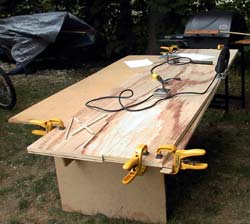 On July 7th we started construction by laying out the lines for the boats on the plywood.
We were using the plan for the original mouse, fraction version drawn by John bell. Hint on layout cut the plywood into 2x8 panels and stack and clamp the pieces together. You only have to lay out the lines once and cutting the panels as a group is more stable than cutting the ľ inch as an individual sheet, also build more than one boat its twice the fun.

The boys did some of the cutting and drilled all of the holes for stitching the panels together. I cut a small scrap block ľ x 1 x 6, ľ inch side to mark inset and 6 inch to keep spacing the same between panels. Using nylon wire ties we assembled the bottom panels and transoms. Wire ties are a great improvement from the last time I stitched a boat together, 20 years ago, using fishing line.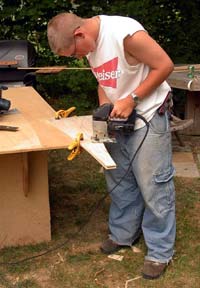 We added the sides and adjusted the ties to remove gaps as much as possible. Since we didnít want full bulkheads, we installed 1 x 4ís at bulkhead locations 1 and 3 from the plan. Next we applied duct tape to the outside seams where they didnít get pulled together totally with the ties.

After filling any inside voids at the seams with Pl premium we applied 2 layers of fiberglass drywall tape to the inside seams. Pl was then applied over the tape and spread as you would joint compound or resin. My only advice in retrospect is to use two thin layers over one heavy layer it minimized the bubbling in the Pl (no structural loss though).

In our next session we cut and installed the skegs and applied drywall tape to the outside seams. These seams were then coated with Pl concrete adhesive. It takes an extra day to cure but doesnít bubble. It has a tough rubbery texture when cured.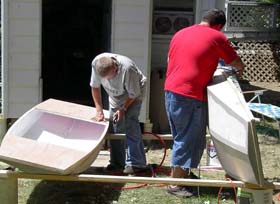 As every amateur boat builder discovers a designerís plan is only the basic structure and the minor changes are what makes each boat individual. After adding the gunnels, we added blocking for cleats on the fore and aft decks. We also installed rigid foam under the deck area for floatation. And finally added the 1/8th inch plywood decks.

The next couple of sessions were pretty relaxing for me as the boys got to shape, sand, prime and paint their boats. The paddles were constructed while waiting for paint to dry.
Using scrap ľ inch plywood and approx. 7 feet of 1 5/16 closet rod. They are loosely based on Greenland kayak paddles. The seating in the boats are resin chairs with the legs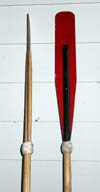 cut to 1 inch and set on sheets of foam rubber. Makes adjusting trim easy for different users and large cargo loads (i.e. tackle boxes, fishing rods, bait buckets, etc.)

Launching day came on July 18th, 12 days and approx. 28 hours later. With a total cost of $75.00 dollars ($37.50 per boat) it fits the budget of even the thriftiest of us.
The first paddle got great reviews from both boys and a few on lookers who had stopped to watch the launching.

In conclusion, if you have never built a boat before this is a great one to start with, both for its ease of construction and its low cost. If you are an experienced epoxy builder itís a great way to experiment with alternative adhesives. If you are like me and will use any reason to build or start a new project, this is a quick, rewarding and unique one to undertake. And finally if you have a son, daughter, niece, nephew, or can find any kid from 8 to 18, this a great way to get them involved in boat building. If you build 2 or more at once everyone ends up with a great stable boat for pond and river paddling or fishing.