This is a story of a boy, his rat, and glass bottom boats. I say "rat" because my boat is a little wider than a mouseboat, so it must be a rat. I'm pretty new to boatbuilding and the whole boating world - or alien planet - and have been stymied by the outrageous terminology I've encountered as if coined by aliens themselves. After reading the "trow" article and seeing the placard about "Gun Punts", I wondered, "What planet were these people from when they came up with these words like "trow", "copse" and the mother of all wonders, a "whorrie" ?!?!?. And what nautical nuts came up with "coaming", "carling", and "gudgeons and pintles"? So in keeping with this alien tradition, I have named my new breed of durable, DIY glass bottoms for boats, "Polyvuinits". Not weird enough, but it'll do.
It all started when my wife and I were looking through the boathouse at my family's vacation cabin in Michigan and found an old fish viewing tube I used as a kid for seeing fish underwater. Then I decided to make a large version to sit in, and it grew in my mind to laminate a wood cylinder with the polyvuinit at the bottom, inserting into a large tractor inner tube, and putting a top deck of plywood on top to sit on. Design criteria:
a.. It had to use existing material laying around in my shop like the bending Luaun (cool stuff affectionately called wigglewood), a piece of Lexan MR-10 Polycarbonate (scratchproof coating 2 sides), some ten year old West System, PL Premium and I sprang for the top piece of 3/4 Superply, some Marine Spar Varnish and the SS screws.
b.. Had to be light enough to be car - toppable
c.. Had to be done within two weeks of going to Michigan later that year, so it will have to be human powered (imagine paddling something round - makes your head spin as well as the boat).

It was an absolute blast. The first night when the spar varnish was still tacky, I paddled out with a Mag light and saw a whole new world. I paddled back to get Tricia, and besides this new aquatic bottomscape, we saw crayfish and to cap it all off, a big red newt with the black spots and those feathery things coming out of its gills. I immediately began figuring out a way to power this thing after rowing in circles, and during the following winter (actually mid-summer construction) added a beavertail to the back to mount the 30 lb thrust trolling motor, and enclosed the bow to break the waves and house the battery.

Of course it had to have front viewing windows, Bubinga trim, a West System deck finish, outrigger snap-on floats made of fenders for stability and redundant floatation, and best of all, a canopy to eliminate the sky reflection when viewing through the Polyvuinit. Going E-power still kept it light enough to be car toppable, adding the motor, battery (85 A/hr deep cycle marine), outriggers and canopy after getting it into the water.

This year I spent two weeks in Michigan with only one rainy day, and boated most of them to the point that Tricia was even sick of it. But we had so much fun seeing down thirty feet to the bottom in Grand Traverse Bay, Torch Lake, and seeing old dock pilings under us in Sleeping Bear Bay as well a wreck site. The wildlife was mesmerizing when we lowered our heads into the "hole" to go through an old river seeing fish through the weeds.
SSSSooooo . . . getting back to the fun part of the show. Based on the fun I had, the public and online response to my ratboat by people who hadn't even experienced the view, I suspect that others may want tickets to this show. Especially when I saw those cute little mice that Gavin has had a litter of, and realized that those boats would be so much fun with polyvuinits (assuming clear water).

The reason you probably don't see too many glass bottom boats, or people making them, lies in the name, hence why I've changed the name. If you use basic glass, it cracks, you sink. Not with Polycarbonate plastic sheet (Lexan by GE, Cyrolon by Cyro, and Hyzod make trade name versions of PC sheet). Used in Bulletproof laminated glass and shatterproof applications, this is the right stuff. Scratching a problem ? No problem with abrasion resistant coatings when you specify AR sheets. The Lexan AR sheet is called MR 10 and Cyro is Cyrolon AR, I think. The only possible red flag is sealing a sheet that will shrink in time, and has drastic expansion / contraction rates. Just design for these limitations, that's all. For those serious about using glass, I suspect that double or triple pane laminated AND TEMPERED glass would work fine as well, and would be much more scratch resistant, just can't have holes in it - must use an encapsulating frame.

When considering cutting the hole in your boat (you'll get over it), cut round or rounded corner shapes to ease stress on hull opening. I am writing this article for glass bottom electric and low power boats, as planing hulls may put too much stress on the polyvuinit unless scaling up the thickness and seal complexity, if you are confidant. Also good not to put it in the middle or anywhere that may interrupt the structural integrity of the hull or be susceptible to scratching from the bottom of the lake or sandy feet (foot rests are good over the 'vuinit). My new boat will have the 'vuinit in the center, lined up with the keel in a V-shape matching the hull, and I will solvent weld a thick Lexan skeg to it about 1/2" x 1" for rigidity and protection. The 3/16" PC sheet will thermoform a good bend at the intended ridge of the shallow vee if you mill a V - groove down the center, 1/3 into its thickness, heated with a PVC welder or a propane torch. Stay tuned, as I may e-mail pics of this in progress.

The diagram at right (click to enlarge) shows typical cross sections of the seal required that give a guideline to your glass bottom, and should be modified to your application and requirements. The following are important things to remember:
a.. Make sure that all edges and inside of screw holes have allowance for expansion / contraction. Allow for movement of 1/8" in four feet
b.. Seal edges of cutouts, pilot holes and any milled areas with epoxy before sealing / installation
c.. Score mating surfaces with coarse sandpaper, after scraping the hardcoat off of the PC at the edges
d.. Use plenty of silicone as a buffer zone in the PC / hull / backing plate interface if not using rubber gaskets. Tip: screw down PC into wet silicone only a little to the point that there is 1/32" or so of silicone left in the joint - don't squeeze all the silicone out. You could possibly tighten screws later.
e.. If not using a backing plate for the screws (in the case of small portholes), be sure not to over-tighten screws in the countersunk holes, as that is where cracks will begin (pan - heads are good or use metal / rubber sealing washers).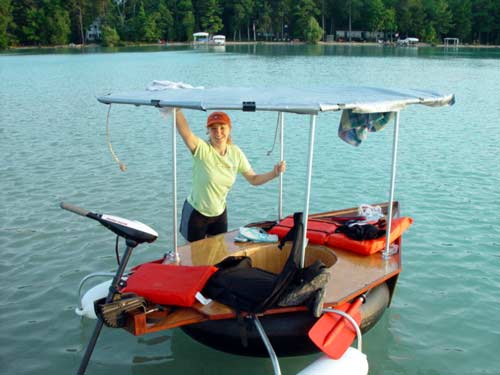 So go on and do a little surgery on your mouse, pram, dory, whorrie (in the vernacular of teenage girls - "WHAT EVER!") and have fun in your "research vessel", as the Michigan DNR guys called my rat-thing.

John Blazy www.johnblazy.micronpcweb.com
John Blazy studied furniture design at Rochester Institute of Technology, has two patents in polymer science and one in design, and invented one of the wildest architectural glass products in the world.