As all boatbuilders and owners know, choosing the right design to build or own is a process. When I first saw, built and operated Microtrawler, I was smitten with her. As the honeymoon faded as it ought, changes in my seeing and thinking also took place. The outside deck boxes were uncomfortable for passengers, the fuel tank was too small, the bunk quarters too cramped even for an ex-submarine sailor and fishing off her was a pain. Even though these are not design flaws, there were vision problems in my own mind as I made my first decision to build the boat. So the question as Chuck put it in a recent letter, sell it and buy or build another or get the saw out and modify. So, I opted for the latter and am pleased (at least for the moment) with the results.
Picture of Grebe before the makeover, just after the last modification to shorten the aft deck box
An open cockpit now required some sort of wash down capabilities and I learned about scuppers and installed them. This next picture shows the result.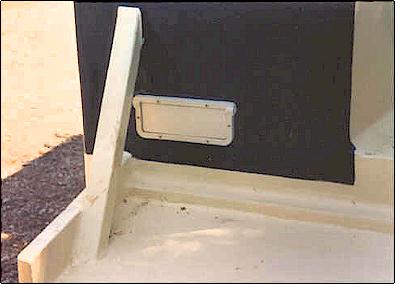 Once the back was sawed off using a skil saw, it was no real task to reshape a few things and repaint. After installing a 25 gallon fuel tank and new filler and vent locations, I made a removable deck plate and screwed and caulked it in place.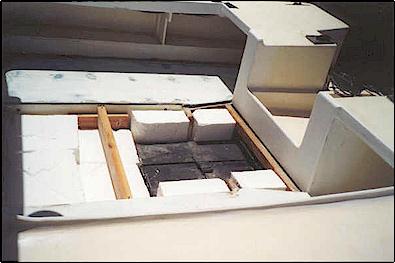 The finished cockpit is shown in this next shot.
The new gas filler makes for a straight down shot for the fuel into the tank and the top of this filler plate is also removable to get at the fittings etc.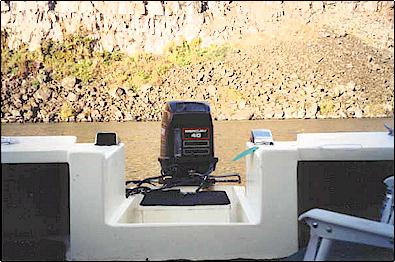 These last shots are all of the finished product and even though my wife liked the original design, this one works best for passengers and myself. I did lose the camping ability of the boat, but will probably make a portable canvas cover to bring that back.