When a man can design racing yachts, cars and airplanes when he isn't writing poetry, he is worth knowing. He might have something to tell us. Such a man was W. Starling Burgess.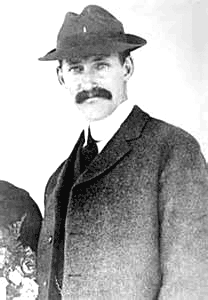 W. Starling Burgess
He was born of gifted and beautiful parents. His father was Edward Burgess, a yacht designer; his mother was the legendary beauty Caroline Sullivant. Her father was William Sullivant, a famous natural scientist. Any son with such genes is a boy to watch. And he was born on Christmas Day, 1878.
Twenty five years before 1900, internal combustion engines were dangerous explosive devices. Airplanes were a form of suicide, lurching up into headwinds, collapsing down and crumbling to a landing. But yachts were another matter. Nathaniel Herreshoff, the Wizard of Bristol, was at the young height of his powers and imagination. Shipyards and their woodcutting noise riddled the New England coast. Trees were everywhere, young men with hand and eye skill roamed the coastline towns looking for work, and American trade overseas was thriving.
Young Starling Burgess had it all - privileged, position, influential parents. He had inherited from his father great mechanical ability, a capacity for running numbers and from his mother he inherited a refined drawing of lines. Those who knew young Starling may have thought he'd grown into being an American tycoon of these new inventions like Henry Ford, a pioneer such as the Wright Brothers or Charles Lindberg, or a genius in one spectacular field like Herreshoff.
But life turned a crack into a crevice. As both his parents died within a few weeks of each other when Starling was 12, he and his younger brother were raised by relatives. From that time on Starling raced in one direction, stopped for no apparent reason and then ran off in another direction. He didn't finish boarding school even though he designed a sailboat and lightweight Army machine guns while he was there.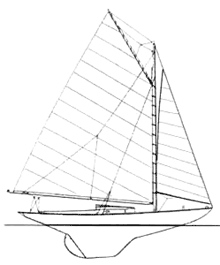 Winter Harbor 21, an early Burgess
He didn't finish Harvard, enlisting in the Spanish-American War. Harvard had 2400 young men eligible for enlistment, but these young Harvard boys were used to privileged and a comfortable life, not waking up in trenches. Only 100 of Harvard's undergraduates joined Burgess. He was so well thought of he was given credit for courses he would have taken had he not been overseas. And yet he never graduated.
He opened a yacht design office in Boston. But he didn't stay at 15 Exchange Street, Boston. He joined Alpheus Packard to found Burgess & Packard, Naval Architects and Engineers. This may indicate business as a yacht designer by himself in the rough and tumble competition of Boston was not succeeding.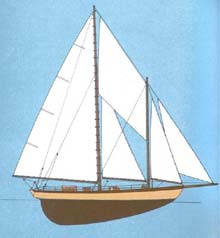 Nina, Burgess schooner
But Starling didn't stay with Alpheus. In 1905 he opened a yacht building yard in Marblehead MA, where he designed and built yachts and smaller boats. At that time, being a successful designer meant either you were a known genius like Herreshoff or you developed loyalty among the rich so they ordered a yacht, then came back a few years later for another yacht. Sales was repeat sales. But Starling didn't inspire loyalty. He was not rich, although he was privileged, and so didn't get along with the wealthy yacht club crowd.
Never having had a relationship with his mother or father, he had trouble with relationships his entire life. To him, people were a thing, things like boats were a person.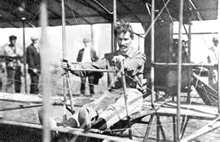 Burgess flying
He didn't stay with yachts. In 1908 he became interested in aviation as flying often occupied the front page of newspapers. Flyers were the daredevils, the circus acrobats of the sky. He joined Augustus Herring to form the Herring-Burgess Company, which built the biplane Flying Fish, which flew over Plum Island in 1910. This was the second airplane New England had ever seen fly a controlled flight in the air.
The Herring-Burgess Company build many planes licensed by the Wright Brothers. Evidently this construction experience taught Burgess a great deal about scantlings, weight distribution and power train. Norman Prince and his friends hired Burgess to design a plane to enter an aviation race, the Gordon Bennett Cup. Then Herring left the company, Greely Curtis and Frank Russel joined Burgess to form the Burgess Company. This particular trio had great success in designing and selling hydroplanes to the fledgling US Army Air Corps and US Navy. Even the Royal Canadian Air Force purchased a Burgess-Dunne hydroplane, which means the design went through endless committees of approval. For this hydroplane, Starling Burgess was awarded the Collier Trophy in 1915. But planes did not satisfy Burgess entirely. In this decade, filled with structural knowledge of airplanes, he designed the 14 foot boat, Brutal Beast. This daysailor was simple in construction, so that it became the model for many subsequent daysailors even in the 1940s.
With WWI, the Burgess company was sold, Starling entered the Navy, for whom he designed several planes.
After the men came back from WWI, Starling returned to designing big ships. He designed 3 successful J-class yacht defenders of the America's Cup, one with the young prodigy Olin Stephens. These were Enterprise, 1930, Rainbow, 1934, and Ranger, 1937.
Burgess and Stephens

Rainbow's lines
These huge yachts were designed under Nathaniel Herreshoff's Universal Rule, originally designed to handicap yachts so that one mast and two masters could race against each other. Since yacht racing was dominated by schooners in previous decades, the Universal Rule was the transition to cutters, away from the gaffs and on to marconi rigs.
The rule was accepted in 1903, and used from 1914 to 1937, just before WWII. The rule in it's simple form was : .18 x boat length x square root of sail area. This was divided by the triple root of the displacement (Don't ask me to explain this, I can't even balance my checkbook).
This rule led to marconi rigs, improved standing rigging, grooved spars with rails and slides instead of mast hoops, spreader sets, more winches, electronic navigation equipment, aluminum masts, genoa jibs, nylon parachute spinnakers, and wing-masts.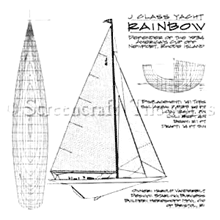 J boat sail plan
In 1922 he designed several large yachts for his firm of Burgess, Swasy & Paine, but that didn't last long. He dissolved the firm in 1926. He joined a firm in New York, Burgess & Morgan, living in Darien CN, commuting to NYC. Probably around this time, Starling visited the Atkins in Connecticut. In his honor, later, they designed a daysailor, naming it Starling.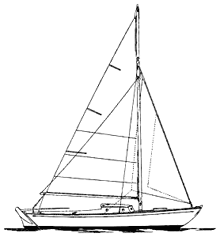 Atkin Starling
But the domestic commuting life was not for him. In 1935 he became a consulting naval architect for the Aluminum Company of America, advocating corrosion resistant alloys for ships. During WWII he worked for the Anti-Submarine Development Detachment of the US Atlantic fleet. He died in 1947, just after the War.
A friend of one of Starling's five wives, once said of him:
With all his brilliance, he is a child, and that his part of his charm. He will not face hard facts, but will hide from them and will love the person who shields him from them.
The typeface of this article is called Times New Roman. It was thought that Burgess first drew it. This has been refuted, so Mike Parker, a typographic developer, released Starling, a typeface based on Burgess' drawings. These original drawings are at the Smithsonian Institute.
It is interesting how many supremely gifted men came along in American engineering for the automotive industry, the airplane industry, yacht design and two world wars. From around 1870 to 1940 came Burgess, Herreshoff, Henry Ford, the Wright Brothers, Glen Curtiss, Eisenhower, Doolittle, Patton, Teddy Roosevelt and millions of good men.
And that, ladies and gentlemen, is the restless life of an American landmark - W. Starling Burgess.
*****
Paul is also publishing his books on Amazon.