Roderick Stephens Sr. retired early from the coal business in the 1930s. He believed in and invested in what his sons did for sheer fun - sailing. As kids Olin and Rod Stephens sailed every day, soaked up every little aspect of boats and racing and design. Later, when Olin left MIT due to an illness, he joined a yacht design firm. He was always a modest man, wearing a bow tie and suit. He never felt completely able with the mathematical side of designing, but he loved fast boats and had narrow lines in his imagination.
He once said he draws a line, then imagines how the water flows over that line. He taught himself out of Skene's Elements of Yacht Design, a very technical and mathematical instructional guide.
I tried it once; it's impossible to learn from Skene without a teacher. But he sketched boats in great detail, standing nearby along docks and piers for hours. If Herreshoff was an engineer, Olin Stephens was an artist.
He saw the family yachts of the 1920s along Cape Cod. In those days yachting had several fine magazines to read and study. A young man could stare at the pages with lines and photographs, over and over, as Olin did. He said:
"I started my career with the tools of observation and intuition to which quantitative analysis has been gradually added. Whenever possible I studied lines and tried to see the way shape was coupled to performance."
By 1926 he was sailing around Larchmont Yacht Club in 6 meter boats, a specific class of around 34 feet. After working with the famous designer Philip Rhodes, he went in with an aggressive salesman, Drake Sparkman, to form Sparkman and Stephens.
In the early 1930s Roderick Stephens asked his son Olin to design a family boat. Olin once said he never liked a boat that wasn't fast, so he designed a light, narrow, deep-keeled yawl he named Dorade (at 52 feet, just the family boat!). It was a 6 meter boat, stretched a few feet. But then sons are always shocking their fathers; so Olin announced he and his brother Rod would race Dorade in the Newport RI to England ocean race against the big schooners and cutters of the day.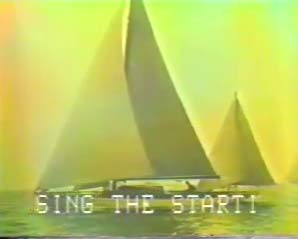 [Does Not Enlarge]
The schooners and cutters were twice the length of Dorade, with professional crews - 20 or 30 of them running around to trim the boat - huge sails and wide sterns for sail power. Dorade and Olin Stephens had nothing like that; they should have finished last, but they finished first, and by two days!
When the yacht club crowd in England first saw the marconi mast of Dorade pierce the sea's far horizon, they must have spilled their brandy all over themselves. Not only did Dorade win by two days, but when the time was adjusted for the handicap rules, Dorade had won by 4 days. In 1931 this was not supposed to be possible.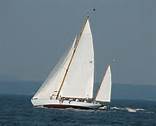 [Does Not Enlarge]
Dorade was light, with steam-bent frames rather than the broad sawn frames of the bigger, beamier schooners and cuttters of the 1930s. Olin had drawn 52 feet of sleek speed. It cost $28,000 in 1930. The yawl rig enabled the Stephens to raise plenty of sail without the peaks being very high. In fact, the rig originally was higher than it shows in pictures because Olin lowered the mainsail without any loss of speed. What the yawl rig could do was add mizzen jibs, a huge main jib and a spinnaker.
Racers later on would find out how perfectly Rod Stephens could raise a spinnaker and trim it, in just a few minutes. Ship design experts would also learn that having five sails up in an ocean race didn't just drive the hull, these sails balanced the ship.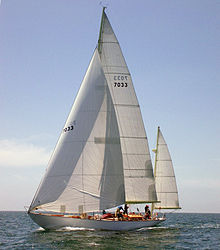 [Does Not Enlarge]
VITAL STATISTICS
52 feet overall
Waterline - 37 feet
Beam - 10 feet 3 inches
Draught - 8 feet
Displacement - 14 1/2 tons
Sail area - 1100 square feet
Hull - mahogany planking on oak frames
Ballast - 1800 pounds lead
Sail rig - yawl
The young handsome boys with their friends as crew not only had a grand time sailing to England and back to New York, but they had a parade down Wall Street over their victory. They met the famous politicians and Broadway stars.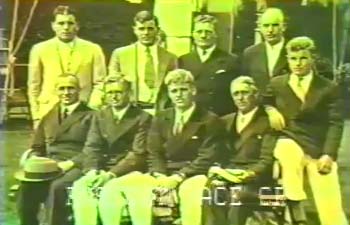 [Does Not Enlarge]
But the story does not end in 1931. The next year, Dorade won the Bermuda Race and the Fastnet Race. Now this same Dorade, over 80 years later, having passed through many hands and two oceans, has recently won the 2013 Transpac Race, as overall winner. This is amazing, somewhat like a 60 year old man setting the mile record in track.
Her entry is long and lean, slicing the water until the midsection turns where the crew will spend their time. Film of Dorade sailing shows the crew enjoying themselves most of the time. They often didn't wear flotation devices or safety lines as Dorade's hull sails so gently most of the time.
Her current owners, Matt Brooks and Pam Levy intend to enter her in the races Dorade won before WWII.
Paul is also publishing his books on Amazon.