Here are some pictures of our first sail with the Kiwi PDR. Those are my three boys Lukas (in the back), Joshua (my red headed Viking), and Oliver (with the goggles).
It sailed beautifully windward and down wind. I kept stalling on a tack once, but I've thought of a couple of reasons: I had my wife in the boat also and I didn't have a good feel for when I should move my rear end over, it may be the weakness of the leg-o'-mutton rig that it has a "bad" tack, and the wind had shifted a bit so I got confused about where I was in relation to it.
The boat really is beautiful, almost sexy with all those curves. And personally that is exactly how I like it. I'm all for practicality and being utilitarian, but looking good...well...that just makes the world seem all right.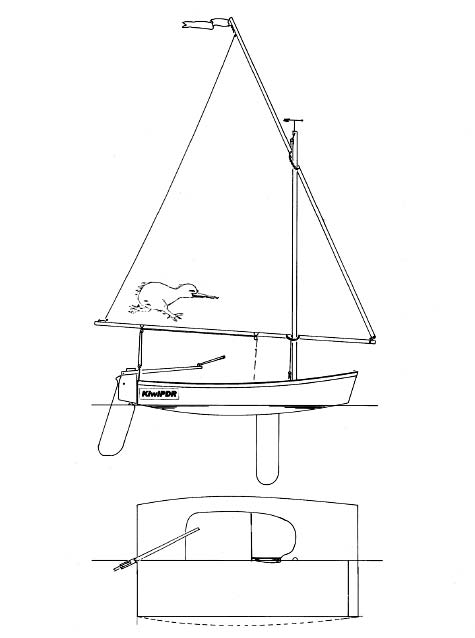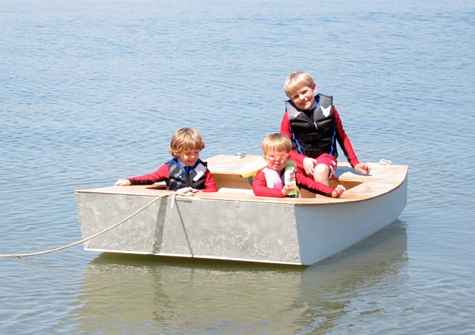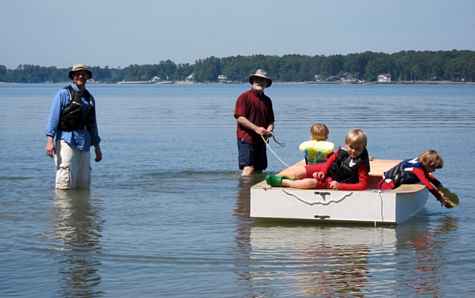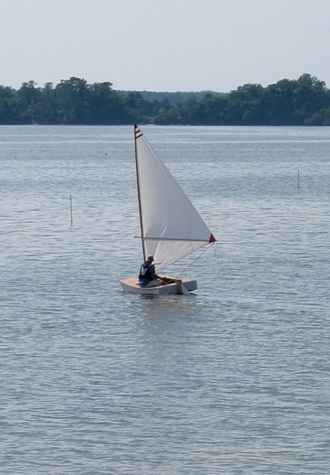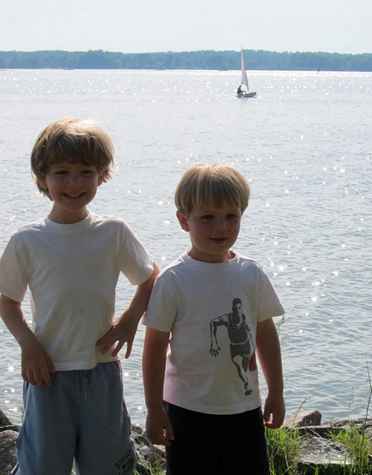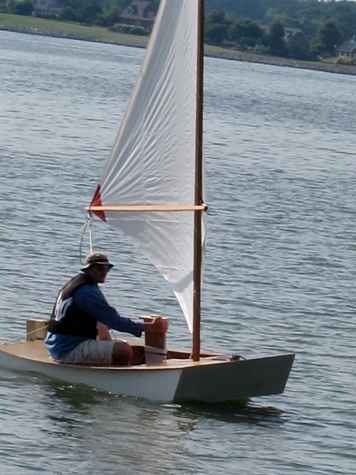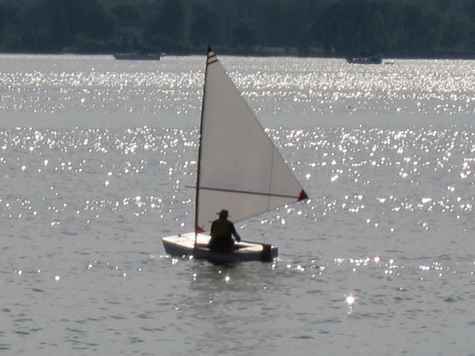 Thank you John Welsford for designing such a beautiful boat! I couldn't be happier and my boys absolutely LOVE the boat.
Christian

G'day Everyone,

MATHEW HAS LAUNCHED HIS MUSHULU 14 !!!!
It rained all last week and Cowell struck a king tide on Saturday - thought there was no hope of launching. On Sunday, with a bit of wind and a few showers we were still in with a chance. After lunch, had a break in the weather, so a few of us said, 'Yeh, why not? Let's do it'. I'm glad we did.
With 30 hp the Mushulu flew like the wind. Absolutely fantastic. The harbour was pretty rough and water looked murky, so being the first try I kept it in the break water just to see what it was like, she got up and planed beautifully. Quite a few of my parishioners came down to see the launching, we popped a bottle and sprinkled her with some bubbly, after the first run, they said it sat really well in the water and looked stable. I'm more than happy with the final product. It's a wonderful boat and I'm really surprised how well it went and how nice it goes in the water.
Yesterday, Liz and I took the M14 into a boat shop to have the HIN plate fixed, one of the staff walking past, stopped, looked, came over and said, "Gee, that's a nice rig mate, build that yourself, or did you buy it?". Say no more.
Thanks Mark for your input, your encouragement and expertise. Keep the designs coming. Now I can't wait until we get a nice break in the weather, give her a good run and finally catch some fish. It's been a great project from start to finish, and a beautiful boat indeed.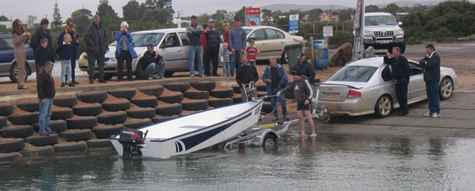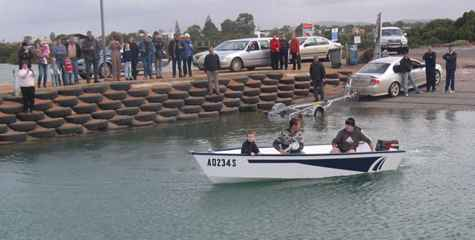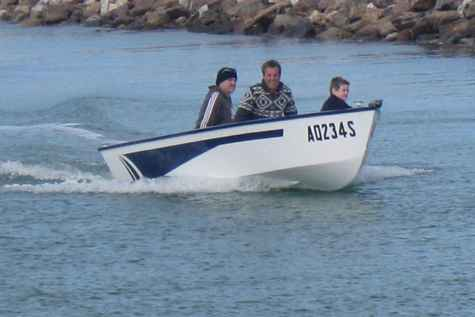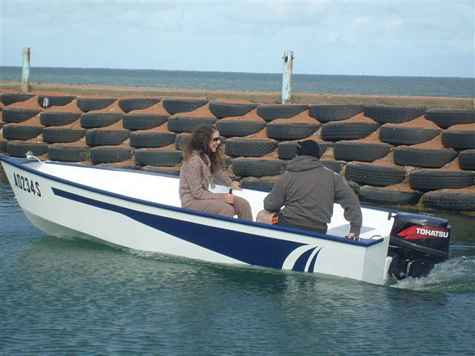 Until the next one, happy boat building.
Regards Mat.
Plans for the Mushulu 14 are available at Duckworks. For more information see Bowdidge Marine Designs.

GIS launching in Houston Texas
First yawl rigged Goat Island Skiff is Launched.

John Goodman & family just launched the first yawl rigged Goat Island Skiff. The Goat Island Skiff ,GIS, is a design from Australia by Michael Storer. Collaborating together, Clint Chase Boat Builder in Portland Maine and Mik, as he is called, in Australia designed the yawl rig while John and his family built the boat over a 6 month period in their garage. John would like to warn our readers that promising your children that they can name and pick the color of the boat can lead to an interesting result. GIR, (just Google it) painted lime-green, was launched was June 13.

The GIS can be built using very simple woodworking tools. John's favorite tool was the Japanese pull saw. Bulkheads are built first then 6mm marine grade plywood in bent around the frames. No strong back is needed. John used gaboon marine grade plywood, western red cedar for frames, fir rub rails and spruce gunnels. John's hull weighed in at 141 pounds before hardware and rigging.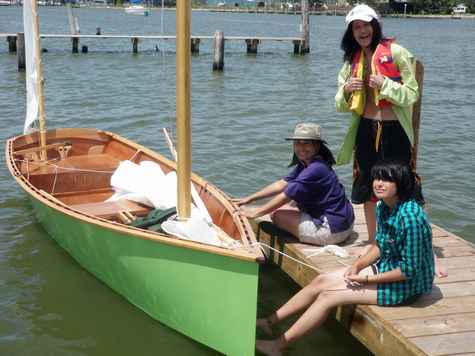 Construction pics are at: http://www.flickr.com/photos/texas-gis/

Built by John D Goodman & family.

My Walkabout was finally launched yesterday after a week of being almost finished.
Pics and a short account here: http://forthsailoar.posterous.com
(note: new blog address).
Thanks to John for his beautiful design, to everyone here who provided advice and encouragement - including the indirect encouragement of all on the forum whose presence, even as lurkers, is evidence of our shared dreams.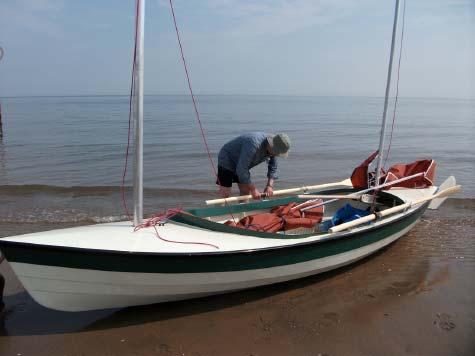 All the best, see you around!
Osbert

We finally got "Spring Fever" launched last weekend in Rend Lake, IL. There is a messabout there once a year and I was determined to be there with my new boat. The boats designer, Kilburn Adams, is usually there along with some other SA20 owners. There were five of us in all this year. The boat was still not totally finished lacking some electrical wiring, the brass port lights and the Bimini. I took the Bimini with me to install there but was missing two parts so had to do without it. Kilburn and By helped me launch it which I appreciated as I have never owned a boat this size in my life. Kilburn gave me pointers on controlling the boat as it is very light for its size and wind affects it very easily. Overall it was a very good experience.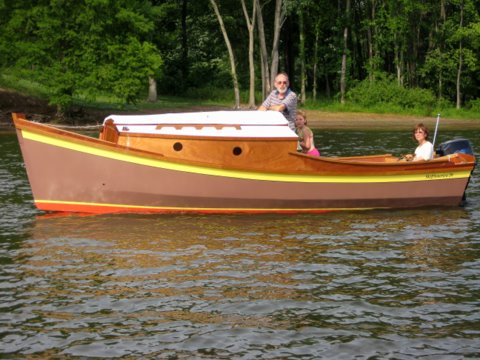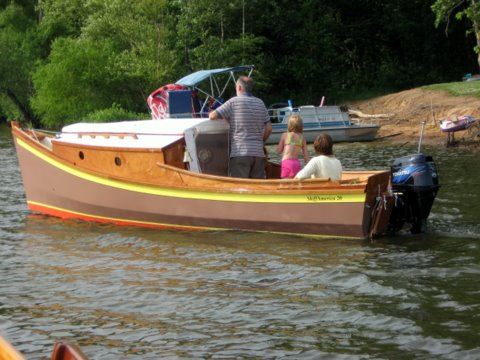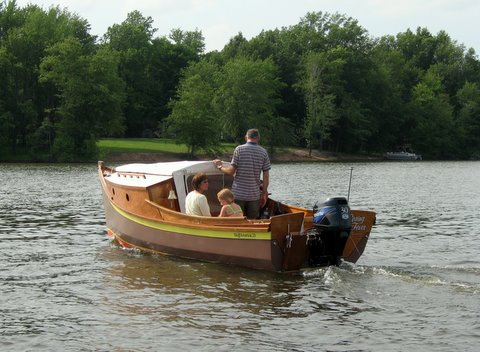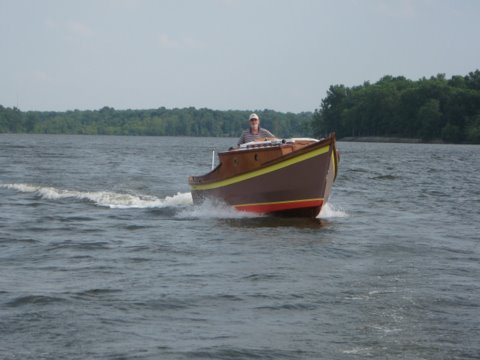 Gene