| | |
| --- | --- |
| Phil's Arkansas Messabout | |
by Max Wawrzyniak - St Louis, Missouri - USA
Phil Lea and his well-modified, nicely-finished, and very fast Bolger June Bug have been "regulars" at the Midwest Messabout for several years, and so when Phil announced last fall that he intended to host a messabout on Lake Dardanelle near his home, I promptly committed to attending, even though at 370 miles it would be a fairly long drive.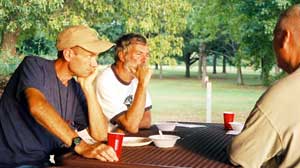 Jim Michalak and I discussing something
undoubtedly serious with David Davis.
(click images for larger views)
And so early on a Friday I departed with my AF4 in tow and in the company of small-craft-designer Jim Michalak, who elected to ride with me rather than drive on his own. We proceeded west-bound out of St. Louis, Missouri (USA) on interstate 44, turned South on 65, passing through the Branson and Table Rock Lake areas (where I spent a considerable amount of time in my younger days) and took "Scenic 7" through the Northwestern Arkansas hills, where there are scenic overlooks around every turn (and there are LOTS of turns on "Scenic 7.")

Looks like serious discussions again. This
time with Richard Spelling about my AF4.
We arrived at the messabout site at about 14:00 in the afternoon, and were greeted with a beautiful campground, a reserved covered pavilion, a very nice beach on a sheltered cove for the boats, and a nearly-new visitor's center building offering an expansive view of the lake and the hills beyond. Truly an ideal location for a messabout. We found our reserved camp spot, Jim set up his tent (I would sleep afloat aboard the AF4) and we commenced to inspect those boats which began to roll into the park.
| | |
| --- | --- |
| | Sails on the sandy beach in the protective cove |
Although the weekend was punctuated with periods where wild weather threatened, the storms kept their distance and Dardanelle State Park experienced only brief periods of light rain all weekend.
| | |
| --- | --- |
| Ever the iconoclast, Richard Spelling heads out with his Chebacco in spite of the weather | |
Saturday evening was the "pot-luck" dinner, compliments of Phil and his wife and daughter and accented with dishes contributed by other messabouters. My only contribution went into the "donation jar," so the Arkansas messabouters were spared any of my cooking.
| | |
| --- | --- |
| | The Saturday evening feast under the pavilion |
Phil and family went WAY beyond what was necessary or warranted in order to make everyone feel welcome, including providing each attendee with a print from a printing block hand-carved by Phil, showing his June Bug sailing on Lake Dardanelle. The Russelleville-area state park is a wonderful setting for a messabout, and the messabouters, many of whom I had not met before, where a friendly and interesting group.
| | |
| --- | --- |
| Phil's limited-edtion print of his June Bug on Lake Dardanelle. | |
Although I believe that I got photos of most of the boats that were there, I do not remember everyone's names, and apologize for those that I can not name or whose name I butcher.
I intend to go back next year, assuming Phil decides to host another messabout. It is worth the drive.
| | |
| --- | --- |
| | Donna and Paul Paine brought their new Stevenson Weekender built sans cabin. |
| | |
| --- | --- |
| Here is Paul and Donna's boat - Richard Spelling is crew | |
| | |
| --- | --- |
| | Don Walls brought a kevlar and carbon fiber racing canoe and told an interested Jim Michalak all about it. |
| | |
| --- | --- |
| Note the family resemblence between this nicely-done Bolger Gypsy... | |
| | |
| --- | --- |
| | ... and Richard Spelling's Chebacco |
| | |
| --- | --- |
| Planked (NOT strip-planked) canoe | |
| | |
| --- | --- |
| | Jim Michalak tries out Phil's recently copleted Mill Creek 13 |
| | |
| --- | --- |
| Jim M and Paul Ellifrit returning from a cruise in Paul's displacement-speed powerboat. | |
| | |
| --- | --- |
| | Larry Pullon gets a ride in his own modified North Arkansas Johnboat |
| | |
| --- | --- |
| One of Phil's friends at the helm of his June Bug | |
| | |
| --- | --- |
| | "Chef Phil's Grill" |
Related links: