| | |
| --- | --- |
| Regatta for Homebuilt Boats | |
by Chris Partridge - Fishbourne, West Sussex - England
We don't have a tradition of messabouts here in the UK, so when Alec Jordan of Jordan Boats suggested an informal 'regatta' for home built boats there was instant interest from builders round the country.
The event took place at the Cotswold Water Park, an incredible network of gravel pits that is gradually being transformed into a leisure and nature area. The scale is huge – nearly double the size of the Norfolk Broads – and promises to be a great place for boating in the future.
It's already pretty good. The lake the first Home Built Boats Regatta was held in has an artificial beach which makes launching and recovery easy, a picnic area and facilities for washing and changing.
No fewer than 21 boats turned up over the two days, including a surprising number of maiden voyages. Some varnish was still tacky….
I couldn't make it for the Saturday, unfortunately, but Alec Jordan's picture (above) shows the impressive line-up on the beach. The sky was overcast but the wind was brisk.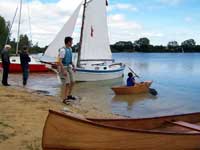 A rarity in the UK, a Stevenson Weekender brought by Ken & Grace DaSilva-Hill.
Lata Nobes built this Ranger 8 canoe "Dunnock" herself, and here she starts on her maiden voyage watched by justifiably proud father Peter, who also built the Selway Fisher Waterman 16 "Serafina" in the foreground.
On Sunday, the sun came out but the wind died away, so we swanned about with grace and elegance, but very, very slowly.
But it didn't matter. It was great just to see other people's boats and shoot the breeze. Everyone had a massive time.
| | |
| --- | --- |
| Matt Newlands of Swallow Boats brought the impressive new Storm 15. | |
Going home, I passed a huge queue of stationary cars trying to get home from the Southampton Boat Show, where everything is plastic and they drink gin and tonic, a disgusting concoction. I certainly had a better time.
For a complete lineup of the boats at the event, see www.uk-hbbr.co.uk/uk/index.htm. Alec Jordan has also set up a forum where British boatbuilders can discuss future rallies, and from the enthusiasm shown so far, there should be several happening round the country next year.
| | |
| --- | --- |
| Wayne Oliver did a lavish black and red enamel paint job on his Oystercatcher "Ever Hopeful", which had her maiden voyage at the rally. A Conrad Natzio design. | |
| | |
| --- | --- |
| Just to prove I was there, here's Nessy, my Conrad Natzio-designed Sandpiper, with the Storm 14 (and one of the Toppers that a bunch of kids were having great fun with). | |
| | |
| --- | --- |
| Tony Sluce's Highlander 12 "Fraoch" was originally built as a tender to a much bigger boat. | |

More articles by Chirs Partridge: