Le Petit Bateau
Free Plans
design by Joe Tribulato
My first idea for this boat came from the Six-Hour Canoe by Mike O'Brien. The book, "Building The Six-Hour Canoe," helped me get started. His boat is good for a load of about 225 pounds, but I weigh only 150 so a smaller boat would be better for my use in a small local lake. A smaller and lighter boat gets much more use. I cut the length initially to 14 feet and later settled on 15 feet. I used the same straight edge of the panels for the side bottom edge, but reduced the sheer considerably to 12, 10, and 11 inches at the bow, center and stern, respectively. The flare and resulting rocker are determined by a center form with a bottom width of 22 " with 28 " at the sheer 10 " higher.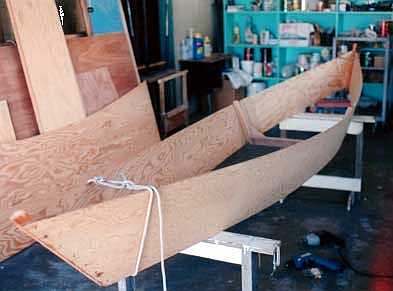 Several were built with a center frame to hold their shape, then later I left it out, using only a temporary form and adding a thwart or two, depending on the stiffness of the gunwales. On one I used both an outwale and an inwale with spacer blocks. This made a stiff gunwale and very pretty in varnished ash, but I don't think I would do that again – more work to build and maintain. Most have a single ¾ in. gunwale. On the next I might try a ¼ inch outwale and ¾ in. inwale to see if it is stiff enough to need only one thwart or possibly none.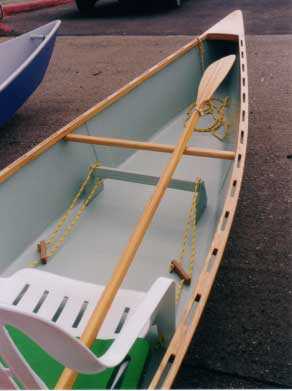 Keep it simple; keep it light. Mine weighs 36 pounds with 5.2 mm luann. I can carry it easily. Two sheets of ply will suffice. Use butt blocks or glass if you prefer. My early LPBs used wood chine logs and stems. Now I use stitch and tape with fillets on all inside corners. The outside chine is also taped, but preferably the whole bottom. It finally dawned on me that it would be a simple matter to give the stems a bit of a curve now that I don't have to cut chunks of wood for them. This gives the ends more of a canoe look, quite pretty (see the blue LPB's below)
The thwart is fitted just aft of the seated paddler. A dowel about 7/8 in. is good, or a stick ¾ by 1 in. Glue and screw from outside just below the gunwale. Use 1 ¼ in. HDG or bronze no. 8 screws. Cut and fit carefully, it's a bit tricky. Also be careful to line up and drill the screw holes so they don't poke through. Mine have held up well for several years. While you are at it the end grabs are done the same way, but here I always use dowel. Set them back from the ends so a fat fist will fit freely. No breasthooks or end decks please. Option: omit end grabs and drill a hole in the bow and stern for a line. You will need two in front and one in back to keep it steady on your car. I also use a strap through the rear doors. Use pipe insulation to protect your paint.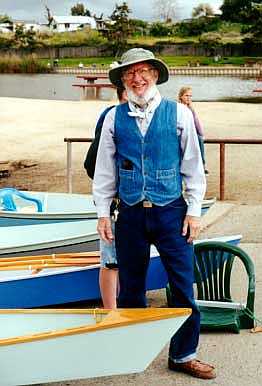 My favorite paint system is latex primer and usually two color coats. The inside and gunwales are lighter to reduce heat build up but with some color to cut glare.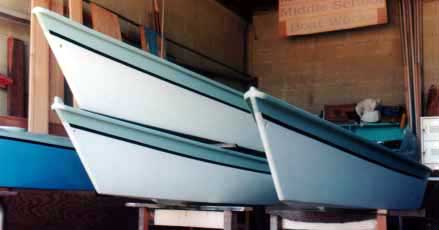 A comfortable seat can be made from a cut down resin patio chair. If you can find one, a "bistro" chair is good, no arms, but the common type with arms works fine too. And one more thing, very important, is to rig a footrest. Start with a 1x4 propped at a comfortable angle by triangular pieces screwed in back on each end. Drill holes through each end to pass a line through. Also drill through the front of the chair legs. Make two toggles from a hard wood about ½ x 1 in. x 3 in. and drill holes in both ends. Pass a line through the footrest and tie a stopper knot in back. Next put the free end through the toggle, through a chair leg, then back through the other end of the toggle and tie a stopper knot. This allows you to adjust the distance as your legs grow (Think I been reading too much Robb White.) Or, you could even rig it the other way around if it suits you better, but once you have used one you will not want to be without it.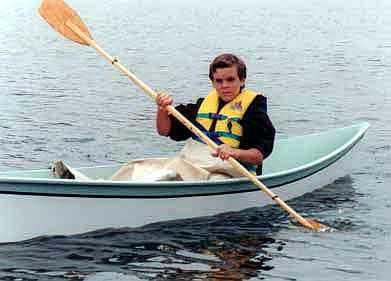 Build yourself a light double paddle and go to the pond. Don't buy one of those cheap heavy clunkers. You will hate it after you have used a light one. The shaft is 1" x 1-1/8". It has to be straight so I laminate mine from ½" x 1-1/8". Cut a slot across the narrower edge for the blades. They can be about 4-1/4 x 16". Shape to suit yourself but I suggest a sharp corner at the heel of the blade to keep more water in the pond. Use 3 or 4 mm for this if you can easily get it. An 8ft length helps clear the gunwales and allows a low angle dip with less drip. Trim the shaft to a comfortable oval shape and varnish.
Just one more thought. Bring along something to cover your lap and on down over your feet so you don't get too wet from paddle drip, and always wear your PFD. I also bring a sponge, lunch, water jug, and a pee pot. (Hey, I'm old.)