Fein Multimaster
Detail sander, scraper and saw
Review by Steve Fisher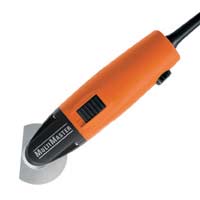 Since I became serious about boat building, almost 3 years ago, I have been bedeviled by epoxy. I have tried other glues and even sealed one canoe with thinned polyurethane glue but I always come back to epoxy. The problem has always been removing the excess plastic snot. Sanding it down is no fun and goes through too many discs. Of the 11 boats I've built I've only managed 2 that were clean enough for a clear finish and that was only the exterior.
I don't deprive myself of anything I really want but somehow I couldn't rationalize the purchase of what really appeared to be an expensive Mouse. Fein Tools have an excellent reputation so when I needed to buoy my spirits recently I ordered the MultiMaster from Amazon. Amazon is an excellent source for tools, very competitive pricing and free shipping.
So what about the tool itself. The action is oscillation and there's an on/off switch and variable speed control and the basic tool comes with assorted grit sandpapers with sanding pad, a rigid scraper blade and a flush wood saw. To date I've used the scraper to remove gobs of epoxy and the sanding disc. Both have functioned flawlessly even in my clumsy hands. Using the scraper blade I can remove all but the thinnest film of epoxy which is then easily removed by the sander.
Of course I still use my disc sander but now primarily for finish work. I have already ordered the smaller finger sanding pad for those really difficult places and a smaller scraper for the same reason. While the surfaces covered are much smaller than using a disc or belt sander I find that I'm only working those areas which need attention so in the end my time spent seems to be no different but result is much more satisfying.
I'm not sure about the power of the motor but this is a very impressive and powerful tool. The $199 was money well spent for a tool which I'll have for years. I will add that the attachments are very expensive. I'll see if I can get some friends with metal working skills to make some specialized blades.
Steve Fisher