Vancouver Wooden Boat Festival
by Derek Waters
"Fish boats to Folkboats"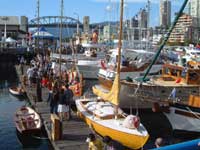 (click to enlarge)

Built on the delta of the mighty Fraser river, Vancouver, British Columbia is Canada's main west coast port. For nearly two decades Vancouver has hosted a wooden boat festival, organised by the Vancouver Wooden Boat Society. The dates for the 2004 Festival are August 26-29. Attractions and boats vary from year to year; Taken at last years show, these snapshots give a flavor of what you might encounter if you drop by.
| | |
| --- | --- |
| Once a derelict maritime industrial area, Granville Island (where the Festival is located) has been renovated and now houses a bustling market, a craft brewery, a kids market and many other things to keep the less 'nautically minded' amused. Little 'Aquabus' ferries carry foot passengers across False Creek towards the downtown core and along to the 155 foot high geodesic sphere which houses Science World. | |
Under the gangway, the stripper looked as though it had come some distance, with serious bailing provision and camping gear. Pool noodle fenders seemed a little makeshift. The skiff in the background may well have been built at a previous festival; each year the Festival organisers run a Family Boatbuilding event.

Over the days the show is running, families and youth organisations (chosen by an essay writing contest) build themselves skiffs, which are launched before the Festival closes.
| | |
| --- | --- |
| | SS Master is the last functioning steam tug on the Pacific Northwest Coast. Now maintained locally by a small army of dedicated volunteers, the boat is an impressive presence, and the steam whistle certainly turns heads. |
| | |
| --- | --- |
| | Vancouver's Vikings built their own ship, the Munin, named for one of the Ravens perched on Odin's shoulder. Volunteers can join the crew for a row or sail. A half length replica of the famous Gokstad ship, Munin is of traditional construction. |
| | |
| --- | --- |
| Up in the market squares a variety of organisations have stalls and displays, like these examples of local building and repair work. Other dry land activities including live music and entertainment take place throughout the days of the festival. | |
| | |
| --- | --- |
| | Multi-hulls don't seem to be very well represented at wooden boat shows in general, so this 'canoemaran' caught my eye. As with the building and repair display seen above, the 'canoemaran' appeared to be associated with a local small boat club. |
| | |
| --- | --- |
| 'Snowdrop' was locally built, lapstrake cedar on oak, half a century ago. That's her original motor, a 1930s Briggs and Stratton. Note the side wheel steering - no room to swing a tiller with four people aboard. | |
Today, there are still a few local boatbuilders; David Bradford at Alder Bay Boat Company on Granville Island builds small craft, teaches and encourages.
| | |
| --- | --- |
| | At the 2003 festival Robert Morris (seen here on the right) could be found under the dappled shade helping folk to build the skin on frame boats described in his book. Under that fabric is an elegant skeletal frame, drawing its dimensions from the body of its owner instead of tapes and rulers. |
| | |
| --- | --- |
| Not all of the boats seen at the show are locals; A visitor from south of the border, the elegant Lawana was built in 1911. Her current owners were graciously allowing gawking members of the public such as me to step aboard and soak up the atmosphere. | |
| | |
| --- | --- |
| | Pacific Yellowfin was built sixty years ago by the US Army, in Maine. Previously a troop carrier and a research ship she has been renovated and is available locally for charter. |
| | |
| --- | --- |
| Afloat and ashore, Vancouver Wooden Boat Festival is full of variety, far more than shown here. From the ship scale of boats like Master and Yellowfin to elegant jewels like this lapstrake canoe, the boats cover a wide range, while the show is still small enough to feel friendly. | |
Visitors to the festival planning to make a vacation of it might also be interested in the Maritime Museum which is with in walking distance of the festival site. Vancouver's Trolley Bus tours connect the Granville Island festival location with historic Chinatown, the Aquarium, museums and hotels.
Sail and steam, seafood to sea shanties, fish boats to Folkboats; Vancouver Wooden Boat Festival: August 26-29, 2004.