John Welsford to be in Texas
(and Maryland)

New Zealand small boat designer John Welsford will attend a one day messabout at Canyon Lake Texas which is located between Austin and San Antonio. The event will take place on Saturday, Septemper the 25th from about 9 AM until dark. The specific location will be Jacob's Creek Park.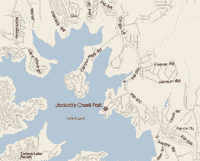 Jacobs Creek Park is located on the Northeast side of Canyon Lake off FM 306 near the dam. From IH 35, take Canyon Lake exit No. 191 west on FM 306, approximately 17 miles. Turn left on Jacobs Creek Road; go one mile to park entrance. There is a nominal fee for entrance to the park. Once you are insidek, look for the tanbark sail on my little dinghy (pic below) we will try to be at a picnic table near the water.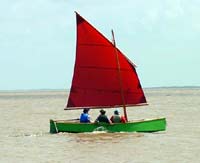 John will be available to answer your questions so don't be shy. He is a very interesting fellow with a persective that only living on the far side of the planet can produce. He is glib and astute with a broad knowledge of small boats. If you are from Texas, his accent alone is worth the price of admission.
There is a ramp if you want to bring a boat. There are also picnik tables if you want to bring your family for a day at the lake. There are no plans to feed anyone, so bring a sack lunch or otherwise be ready to take care of yourself food-wise.
See you there!
Note: The following weekend, John will be at the Mid-Atlantic Small Craft Festival. Click HERE for more info.