Mike Saunders coordinated yet another fabulous get-together on Lake Jordan in Alabama. There are not enough superlatives for the food, the people, and, of course, the boats! Mike and his wife Vickie, friends Jarred and Angela (owners of the lake house) prepared bbq pork, bbq slaw (North Carolina style), baked beans, brownies, and several other dishes for lunch. All of it was wonderful. The weather was also perfect. I was happy to hear that Mike and Angela were talking afterward and she commented that these were some of the nicest people she had met! I couldn't agree more and ditto for all of our hosts, too.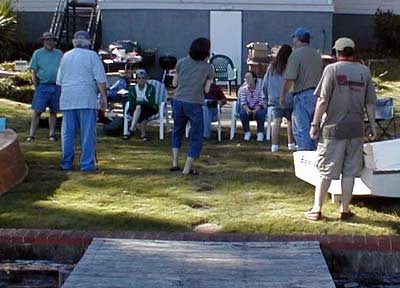 Most everyone who attended
We had a bit of excitement when one attendee swamp tested a John Bell designed Blackberry dory. The initial step of the swamp test was to flip the boat over and off of the top of the tester's head. That is when we discovered that we now had a Blackberry with water up to about 2 inches from the sheer line. It will still float under these conditions! Since it was in about 10 feet of water near the end of the dock we didn't chance putting any more water in it. Another bit of information was also discovered. Don't try to stand up in a dory to climb up on a dock. All is well though. No permanent damage to our tester and even his cellphone/digital camera combination device is back to working. He even still has the messabout photos he took beforehand to prove it.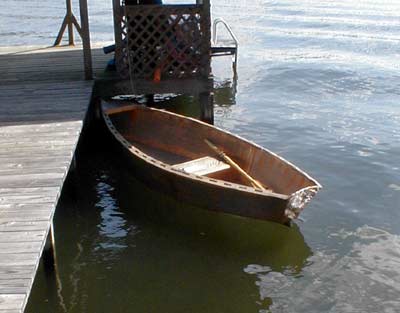 Blackberry
Dave of BilltheCat fame (www.davesflatcat.com) and his daughter traveled from just north of Tampa to Dothan, AL to pick up his father and then onto the messabout at Lake Jordan. BilltheCat is a tunnel power cat boat that slices through mega-horsepower bass boat wakes as if they were mere mere ripples. And what a small turning radius! Very nice.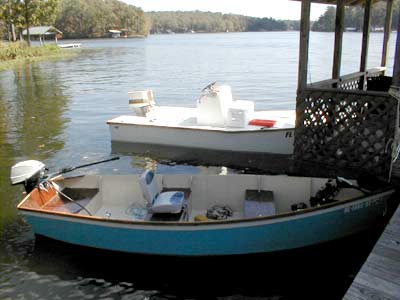 FL-14 and Tunnel Cat
Greg (sorry I don't have very many last names) brought his finely finished D4. Yet another lovely boat! My lumpy FL14 pales in comparison.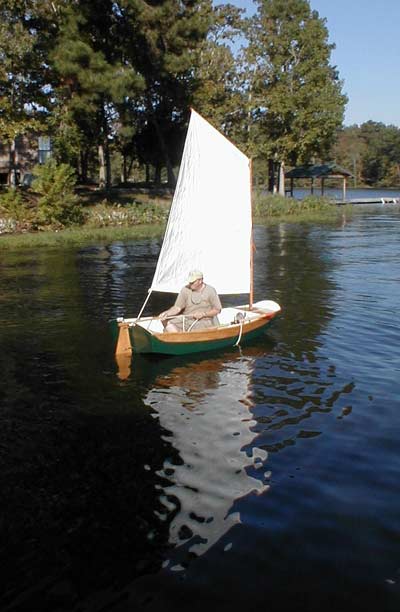 Greg's finely finished D4
Paul and his wife journeyed from Missouri to the Huntsville/Madison, Alabama area to visit with their daughter (I hope. I apologize but my memory stinks!). They brought their modified Selway-Fisher to the messabout. I wish I had some close-ups as this boat is a work of art. It is around 17-18 feet with very nice dual berth cabin and a covered motor well equipped with a 15hp Honda. A very sophisticated ride.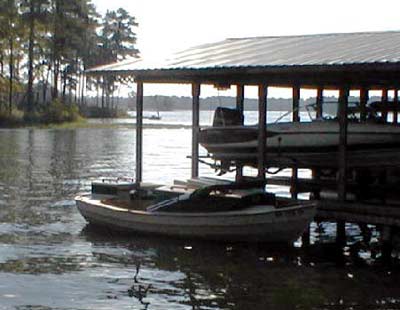 Paul's modified Selway-Fisher
Rick Cunningham is from the Birmingham, AL area and brought a pretty Michalak Vamp rowboat. Rick lives about 2 miles from me so I have watched his boatbuilding frenzy with interest. He started with a Steve Lewis Jonboat, then a www.bateau.com Cheap Canoe, and now the Vamp. All in the space of one year! Three or four of us tried out Vamp. Very easy to row and quick even for a novice like me.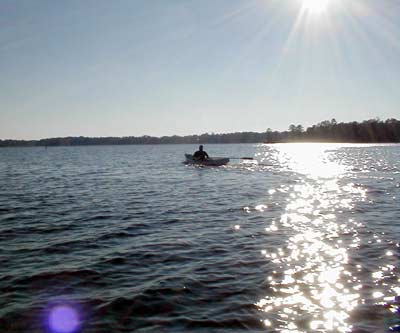 Rick out rowing at the end of the day
Mikeeeee Saunders is the builder of the aforementioned Blackberry dory and also, Boo-Boo the Dinghy. Boo-Boo is undergoing extensive renovations. The center seat has been removed in preparation of putting in a longitudinal rowing seat. My concern was for the stiffness of the hull but after checking it out with the seat removed I can report that it is still very stiff. I don't think there will be any problems with his modifications.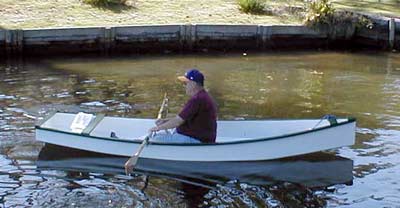 Mike rowing Rick's Vamp
I hope Mike hosts another one next year. A few more builders and it will be even better. Although that is very hard to imagine.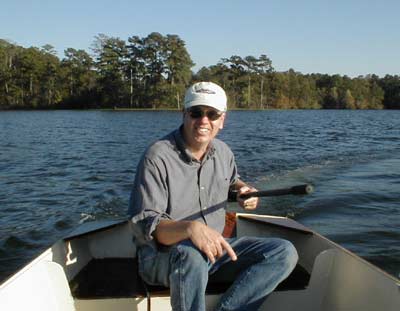 Here I am in my FL14 under power
More photos can be seen HERE
--Wayne Farris
aub77@yahoo.com