Homer Wooden Boat Show
by Bruce Armstrong
Each year in early May the good citizens of Homer, Alaska put on a wooden boat show, known officially as the Kachemak Bay Wooden Boat Festival. While some beautifully turned out varnish was on display, the Festival boats, like those in the adjacent harbor, are primarily of a work/sporting nature -- fishing skiffs, working row boats, commercial and historic fishing/whaling craft and wilderness canoes.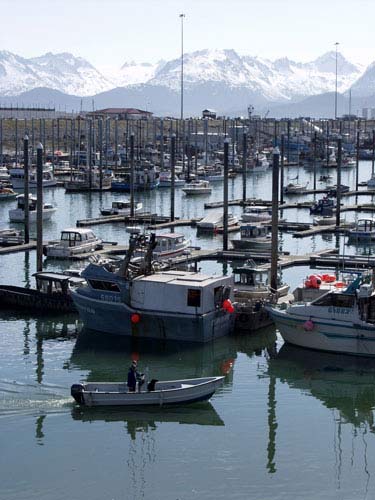 Homer Boat Harbor...mostly commercial or very rugged....
....a tolman standard going by
The harshness of the boating and weather environment keeps local builders focused on rugged designs devoid of fancy decoration and trim. Renn Tolman lives in Homer and developed his Alaskan skiff for use on Kachemak Bay. Nearly a dozen of his skiffs, most home built from his designs were on display: standard 20' open skiffs, wide-body 21.5'ers and 22' Jumbos, the largest gathering of his new Jumbo design to date.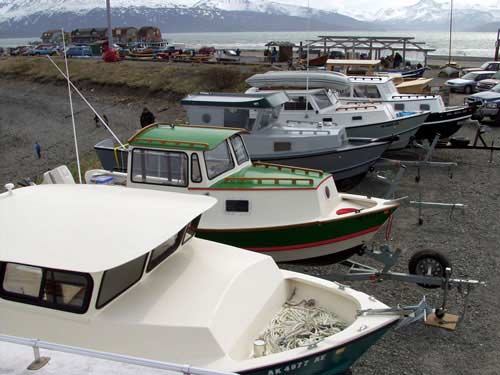 The row of Tolman widebodys and Jumbos at the show
Two of the Tolmans drew the majority of interest: Jim O'Meara's JimO, a 22' Jumbo launched the day before the show opened. Jim built the skiff from a Jumbo pre-cut kit in 92 days while holding a full time job! The kit's originator, Neal Schlee (www.skiffkits.com) also showed his nearly complete Jumbo with his own cabin design.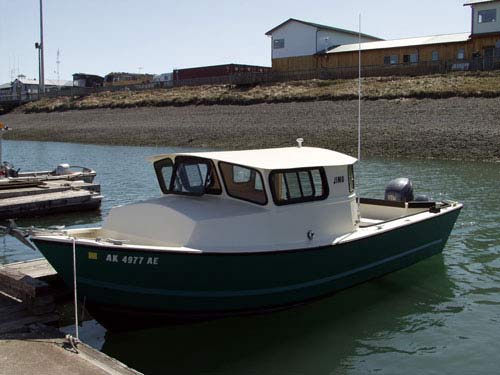 JimO......92 days from being a pile of pre-cut marine ply to the
water.....very nice indeed.......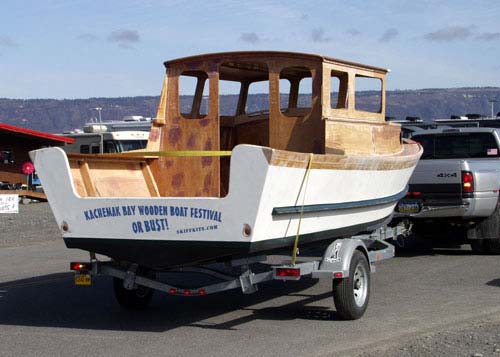 neal schlee's skiff...owner....www.skiffkits.com
On the historic boat front, Homer's Pratt Museum brought their 80's replica of an 1850's Beetle Whale boat. 29.5' long, it was ,manned by five rowers, a rudderman and harpooner. Kids made models while the weather turned from sunny and warm to blowing and 50. Homeroids, being a rugged bunch, attended in big numbers whatever the weather. Add beautiful scenery and great seafood and a good time was had by all.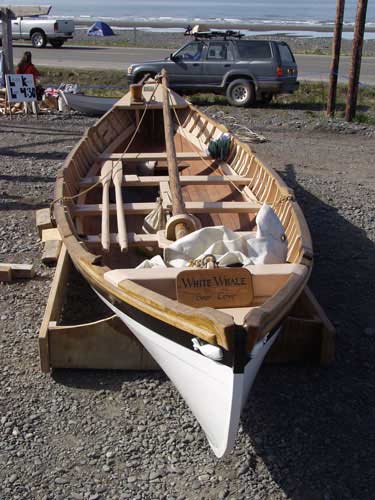 the whale boat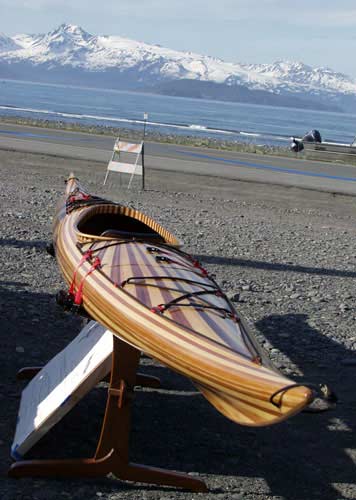 John Isaac spent 1300 hours on this Guillemot 19'er..
.....the crowd favorite!

exquisite workmanship

river drift boat......fantastic workmanship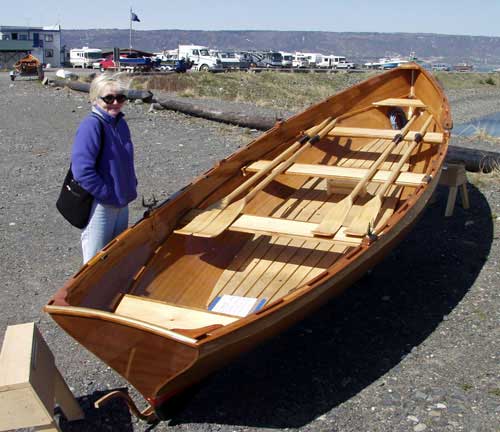 a strip built Wherry

a quebec-built freight canoe......wonderful.....and for sale!
I'm including a picture of Renn Tolman wondering around the Homer show with a bottle of Yukon Jack in his hand. It's a wonderful shot of a guy who is hard to photograph because he's always on the move. The bottle is a Tolman tradition: builders of his skiff are expected to take a snort from the bottle directly after completion of their skiff and they receive a Tolman hat from Renn at the time. Please understand the bottle's place in the event - I wonldn't want you to think Renn's always "with bottle". He was successful in getting quite a few shots down unsuspecting throats during the show because lots of new boats showed up.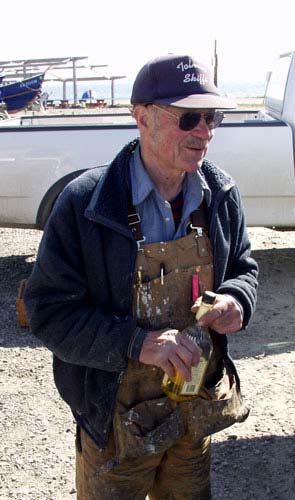 Renn insists that newly built skiff owners take a shot of Yukon
Jack......here he's seen stalking his next pray....
Bruce Armstrong/Santa Barbara