A Chasing After the Wind
Excerpted from Ocean Spirit Magazine
June 2004 Long Weekend voyage from Nerong to Bungwal Myall Lakes National Park, Mid North Coast of NSW, Ray Tolcher, Brad O'Sullivan and Ed Brown. TS 16.
TS Kate slid effortlessly into the black, tannin-stained water of picturesque Nerong village under a million-mile sky. Weeks of planning and excitement had paid off for three mates praying for clear winter days over the June long weekend.
Kate was loaded; swollen with fuel, drinking water, tents, sleeping bags, cooking gear, and vitals. Surprisingly there was still plenty of room for the unlikely crew of accountant, bricklayer and trainee chef.
With millpond conditions, the 2HP 4/S Honda at half throttle delivered 3.7 knots on the GPS. Two hours into the cruise on The Broadwater landed us relaxed and hungry at Mungo Brush. This is one of several developed campsites marked on the Port Stephens Tourist Map.
We used this map in preference to topographical maps because unlike the latter, it showed navigation marks which were easily followed.
A map is necessary since most beaches and landing sites are well concealed by Casuarina trees which fringe the waters edge. This map can be purchased laminated for $12 from Port Stephens Tourist office via the Web.
We found our campsite in pristine condition and virtually deserted. We expect a different situation would apply in
summer.
Lunch at Mungo was a freshly prepared tomato and onion salad in olive oil vinegarette, as an appetiser, followed by Turkish bread gourmet sandwiches of rare roast beef, cos lettuce, peanut butter and French dressing. Italian coffee bags were a welcome and convenient change from instant coffee.
After lunch and a wee nap, we left the Chardonnay coloured waters of Mungo to find our evening camp at Myall Shores Resort (formerly Legges Camp).
No breeze at all, we slid along an oily lake surface at quarter throttle, under a Monet sky of mauve, navy, yellow and red hues as the sun rushed to the horizon. The sun absconded with its warmth and we chilled. Tracky daks and Polar-tecs were the go.
Myall Shores has hot showers! It also has top shelf cabin accommodation, a restaurant and conference centre facilities. Our campsite cost $18 and for that we were relegated to the extreme shore of the resort which suited us fine. Kate was beached and secured to a sapling. A truckload of gear was unloaded, instructions on erecting tents were read in the dim light while our chef prepared the evening meal by torchlight. Space blankets should be laid out with the shiny side facing the ground you know.
It's a good idea to watch overhanging branches when mooring close to shore. A brush with an overhanging tea tree snapped a strand on one of the spreader hounds. I wanted to replace them anyway. There is no tidal influence, so there was no concern about being marooned high and dry in the morning.
Dinner was served: Stir fry bok choy and fresh garden vegetables, with silverside, ginger and garlic infusion, spring and red onions fried in salted butter served on a bed of spaghetti noodles. Up to the restaurant for a hot chocolate nightcap, some fellowship with guests of a church conference and off to bed with full bellies.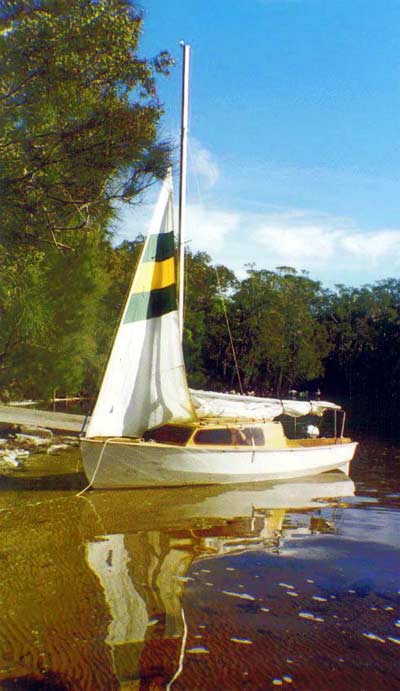 It had been a big day.
The chirping of Rainbow Lorikeets at first light mercifully ended a rough night sleeping on the ground. A hot shower brought about semi consciousness. Another perfect day. The leaves of the tea tree overhangs danced with the sun's quicksilver reflections off the water, ducks paddled in the shallows, the flowering Belbowrie droned with bees and the air was sweet with nectar. Surely we were created for this scene rather than city life. Breakfast of crispy bacon and "toad in the hole" was washed down with steaming tea, tents were wrapped and stacked and bow rope cast off.
Myall Shores is located at Bombah Point where the vehicular ferry completes the road gap from Bulahdelah to Hawks Nest. You can only cross the winch cable when the ferry is stationary, otherwise the cable becomes quite a hurdle.
As Murphy would have it, the Honda started sucking air as we approached the ferry. The ferryman was patient enough for us to put another 3 hours worth of fuel (amazingly only 1 litre) into the tank, all the while being extremely careful not to spill fuel everywhere.
Past Bombah Point we entered the gin clear water of Boolambatye Lake, which is the smallest lake in the system.
Our destination was Violet Hill camp.
As we approached halfway, we noticed a light breeze rippling the water. Engine off and sails up, slow progress was made with just enough breeze to fill the sails, and from the direction of our heading, of course.
Several tacks in this narrow stretch of no more than 200 metres advanced us windward about the same distance. Back on motor we putted into the paradise of Violet Hill camp, and again tangled up with overhanging branches. The Myall Lakes Yacht club is credited with having built two landing wharves. We tied up to one, and this certainly helped with unloading.
The gunwale matched the rub board of the jetty perfectly and a Woollies bag stuffed with plastic bags and spare washing up sponges served as a useful fender.
This was another beautiful campsite, spoilt only by a ratbag in a ski boat who apparently thought the "No Wash" sign referred to no bathing and the "4" sign referred to golf or something. Next time I will record his number. The same bloke and his mates kept everyone awake with his ghetto blaster until the early hours of the morning. What's wrong with these blokes? or am I approaching middle age?
As night fell, dinner consisted of tuna and vegetable casserole, with fried onions. Biscuits for dessert and more of that Italiano coffee.
The firewood ballast we had been carrying was put to good use in a campfire, supplemented by a nearby fallen tree. Warmed by the lure of the campfire under a brilliant sky and with full bellies, we exchanged exaggerations, and pondered the vastness of the universe and the purpose of life.
Laziness dictated that I should sleep aboard and apart from the sound of doof-doof-doof all night, I slept very well indeed.
The occasional bump of the boat against the jetty was startling, but all things considered, a boat beats a tent for sleeping quarters.
Leaving the gin clear waters of Boolambatye lake we entered Myall Lake.
This by comparison with the other lakes is significantly larger. Depth varies between say, half a metre to maybe three or four in most of the lake.
The clear water revealed tall forests of Labomba weed, and the frightening realisation of the complete absence of fish.
The one exception was a large eel we glimpsed as we glided over a sandy clearing. Where have all the fish gone? We trolled a New Zealand Jig for long stretches without result. A few years back the lakes system suffered a major Blue Green Algae bloom which we presume resulted in the annihilation of fish stocks.
I wonder if that is what killed the dinosaurs.
Four kilometres from our extraction point at Bungwal, at the very top of Myall Lake, and at lunch time on our last day, we landed at an isolated beach suitable for our last picnic lunch.
Here our chef prepared a masterpiece omelet with our remaining vitals as ingredients. We drank the last of our water which meant that the three of us had survived on 24 litres of water over three days, including some used sparingly for washing up dishes and brushing teeth.
Although there is drinking water at each of the permanent campsites throughout the system, it's a safer bet to take spring water from the supermarket. It comes in convenient disposable containers as well.
After lunch we chased small patches of rough water all over the lake by motor, with the fluky breeze eventually picking up to steady 10 knots, directly from the direction we needed to travel, of course.
We worked and worked our way up the wind and eventually came to a safe enough distance to motor in to the ramp at Harts Bay, carrying the feeling of being cheated by the wind, but counselled with the beauty and serenity of this magnificent water way.