The "Zubian" has been designed to be economical "entry level" cruising catamaran suitable for a first-time boatbuilder. She provides camping accommodation for two adults in the hulls with the ability to set up an inflatable double mattress on the solid bridge deck. She is suitable for semi-protected waters and is readily trailered home after a
day's sail.
The basis of "Zubian" is her simple plywood dory hulls. Each hull is built over three permanent plywood bulkheads and two temporary moulds set up on a simple "ladder" strongback. Two bottom stringers and six side stringers are set into the bulkheads and then 6mm plywood hill sides and bottom fitted to form a flat bottom dory hull. The sides have some "arc" worked into them improving the look of the boat and giving a little more room in the cabins. The construction is well within the capabilities of an amateur and the plans come with well detailed step-by-step building instructions.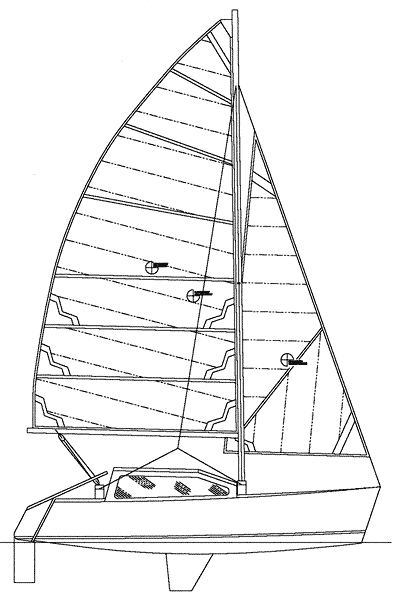 The two hulls are joined by a solid timber and ply-wood bridge deck sitting on the hull decks forward and aft of the deckhouses. The bridge deck beams are lashed in place, giving an arrangement that is simply and quickly assembled or disassembled for trailering.
As boats get smaller their crew's, unfortunately, do not and designers find themselves struggling to squeeze berths for 6' adults into narrower and narrower hulls. Frequently the result is that sailing performance is sacrificed with suboptimal placement of centreboards or boxy bridge deck cabins that pound in a seaway. From the start we have designed "Zubian" to offer good sailing performance with enough accommodation for a crew to sleep comfortably, prepare hot feed and get warm and dry. Each hull offers a single berth with plentiful clothing stowage in a bin locker and shelf beside and forward of the centreboard case. Under each berth is space for bulk ship's storage while 2 litre water bottles are stowed under the berth heads, keeping weights out of the ends of the hulls. There is 900mm headroom over the berths, giving real sitting headroom and these are cabins one can comfortably curl up in for a few rainy days.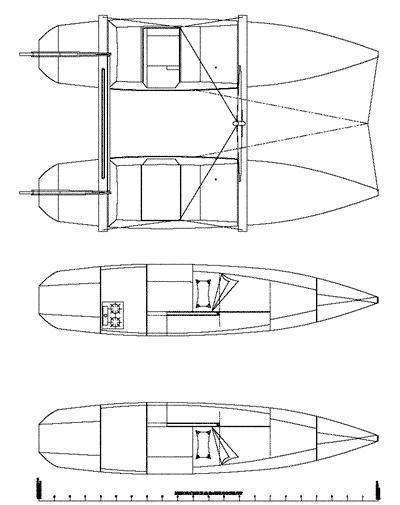 The port hull also houses the metre wide galley counter with ready access stowage under and at the rear. It is possible space to fit a "real" sink in this galley but we recommend a simple square bucket as a sink - it is cheap and can be used wherever convenient, including by a helper sitting on deck and leaves a great workbench for the cook. The starboard hull has room for a marine toilet or Porta Potti - increasingly a legal requirement in the sort of waters suitable for "Zubian" - under the folding chart table.
The open bridge deck is 1.1 metres wide and the crew can comfortably sit on the cabin roofs with the sheets, tiller and centreboard pendants falling readily to hand. In inclemant conditions the crew are able to sit on the bridge deck braced against the inside of the cabin well protected from the elements.
Small catamarans must be sailed with a degree of caution as if they are to have enough sail area to perform well in the lighter airs and flat waters they will spend most of their life, they will have enough sail area to capsize them in strong winds if not sailed sensibly. This is true of all small cats, including "Zubian". Accordingly, her sail plan has been designed to allow the mainsail to be easily reefed - the first reef will go in at about 12 knots wind speed - and for the headsail to be dropped without going onto the bows.
With good seapersonship, however, "Zubian" is capable of surviving - and even sailing in - seriously heavy conditions as she is buoyant and has efficient 'foils. Like all small, light boats she is easily "knocked off" in a large seaway and her helmsperson must work her through the waves and take care to keep plenty of room under her lee. It is because of the desirability of reducing windage in these "once in a lifetime" conditions that we recommend the dropping headsail rather than a roller furling one.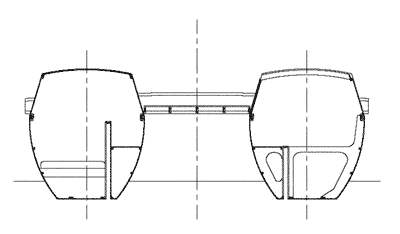 When choosing design names we try to choose one which continues the heritage and folklore of the sea. The original "Zubian" was a destroyer made in 1917 by joining the bow of the mined H.M.S. "Zulu" to the stern of the torpedoed H.M.S. "Nubian". This "Zubian" combines the simplicity, low resistance and dryness of the dory hullform with the stability and deck area of a catamaran to produce an economical and fun weekender.
The complete plan set costs $A200.00 (plus 10% GST for Australian residents) but we recommend you initially purchase a "study pack" including all the details except the actual lines, offsets and cutting plans and for $A50.00 (+ GST). You can then study the design in depth before ordering the remaining details for the outstanding $A150.00 (+GST).
The "Zubian's" principal dimensions are :-
| | | |
| --- | --- | --- |
| Overall Length | 5.50 metres | 18' |
| Waterline Length | 4.98 metres | 16' 4" |
| Overall Beam | 3.40 metres | 11' 2" |
| Hull Waterline Beam | 0.87 metres | 2' 10" |
| Draft | 0.18/0.98 metres | 7" / 3' 3" |
| Sailing Displacement (approx.) | 732 kilograms | 1,610 pounds |
| Trailering Weight (approx.) | 510 kilograms | 1,120 pounds |
| Sail Area | 21.90 sq metres | 236 sq ft |
| Bruce Number | 1.31 | |
| Stability Number | 15.45 | |
For your assistance in pricing the materials for your own "Zubian" we include the Materials List.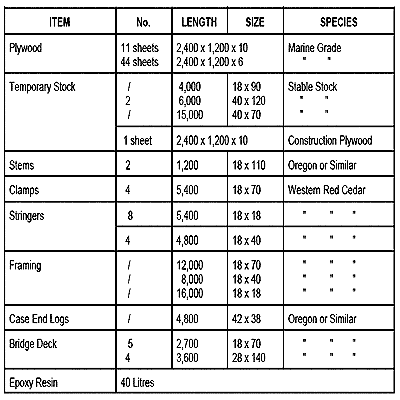 Murray Isles
Consultant in Vessel Design & Fleet Management
Design of Specialist Vessels & Project Management
P.O. Box 474, Nth Hobart, Tas. 7002
'Phone : (03) 62631 5553
Fax : (03) 6231 5553
Mob: 0407 543 941
Email : sales@islesdesign.com