It is a dock for tools and no not a boat dock. Can you imagine a harbor with 10,000 boats at anchor and the harbor being just a mile wide? CHAOS! Therefore, docks are built and all the boats fit with room to spare. Now imagine you garage with all of your tools and the ones you want to buy. Now imagine heavy gauge steel cabinets holding all of those tools and using only two or three workstations to mount your power tools on. Maybe you work from your garage Maybe you just have a small work shop like the type I was forced into when my wife and I sold our house in town to live at my very small house on Klamath lake. Try fitting a band saw, two table saws, two drill presses, two planers, my heavy equipment tools, Sanders, jigsaws, lathes, and enough other tools to fill a warehouse. CHAOS! Luckily for you, my readers and myself there is a solution that will not take five months to build wall-to-wall cabinets, benches and tool stands.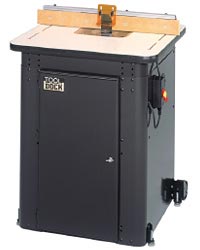 I am talking about a modular system of tool cabinets and tool racks! This allows us to use one tool and them take it off the tool stand with the aid of a special insert and then put it away and use another different tool on the same stand. When I saw the pictures of this system on their web page http://www.tooldock.com, I thought they might be small. WOW, was I ever wrong. I ordered their router bench and a side table that uses the router table as part of its support.
This system is not a cheap Chinese made piece of junk but a quality product made by Waterloo Industries, Inc in the GREAT USA. I have bought many rollaway toolboxes when I worked as a diesel mechanic and Waterloo Industries made the best.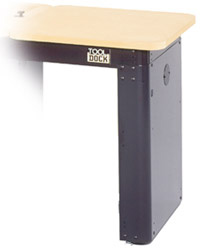 Don't get me wrong, a custom set of homemade cabinets can be a very gratifying project to build. You could use router joints or build inside frame or no frame. I have done this in the past and after every thing is said and done you end up paying more for materials than the very nicely made Tool Dock cabinets. The metal cabinets have a very nice finish and will provide a lifetime of hardy use. The very best part is that you may spend a day putting them together but you can start building boats after that. They also have a very nice workbench I think I will get for my new shop.
I hate moving. I would rather be shot in the head than move! I built a very nice shop with all the cabinets and built in benches but when I sold the house the real estate people told me that since it was all built-in I couldn't remove them or I would loose money. With the tool dock system, your cabinets are able to move with you. For me that was an excellent selling point since I figure that in a few more years I might move to the Columbia Gorge where my big boat will be docked. I can build another bow roof shop there but I don't have to make it so big. Just big enough to build a few boats under thirty feet.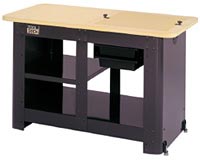 If you go to the website and look at these stands, racks, and benches, understand that they are made with the finest American Steel. They have only the finest American craftsmanship and they look very nice! You can put most of your bench top power tools in the tool storage rack.
When you need to change a tool you simply pick it up after unlocking it from the multi stand and changing it out for the other tool in the tool rack.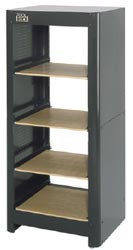 These tool benches and racks are big and made with heavy gauge steel. When my shipment arrived I got my neighbor to put them on my hand truck and move them to my small shop that will become my wife's crafts room this summer. After seeing these units I have ordered the tall rack system and a few of the multi stations. I had to assemble them but I didn't mind that. The router station weighed in at 131 lbs! It has a great top and very nice fence system but you can put just about any type of router top and fence on this indestructible cabinet.
If you look again at the home page you'll see a very nice dust control system mounted on the wall. It is not a Tool Dock System component but it and the power unit are made by Shop-Vac and I am doing a separate review on them because they are also outstanding and really go hand in hand with the Tool Dock System. The problem with my shop is that I need three tool racks because of all of my great boat building and wood working tools. This summer I plan to build my 60' X 30' boat shop. The racks and multiple tool stand will work so well I can hardly wait. I will finish my brick this spring and start my ultralite boat series. I will need the shop space soon and the Tool Dock System that I endorse my readers to purchase. The nice feature is that you don't have to buy them all at the same time when starting out. Just a cabinet here and there until you've got a complete workable set.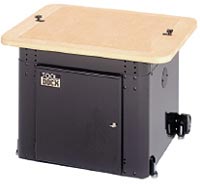 My router cabinet has room for the router and the full assortment of bits I have collected over the years, plus a couple of more routers from my collection. Now that is a huge amount of space in that cabinet. The only change I made was to fit locking three inch casters. They have the capacity to roll this very heavy cabinet all over this shop. I'll have to borrow a fork lift to move this thing out of the shop now.
Check out this system and don't be swayed by cheap harbor freight cabinets. Any others are made in China or Pakistan and are not worth the time it takes to assemble one I still have a roll away tool box that Waterloo Industries made in the early 1960's and was used in the roughest conditions possible. Now that is what I call stout! This new tool storage system is worth every dime that you put into it. Remember you have spent a lot of your hard earned dollars on those tools and they need the best possible storage so they will remain good tools well into the future.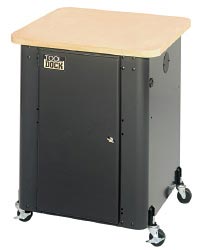 Don't get me wrong, I don't advocate not building from wood. What I am advocating is a set of custom cabinets that you can buy and give you more time to build your boat from wood if you desire that. I love the cabinets and I am sure that you will too, once you see them. The paint on these cabinets has been applied by an expert and there is no panel lighter or darker than another. The smooth finish and color shade are uniform on every panel.
I do have to warn you, before you begin, that you will need a thigh high table or platform covered with a soft blanket for construction. You will need only simple tools and sometimes a strong back because this metal is made for strength and not lightness. Everything is made so well that all of the holes lined up with little problem. If you're like me, you'll want to keep going when building one just to see how nice it looks. I will stress this point once again, these cabinets are much bigger than they look in the pictures. What does that mean? It means your getting nice large work spaces made from very strong steel!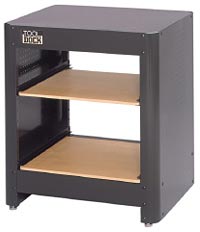 So if you have overflow from your tool space please at least try this new docking system. You will know the great value and performance you get from these units when you see them. I know my wife would be very happy if all my tools were organized on my half of a garage. You could actually build better boats when you use this system because you won't have to hunt and fetch the next tool. All that wasted time can be spent on building your dream boats.
From my now organized tool crib to you.