Small Boat Cruising in the Chesapeake Bay
The bay is HUGE. A peek at the charts will confirm there are many interesting locations to visit AND a Few NOT TO BE VISITED.
Water wise the bay is mostly quite shallow (read 10 feet or less) with well marked and dredged channels of between 15 and 30 feet deep. Sailing an honestly slow small boat (yes your Dinghy is quite quick for a Dinghy But....) in the busy fast moving commercial traffic is something to ponder and plan around. That Tug with a Barge WILL Run you Over. Beware of the prop wash and undertows. Plan to stay WELL Astern of them.
Essential tools in the planning phase of a summer of successful cruising of the bay.
#1 a good and CURRENT Chart. Note the areas of heavy commercial traffic (the channels) and forbidden areas that you should not sail into. Aberdeen Proving Grounds springs to mind.
#2 Tide Books to go with the above. Again with a small sail boat you need to research the effects of currents in your sailing. If you can sail at say 6 knots and you are in a 7 knot current the effects are interesting. Be aware please.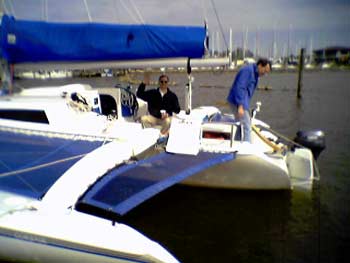 #3 A good GPS. Frankly from my refreshing sail yesterday in a Corsair 32 (A FAST Tri-Hull Sailboat) we peaked at 19.1 Knots with over an hour of 14-16 knots run. I noticed that much of the land looks identical to the last batch of land you looked at over there. Getting lost is not much fun. So that said. A good GPS with fresh batteries (and spare batteries please) is required in my humble opinion. Happily there are many in the 100.00 range that are waterproof (still put in a 20.00 GPS float bag and LANYARD it to your craft) and will work well here.
#4 Time and Gasoline to research the bay. This is the Dry Run so to speak. Taking your road and parks maps, the Bay Marine Maps, your GPS and your automobile drive around to areas unknown to you, noting put in and take out places. Interesting parks and restaurants (the Wild Duck is very good and cheap BUT You figure out what marina it's in <G>) and places you want to park your trailer at. IF you know a friendly Powerboater you can run around the bay easily with your GPS plotting your interesting points (keep that notebook handy friend or point #16 will not be remembered <G>) for planning a cruise. Offering to
pay for gasoline and beer helps here.
#5 IMHO Most Important, Current Weather report and if your cell phone supports it updates as weather can change quickly in the bay area.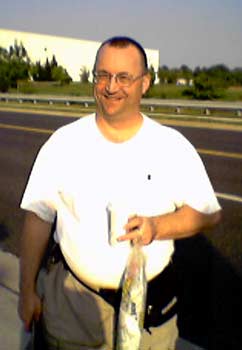 #6 A second vehicle and buddy. Using GPS and Cell Phones (very good coverage in the bay area) it's pretty easy to leave a car at your projected end point and put in somewhere else for a nice sail. Thus you can effectively double your weekend cruising radii. We can sail at say 6 knots, but trailer at 45+ MPH every where.
#7 leaving a float plan of your projected trip and cell phone numbers is critical. Even in summer the bay is cold and wondering when the Coasties are coming is a poor way to pass an evening.
Enjoy the summer! Post some interesting cruises!!
Respectfully
Michael (looking over his Chessie maps now)