A Shanty Boat
by William Pettit
WELL, I HAD NO PLANS (YES TRUE) -AS A CHILD IN OHIO, MY DAD WOULD TAKE ME DOWN ALONG THE OHIO RIVER. THERE WE WOULD WALK ALONG THE BANK AND LOOK AT ALL THE OLD SHANTY BOATS. AT THAT TIME DAD AND I TALKED AND DREAMED OF HAVING OUR OWN SHANTY BOAT.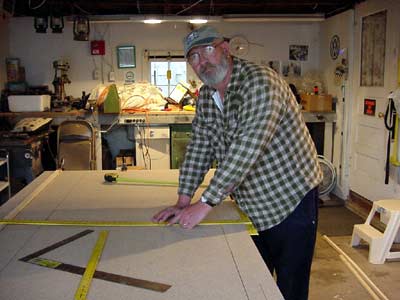 ALL MY CHILDHOOD AND PART OF MY ADULT LIFE I SAID I WOULD BUILD A BOAT LIKE THIS. WELL MY FATHER HAS PASSED AWAY LEAVING ME WITH THE DREAM AND THIS YEAR I FELT IT WAS THE TIME TO DO IT BUILD A SHANTY BOAT. I WAS IN ENGLAND A FEW YEARS AGO AND SAW A LOT OF CANAL BOATS. WELL LAST YEAR I GOT ON THE WEBB AND FOUND A GOOD SIGHT FOR SHANTY BOATS.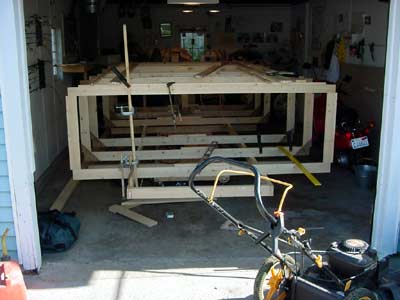 THERE I LOOKED AT A LOT OF THE DIFFERENT BOATS AND COMPAIRED THEIR SIZE AND LOOKS. I THEN SET OUT TO DRAW UP MY OWN (SORTA PLANS) DUE TO THE FACT MY GARAGE WAS ONLY 18' FOOT LONG I WAS RESTRICTED TO A SMALLER SIZE BOAT. 16' FOOT LONG AND 7'6" WIDE IS WHAT I CAME UP WITH.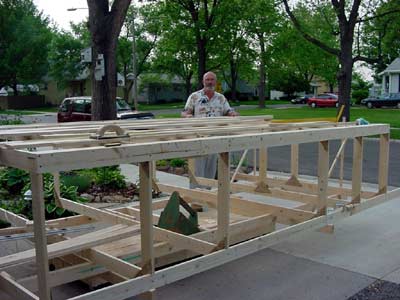 SOME BOAT BULIDER HUH? WELL THESE PICS SHOW YOU WHAT I CAME UP WITH.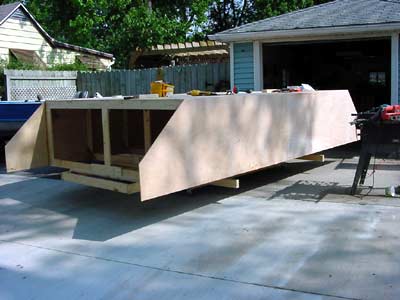 I WILL USE IT ON THE KANKAKEE, RIVER THAT IS NEAR ME HERE IN KANKAKEE,ILLINOIS. I WOULD LIKE TO TAKE IT TO SOME OF THE CANALS WE HAVE HERE IN ILLINOIS MAYBE NEXT SUMMER?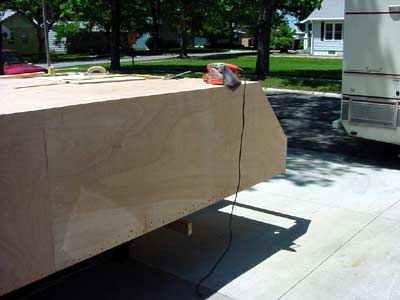 IT IS QUITE THE THING AROUND HERE AS THERE ARE NO OTHER BOATS LIKE IT. MOST PEOPLE THINK THAT I KNOW SOMETHING ABOUT THE WEATHER. THAT THERE IS GOING TO BE MASSIVE FLOODING AND THAT I OUGHT TO BE GETTING TWO OF EVERY THING . TWO DOGS/TWO CATS/TWO WIFES/SO ON AND SO FORTH.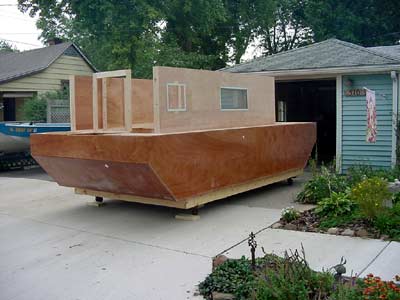 WHAT I NEED NOW MOST OF ALL IS A TRAILER TO FIT IT, SO I HAVE HIRED A FRIEND TO MAKE ONE FOR ME. THIS WILL BE THE NEXT STEP IN GETTING IT TO THE WATER. I'M AT A POINT WHERE I NEED TO SEE HOW IT FLOAT'S HAHA IF IT FLOATS?? OR THE BIG ONE>> LEEKS <<<I HAVE A PLAN >> IF FOR SOME REASON IT IS LOOKING BAD, I HAVE A BIG DRILL WITH ME AND WILL TAKE HER OUT IN THE DEEP WATER AND GIVE HER A DEEP SIX. I THINK IT WOULD MAKE A NICE FISH HABATANT. O WELL TRY NOT TO THINK OF THAT YET HUH?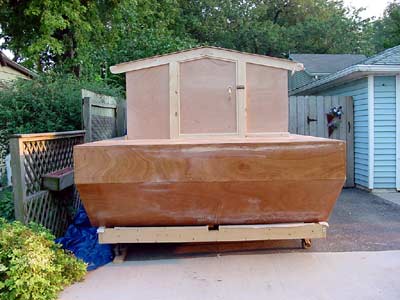 NOW A LIL ABOUT THE BOAT >>> I USED ALL PLAIN WHITE PINE LUMBER AND PLY. 1/4 AND 3/8 PANELS. BUT I DID USE THE GOOD STUFF ON THE PLYWOOD PANELS. EXT. GRADE ALSO I USED S/S SCREWS AND A LOT OF ( GLEN L) EPOXY RESIN'S AND GLUE TO THE TUNE OF 6 GALLONS. I USED 10 YARDS OF 6OZ. FIBERGLASS ON THE BOTTOM. I STARTED ON THE BOAT IN APRIL OF THIS YEAR.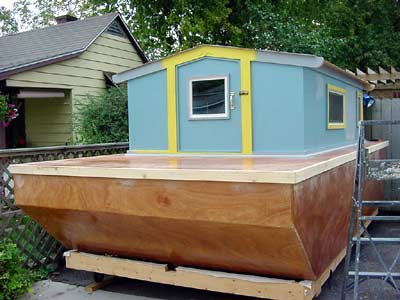 WELL THATS ABOUT IT SO FAR FELL FREE TO CALL ME ANYTIME FOR MORE QUESTIONS. O BY THE WAY>>> I'AM NOT A BOAT BUILDER BY NO MEANS I'AM JUST A OLD RETIRED COPPER WITH A LOT OF TIME ON HIS HANDS AND I LOVE BOATS AND THE WATER.
WILLIAM PETTIT SR.
510 SOUTH FOLEY AVE. KANKAKEE,ILL 60901
TX> 1-815-9375554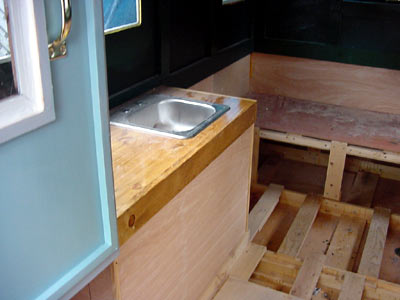 HERE IS A SHOT OF THE INSIDE>> TO THE LEFT IS THE SINK,BACKGROUND IS THE BED,TO THE RIGHT IS A CHAIR OR BENCH. AS YOU SEE THE FLOOR IS NOT IN YET >>>>> GOT TO LOOK FOR LEEKS THEN FLOOR ALSO IN THE VERY FRONT OF THE BOAT UNDER THE DECK IS ALSO A BED.