Snowshoe 14
I was a high school senior in 1988 and chose, as a required senior project, to build a boat. Having seen the clean elegant lines and amazing light weight that the SnowShoe 14 design promised, I knew I had found a perfect subject for the project. Since then, I have been able to take the 14' , 17.5 LB canoe out a couple of times a year with little more than a rinse with the hose and single new coat of polyurethane to ensure waterproofing.
This last weekend I was thrilled to take my two sons out in the boat (the first time for the youngest). It was a wonderful feeling to introduce them to canoeing in such an amazing craft. It remains easy to paddle, moves fast, and is effortless to portage and load on the roof of the car. It also never fails to draw the attention and compliments of fellow boaters. Thanks to Platt Monfort and Airolite Boats for the great design that has now become a family heirloom (not to mention ongoing source of recreation!) Very best regards, R.B.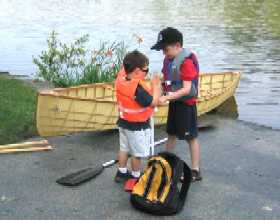 GEODESIC AIROLITE boats are unique build-at-home Ultra Light Canoes Whitehalls and Sailing Dinghies, consisting of a fabric covered wooden framework.

The boats are done in a simplified system utilizing such ideas as cardboard molds. Heat shrink fabric produces a beautiful shape that is easy to finish. This is attached with hot melt glue, in tape form that is set with a household iron.