Entry 1

Nesting Dinghy 2.0, 3.0
Dana Munkelt
Judge's comments:
Dana gave us some original thinking with his removable bouyancy tank with lower freeboard than the rest of his design. This really is a most useful little boat...

Dana has, rather than design a break apart boat, produced a boat that is complete in itself, watertight and structurally complete, but with an extension bolted to the forward end that adds length and streamlines the load carrying blunt ended punt. Being closed in, it contributes to the boat's buoyancy if swamped and if fitted with a hatch would be a useful dry storage place for a picnic lunch and spare warm clothing.
The shape is a little reminiscent of the Auray fishermans punt, legendary for its seaworthiness which is a good omen, the bigger version is big enough to carry the anticipated load well and she will both row and power very well.
It's a good interpretation of the brief, will be a good boat, and I'm looking forward to seeing the results of someone building her.


First I must give credit to Thomas Firth Jones, in whose book "Multihull Voyaging" there is a nesting dinghy which was my starting point. The difference from other take-apart dinghys I have seen is that the bow section is not for payload, so need not have full freeboard. This makes it smaller and easier to stow, and when decked, it makes a great buoyancy tank and waterline extender.
Nesting Dinghy Model 2.0 at 7'5" assembled (5' when nested) was built last year of 3/16 luan ply and glass tape in about 50 hours, and works very well with one to two aboard, thank you. It fits inside my station wagon, or the bed of a small pickup, and stands politely on it's transom in the corner between trips, not leaning on the wall (nice for an apt.). At 53 lbs. it's easy to lift, but I'm working on a dolly to strap on a corner of the transom and wheel it away like a handtruck.
You may notice the absence of a stern seat, and I have a fiendishly clever plan: there are two eyestraps on the floor about 8" forward of the transom and 17" apart. A stap runs between them, and two or three normal float cushions can be held by it to make a comfy USCG compliant seat. A good sized cooler or tackle box would fit there also. The eyestraps are backed up by twin skegs which help the boat sit level on the beach, and when the bow is lifted only the skegs will touch as it's dragged across the sand.
The mating bulkheads were made in advance, and are connected by a pair of bolts to "tee nuts" anchored in the bow section. The bolts have cast epoxy knobs for hand tightening.

Nesting Dinghy 2.0 lines (click to enlarge)
Nesting dinghy 3.0, at 10'3" assembled and 7' nested. The configuration is the same with a low bow section decked for buoyancy. Quite a bit more boat at 75 lbs., and if sailing will need three fastening bolts in a triangle. Shrouds would help take some of the torque off the joint as well. This one will have a payload of over 400 lbs., can row, sail or power, and will need the transom dolly to roll around on.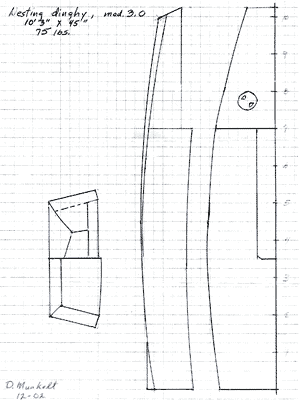 Nesting Dinghy 2.0 lines (click to enlarge)
Dana Munkelt has built a few boats since helping with his Dad's skiff (It's all Dad's fault!) a few decades ago. The skiff is still fishing 50 miles out on the Big Ocean, and the other boats include a couple aerolight canoes, 3 prams, a dinghy, a Searunner 32' catamaran… He also enjoyed developing the rules for this contest.
Mr. Munkelt resides at the homeport of the USN's Pacific Fleet, and makes a living at production control and purchasing when layoffs aren't happening. He also enjoys gardening, reading, and cycling, and thanks the Big Guy for giving him the chance to do so many things.