Hi Chuck,

This is just one of the great things about a Yakette, 24 pounds! Had her on her ear too! Very stable for such a tiny boat. She took wind and waves in stride and performed like a champ.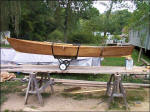 I tried a couple of seats and liked the foam stadium seat the best, but I also had a piece of foam pipe insulation around the back of the cockpit rim for additional padding. You can see that in the photo where she's on the dolly, and it easily snaps on and off but still stays in place.

A shorter paddle cut down to 7'-6" not shown in these pics gave much better control for the rough conditions. Don't worry, I had 2 PFDs in the boat, one being my offshore Type 1 self inflating that is more comfortable than a standard Type 3 vest. And....the water where I take the pics is only 2 feet deep this time of the year. That helped make the rough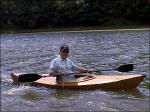 conditions along with the 15mph plus winds...but makes fishing lousy!

If you want to practice rolls, then you've got to go to the far north end of the lake or you'll get a face full of mud! Kaye did a great job of taking the pics for me, but thinks I have severe cranial damage! Guess she knows me better than anyone! I would normally sit at home when the water is like this but it did give me an opportunity to see just what the boat would take. Well...the little Yakette HV took more than I could,... but I had a blast anyway!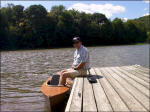 I call her the HV (high volume) cause I screwed up on the measurements and couldn't fix it without starting over! I also arched the deck on this one that gave me a little more foot and leg room, and her bow is 1-1/2"s higher than the Regular flat decked Yakette. She has floatation stuffed fore and aft from some of the orange life vests I picked up at a yard sale for .50 a piece!

My little Yakette HV actually surfed going downwind a few times! Now that was certainly a different experience in such a tiny craft, and a blast once I got used to it!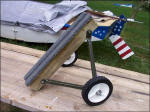 The dolly fits all the Yakoos. I designed the Yakette HV and dolly to get to a special lake that has no access other than a trail for about 400 yards up and down hill. This lake hasn't been fished in over 20 years and there are some lunkers in there!

I now use 1/2" bungee cords on the dolly rather than the straps shown in the photo. I just put my gear inside and pull her like a long skinny wagon! The dolly uses the plastic 7" lawn mower wheels, and the struts were some extra parts I had off an old tree stand. One inch Conduit can also be used for struts by flattening the ends and works just as good. The slot is cut to fit the keel and lined with some scrap I/O carpet glued to the 4x4. Length is 21 inches and wheelbase is also 21 inches! Just came out that way, and gives me good ground clearance.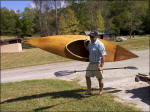 The dolly did just fine over rocks, pot holes, etc. The dolly comes apart by removing 2 aircraft nuts on the carriage. I have wing nuts on now. Now all said and done my Yakette HV passed her sea trial with flying colors and surprised the hell outta me!

This weekend, I'm off to explore that new lake! Might even try for an overnighter! Really have no idea where I'm going to put camping gear! May have to built a Yakette Mini to tow behind just to carry a tent and sleeping bag! Naw!.....Kaye will think I've totally lost it if I do that! But...hmmmmm......she'll get over it!
Later: