Hi Chuck. The boys and I thought we'd send in an update of our skiff. We really enjoy viewing the work of the "PRO's" out there. WOW ! As you can see from the picture the boat is up on the trailer.
We've moved right along since this shot so the big finish is not too far away. I thought your readers might be interested in what we're doing in the boat painting department though. We own a sign business here in New England, and obviously exterior finishes play a big role in the appearance and durability of our products. My customers, for some unknown reason, expect that their signs although exposed to every typical New England weather condition should look new and last forever. And amazingly when finished properly, the signs almost do!
Based upon this experience with sign lettering enamels we are opting to finish the total hull exterior including the bottom (painted red) with a product called "One Shot lettering/sign enamel, ( Spraylat Corporation). I might add that I did carefully consider all the typical marine paint choices first, but finally decided on the lettering enamel because of our continued success with it. I'm certainly not promoting it's use for boats (although the hand lettered boat names do last for years).
Also, before any one runs out to find a local distributor, note, the sign enamel is not a cheaper cost option. It actually costs about the same or a little more than than most of the premium marine paints out there. It's a decision based upon our results, familiarity with the product and everyday use here at the shop. We only thought it would be interesting to try and worth a mention. It should in theory provide a great finish and a nice base for the Gold Leaf lettering and striping we're planing to do. Take Care --- Phil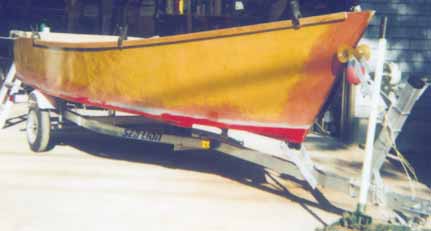 Hi, We're first time boat builders and having a ball !!!! --- I thought we would share a tip with you since we ( myself & sons) REALLY enjoy reading all the great articles.I know it's cheap payback for such great stories and info but here they are.

1 --Check out the food warehouse stores for the plastic disposable gloves. The food handler gloves are very economical when working with epoxy. I find them comfortable, more so than the latex.

2. When you want to cure that epoxy and save a few bucks on the heating bill --- use the sun on good days -- we wrap our hull in heavy mil. black plastic and roll her out into the sun. The plastic sheeting is available at any of the Home Discount places and it heats up like a solar panel even on cold days. Helps keep the shop floor open for the next step or worse, WORK !

Thanks for the magazine --- Phil A & boys mansfieldsign@netzero.net