At the end of August 2001 I found myself retired. It was a bit earlier than I had planned but money was not a problem so I decided I might as well enjoy myself. Before retirement became a reality I was concerned about how I might keep busy but it soon became apparent that the real problem was finding enough time to do all the things I always wanted to do but couldn't find the time for.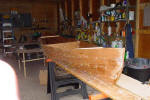 I've always enjoyed working with my hands and some years back I built a Pygmy Boats Goldeneye Standard from a kit. It's a great boat but at 40 lbs. a bit more than I was comfortable handling and in addition I don't like an enclosed cockpit. I was very pleased with the 10.5 and 14 Pakboats I had but the esthetics just didn't appeal to me. I decided I would build my own boat and found plans for a boat (the Doryak) that appealed to me as both a fisherman and a paddler. At 12' and a bit under 30 lbs it sounded good so I ordered the plans.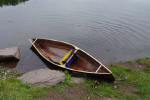 I started building almost immediately and things were going along well until it came time to stitch the bottom. There was supposed to be a small amount of rocker but what came out was an upside down canoe. I contacted the designer and he responded that there was a minor error in the plans and e-mailed a fix. Needless to say the fix didn't work. The real problem was this guy was selling plans for boats for which he didn't even make a model. What I ended up with was 2 wasted sheets of plywood, a lost 30 hours, a refund check for the original plans and plans for a different boat. Needless to say I was PO'ed.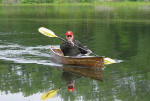 On a fishing trip to Alaska last year I promised my friend John I'd build him a boat. The Doryak wouldn't work and I found the Uncle John's Pirogue on the net. Ordered it and built it over the winter. It was ok but really didn't appeal to me. By the way it's been complete but has not been launched. Unlike me my friend has a career. For a few years I have been looking at the Hornbeck boats (www.hornbeckboats.com), beautiful little Kevlar boats made in the Adirondacks and patterned after Rushton's Wee Lassie. At 10-1/2' and 17 lbs it sounded like what I wanted. I took a ride up and fell in love. Besides the fact that it handled beautifully it was the first man made material boat that struck the right esthetic chord. I've been paddling the Hornbeck for 2 months and decided I would try to duplicate it in wood.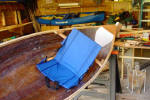 Taking off the lines was just too much trouble so I started looking for plans for a stitch and glue Wee Lassie. I found what I was looking for at Selway-Fisher in the UK a 11-1/2 foot double paddle canoe called Little Kate. I ordered plans over the net and received them in 3 days. The plans called for 4mm marine plywood but since I was obsessed with weight I decided to do it in 3mm. I did encounter some problems along the way because of the 3mm primarily warping. I was quite concerned and considered ribs as in the original Rushton. The ribs were all cut and ready to install when I decided to install temporary gunwales to see if that would solve the problem and it did. The finished Kate weighs in at 19 lbs. with 4 oz. glass on the outside of the hull with taped and resined seams on the inside. Probably should have spent more time finishing but I was just too anxious to get her in the water. The next one will be a winter build project into which I will put my efforts to achieve a fine finish.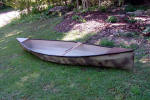 Along the way I experienced a few things which I would change eg would chamfer all edges for a smoother fit, wire at 5" not 9" intervals, and cut the bow and stern to final shape before stitching. I would also insert additional building frame specs which are NOT supplied. Launch day was Labor Day 2002. I was using an inflatable seat and the Kate was very tender but lots of fun to paddle. The following day I went out with my friend David and he immediately saw the problem. The cg was too high. Replaced with a camp chair type seat and it was a whole new world. Can't wait to begin construction of the next Kate. Boat building will slow down a bit as winter approaches and I spend more time in the Big Apple and less time in the Catskills in my unheated garage. But then I'm hoping to spend maybe a month or so in Florida paddling and fishing.
Steve Fisher ><((())):>